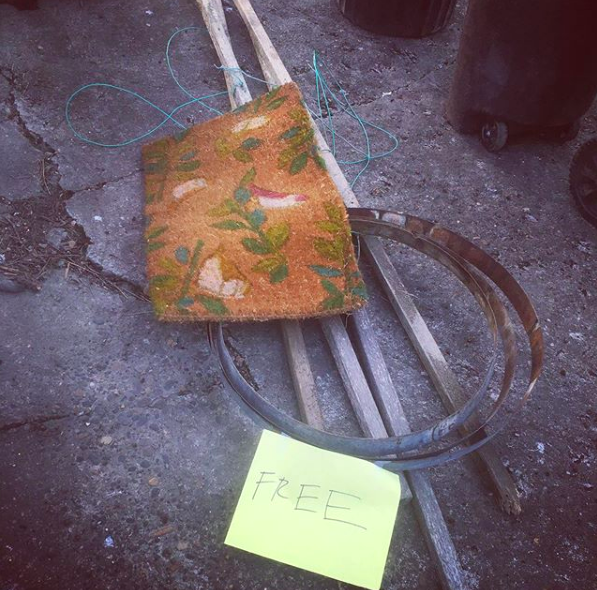 I sold a Thule bike rack that I picked up at Goodwill a couple of months ago. It took awhile to sell, but I wasn't worried as people simply don't buy outdoor equipment during the winter months.

I saw that the Supercuts training center was in session this week, so I called to make appointments for me and the kids. (I would have also made an appointment for my husband, but he's working all week.) We'll tip $5 apiece, but they're still tremendously cheaper than any traditional salon or barber shop. I follow them on Facebook, so I always see when they're available for services.

I brought home a free cute welcome mat to replace a useless rubber one that neither worked to absorb water nor to scrub the bottoms of shoes. It was in front of a neighbor's house with a "free" sign, which is my favorite price. The useless rubber one? I've already set it out with a "free" sign.

This is an example of "make it do," as I'd been wanting a better welcome mat for a year or so. I figured that I'd come across one at Goodwill, but mostly only found seasonal ones. (The idea of having a welcome mat that gets switched out for specific holidays does not appeal to me, as I'd rather have a single neutral item instead of multiple ones that are needlessly bought and stored.) The ability be patient with this need meant I was able to replace the old one without spending a penny.

Patience a key component to a successfully frugal life.

I make a huge pot of chicken soup from a mostly uneaten rotisserie chicken, I brought home a free jumbo-sized bag of bubble wrap from a local shop for my eBay sales, I drove my minivan through DEQ (Depart of Environmental Quality) to reregister the car and somehow didn't get charged extra even though it was a week past the deadline, and I made grilled cheese sandwiches for my daughter and her friend so they wouldn't get hungry while out and about.

I didn't buy a Lear Jet or a vulgar gold-plated apartment in the sky.
Now your turn. What frugal things have you been up to?
Katy Wolk-Stanley    
"Use it up, wear it out, make it do or do without."
Click HERE to follow The Non-Consumer Advocate on Twitter.
Click HERE to follow The Non-Consumer Advocate on Instagram.
Click HERE to join The Non-Consumer Advocate Facebook group.
Click HERE to follow The Non-Consumer Advocate on Pinterest.