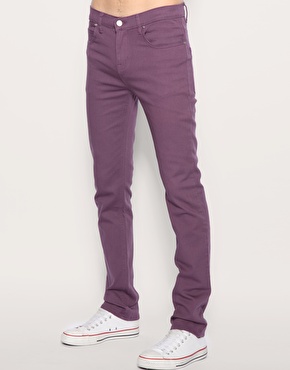 I don't know if it's because I did a lot of foreign travel before having kids or simply my love of a great deal, but I'm a big fan of bargaining. I do it at garage sales, thrift stores, foreign markets, and most recently, at the mall. At this point you may be asking:
"Whoa, back up. The Non-Consumer Advocate goes to the mall?!"
Let me preface this little story by saying that my younger son is fashion obsessed and had saved up his cat sitting money for a pair of purple Levi's skinny jeans. We had unsuccessfully scoured the thrift stores all summer, and the constant whining about how he needed this particular pair of pants had worn me thinner than a supermodel on a hunger strike. Yesterday, he broke through my steely exterior. (He did his homework, fed the neighbor's cats, looked up the phone number for the Lloyd Center Macy's and handed the phone to me. I've said it once, and I will say it again. I am putty in his grubby little hands!)
The Macy's store clerk confirmed that yes, they did carry purple Levi's skinny jeans priced at $19.99, and even put a pair aside for us. This put my son into a frenzy of excitement, which propelled us across town only to find that the pair that fit my son were $29.99 not $19.99.
Big deflation of frenzy, as this purchase was 100% my son's, (I have bought three pairs of these jeans for him at thrift stores and am done) and he only had $20.
However, by pointing out the that my son was using his own money, and that the almost identical pair was $19.99, the clerks lowered the price on the jeans my son had pinned his hopes on. We were polite, patient and friendly, which is key to successful negotiation. And my son saved $10.
Think our mall-haggling was a fluke, a one time occurrence? Nope, because we then wandered about the mall a bit more, as my older son was looking for a specific style of sunglasses. He found these at a kiosk selling sunglasses for $12 apiece or two for $20. I told him to ask the clerk if she would take $10, and guess what, she did!
I am very pleased that both of my sons learned a lesson in haggling yesterday. No price is written in stone, and all you have to do is ask if you want to get that lower price. They may want to go to the abhorrent mall, but they're still their mommy's boys. And yes, we did stop into a Goodwill afterwards, where I found a 3-hole punch pencil pouch, which was the single missing item from their school supply list.
Are you a bargaining enthusiast, or does the thought put you into a cold sweat of embarrassment? Please share your thoughts in the comments section below.
Katy Wolk-Stanley
"Use it up, wear it out, make it do or do without"