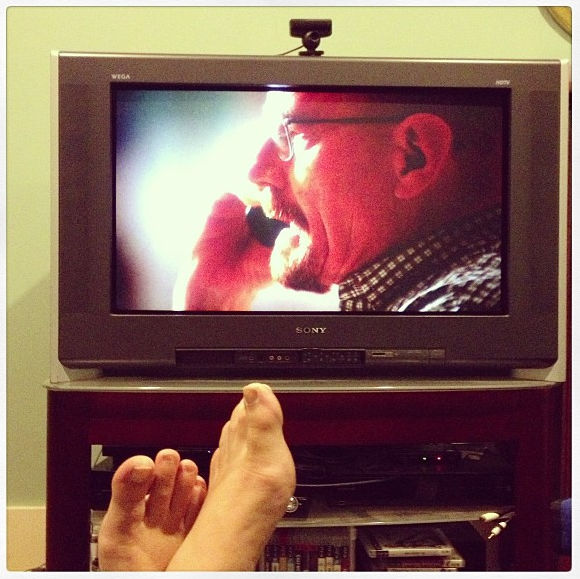 An interesting article titled American Dilemma: Your Clutter or Your Life recently came across my radar. And in that article, clutter guru Don Aslett is quoted as saying:
"We have too much. We're over-housed, over-clothed, overfed and over-entertained,"
And it got to me. Not the "over-housed," (I have a big house, but we really use all of it) the "over-clothed," (I own a very small amount of clothing) but the "over-enetertained."
Over-entertained.
What does that even mean?
In a world where intoxicatingly smart and additive entertainment lives within the context of our computers, phones and televisions, boredom has become a rarity. This is true for children who need open time to grow their creativity, but it's true for adults as well. Boredom is necessary for creative thought to kick in.
As a 45-year-old woman, I am responsible for my own entertainment, productivity and creativity. Unfortunately, there's no one standing over my should telling me to "stop staring at screens and go outside to play, switch the laundry or read a book." So I watch TV and I goof around on the internet. Too much.
Don't get me wrong, I'm not watching Kardashian-Krap or Extreme Cheapskates. Instead I'm binge watching Breaking Bad or Orange is The New Black on Netflix, and suffering from the gluttony of just-one-more-episode-syndrome until hours past when responsible mothers have gone to bed for their refreshing eight hours of sleep.
Uh oh . . . I think I may be guilty of over-entertainment.
Luckily, the very last episode of Breaking Bad aired last night, (sniff!) which I'm taking as an opportunity to dust off some old screen-free habits. Yes, I'll still watch favorites shows such as Homeland, The Walking Dead and Project Runway. But just those few shows per week. No more binge-watching.
Would you label yourself as one of the over-entertained? Please share your thoughts in the comments section below.
Katy Wolk-Stanley