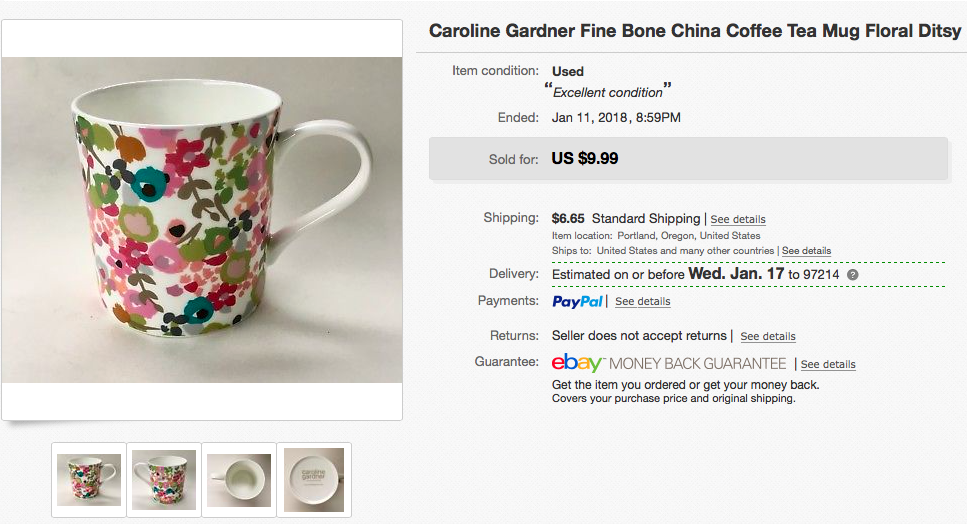 One of my eBay listings actually sold! (A lightweight mug that I picked up at the pay-by-the-pound Goodwill Outlet.) I'd be frustrated with how poor my sales have been in 2018, except I know that people take a break from buying in the month after Christmas. It doesn't cost me anything to repeatedly renew my listings, so I'm not going to give it any worry.*

My husband dug a couple dozen D-ring notebooks from the garbage at work and brought them home. I'll donate them to our neighborhood elementary school. Today hopefully, as I'm not enjoying the three extra boxes in our living room, especially since I'd finally put away all the tree and holiday decorations. Sometimes frugality is about creating frugal opportunities for others.

I listed a jump rope and a pair of outgrown winter gloves on my Buy Nothing Group and quickly found takers.

I finished my library copy of The Gentle Art of Swedish Death Cleaning, and will start a new library book this evening. I would not actually recommend this book, as the book essentially tells you to go through your own stuff before you die, which is a single sentence. The rest is just rambly. I do recommend Roz Chast's Can't We Talk About Something More Pleasant for people needing inspiration to declutter before death. A wonderful and honest memoir from the amazing New Yorker cartoonist.

I didn't buy a Lear Jet or a vulgar gold-plated apartment in the sky.
Now your turn. What frugal things have you been up to?
Katy Wolk-Stanley    
"Use it up, wear it out, make it do or do without."
Click HERE to follow The Non-Consumer Advocate on Twitter.
Click HERE to follow The Non-Consumer Advocate on Instagram.
Click HERE to join The Non-Consumer Advocate Facebook group.
Click HERE to follow The Non-Consumer Advocate on Pinterest.
*The eBay link is an affiliate link, which means that I receive a small commission on any purchases you make while on the site. This costs nothing extra to you and helps me to pay for dollar store dried beans and my kids' college tuition.