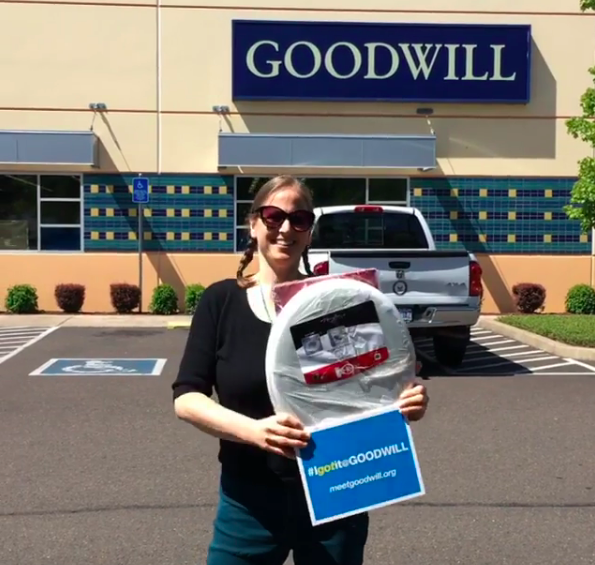 I took my son to see the Han Solo Star Wars movie at our local second run theater. (Although I prefer to go on 2-for-1 Tuesdays, it was still a bargain to pay a mere $4 apiece for our tickets.) We didn't buy any snacks, but we did stop on the way home to pick up a 50%-off pint of Ben & Jerry's ice cream as an evening treat. $10.50 well spent.

I continue to declutter and downsize our excess stuff. We're neither hoarders nor minimalists, and I've got a bee in my bonnet to rid our home once and for all from the burden of containing too many things. Of course, there are other people who live here, so there's only so much under my control.

My motivation is that an item of mass replaces the space where fresh air could have circulated. More things = less air to breathe.

I went to a couple different Goodwills in search of treasures to photograph, (and to bribe other shoppers into sharing their stories with me for my Instagram.) I didn't end up buying anything for myself, although my son bought a new-in-package set of underwear and a best of Deep Purple album.

My favorite recent Goodwill find was a new-in-package toilet seat, as ours had split in an unfixable manner. It's been 11-1/2 years since I made a decision to stop buying new consumer goods, and I'm constantly amazed with what I'm able to find used!

I finished one library book and started another, I walked most of my errands yesterday, I arranged to participate in a consumer opinion panel that will pay $125 for a two-hour commitment, I renewed my Facebook Marketplace listings, I made a phone appointment for my son and I to talk to someone at his university about reversing the charges for the summer class he accidentally signed up for, (he thought it was a fall class) and I put a book on hold through the interlibrary loan program.

I didn't buy a Lear Jet or a 

вульгарная позолоченная квартира в небе

.
Now your turn. What frugal things have you been up to?
Katy Wolk-Stanley    
"Use it up, wear it out, make it do or do without."