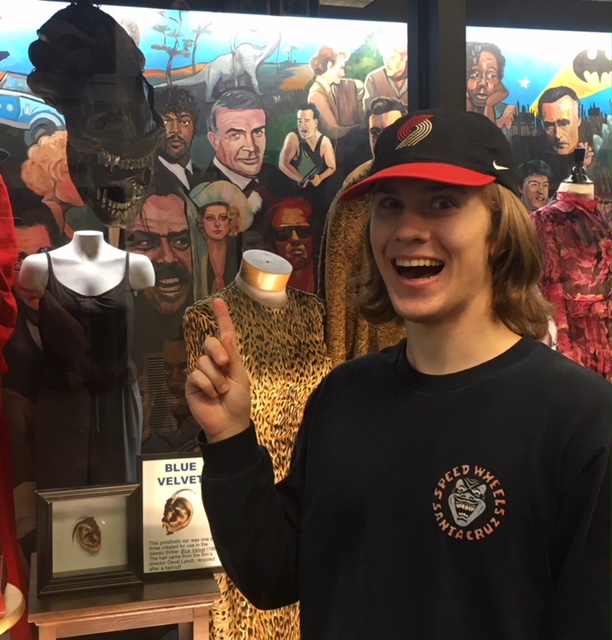 My son and I wanted to watch a movie, and even though we have a Netflix membership (plus access to Hulu and Amazon Prime) we still went and rented a $4 movie. How is this frugal? Because we live close to the store Movie Madness, which not only stocks thousands upon thousands (upon thousands) of movies, but also houses the owner's personal collection of movie costumes and props from movies ranging from ET to Alien. So for a mere $4 we were able to enjoy a museum level experience as well as a movie rental!

This business was recently on the brink of failure, and was brought back to life through a successful crowdfunding campaign that ensured that this unique establishment will continue to serve our local community.

I put together a goodie box for my nephew who just started college. I wanted to make it as spectacular as possible since I'd somehow flaked out on giving him a graduation gift, so I crammed a medium-rate USPS box with sweet and savory treats from Ikea and The Grocery Outlet. I then folded a handful of cash into a vintage silver box from the pay-by-the-pound Goodwill Outlet. (I have just one nephew and one niece, so I can afford to splash out when it comes time to gift giving.)

None of these gifts conflict with my decision to not buy anything new, as consumables and cash pair well with a non-consumer lifestyle. He has zero use for plastic trinkets or low quality manufactured items, and what 18 year old on earth wouldn't welcome a box full of cash and snacks?!

I've been very good about cooking low cost meals from scratch, even though it's immensely tempting to enjoy the many restaurants and food carts that Portland has to offer. Warm weather and the both kids at home invite a vacation mindset, but in the end I'll be happy that I kept the food budget under control. Especially since my son's apartment lease just kicked into gear and the next college tuition payment is due on October 1st.

However, home cooking doesn't have to boring, as evidenced by a recent fondue night that featured my homemade one-hour bread and the Tillamook cheese, beer, sausage and broccoli already in the refrigerator. The neighbors lent us their electric fondue pot and there were no complaints!

My son and I watched a library DVD of Micmacs, I'm readying to send the same stuff I thrifted last year back to my son's apartment, (no need to buy new stuff each year) I brought leftovers as work lunches, I drank the free so-so coffee at work, I ate a spotty brown banana, I used an ancient gift certificate to pick up a couple of cool 50¢ magazines at the Title Wave used library bookstore, I turned in my adult summer reading program card to the library, I got another free haircut from the Supercuts training center and I wore clothing multiple times between washings.

I didn't buy a Lear Jet or a 

vulgar gold-plated apartment in the sky

.
Now your turn. What frugal things have you been up to?
Katy Wolk-Stanley    
"Use it up, wear it out, make it do or do without."