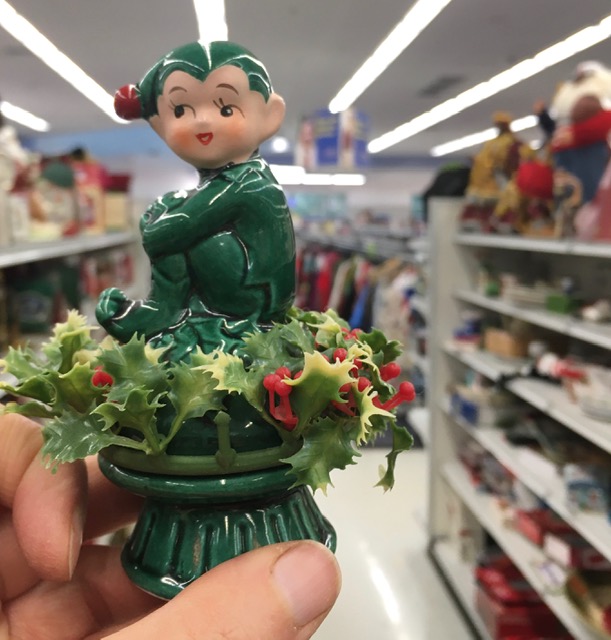 I stopped into a nearby Goodwill store to recharge my batteries and ended up walking out with three items:

• A $3.49 Salvatore Ferragamo silk necktie which I quickly resold for $30.

• A $1.99 painting from the Tanzanian artist Simon George Mpata, whose art is displayed in museums throughout the world. I put it up on eBay for just $200 as there's no way I can authenticate the piece.

• A $2.99 vintage pixie elf figurine that I'll likely keep.

The way that I rationalize these purchases, (and not cross the line into becoming a hoarder) is to immediately list any and all items that I buy for resale. My entire eBay inventory slots into a small corner of our spare bedroom and other than the packing tape, (which needs to be new) I exclusively ship with secondhand supplies.

I got an email for a free Redbox DVD yesterday, so I scrolled through a kiosk to see if there were any movies that my family might enjoy. However, I'd just stopped in at the library and checked out a DVD of Bohemian Rhapsody. I realized that I didn't need to burden myself with a free DVD that charges a $1.99 per-day late fee when I was already in possession of a movie that wouldn't be late until December 9th.

It can be fun to chase the blink-before-they're-gone exciting deals, but in the end it's the dull daily frugal practices that support my family's debt-free lifestyle.

I met up for a parallel play writing date with my friend Lise. Both of us have kids in college and go to extreme lengths to not waste money. This means that our get togethers tend more towards, "Hey, they have free coffee at Ikea" rather than "Let's meet at Starbucks."

I have other friends who would not enjoy the weirdness of repeat Ikea coffee dates, but that just means that we rarely get together.

I accepted the offer of excess produce from a neighbor who was going out of town, I called my car insurance company to update info (which'll save us $73.18 per year) I mended a pair of my husband's work pants as well as my travel purse (which turned out to contain a lost pair of sunglasses!) I received some Fred Meyer (Kroger) coupons in the mail and actually remembered to use them, (free eggs and pasta sauce!) and I watched The Spy Who Dumped Me with my daughter through my mother's Amazon Prime account.

I didn't buy a Lear Jet or a vulgar gold-plated apartment in the sky.
Now your turn. What frugal things have you been up to?
Katy Wolk-Stanley    
"Use it up, wear it out, make it do or do without."