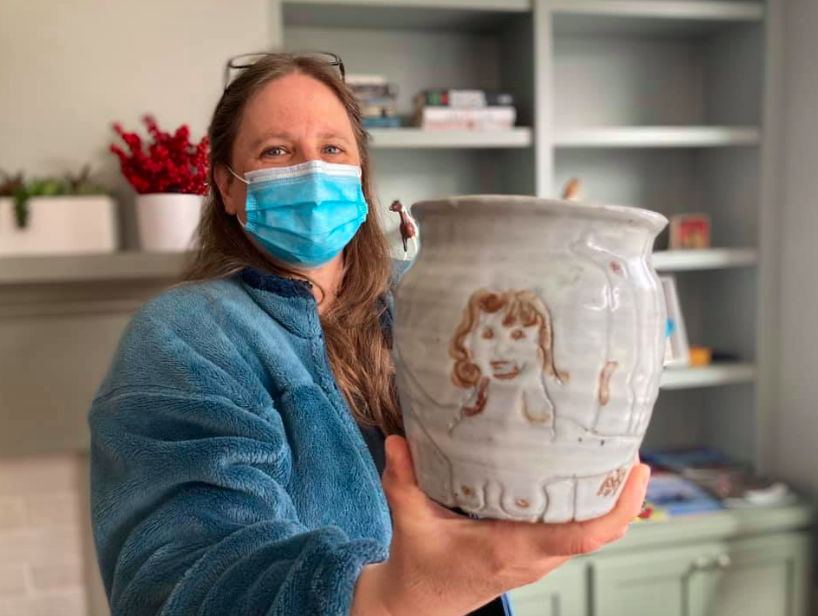 I sold a number of things through eBay and Facebook Marketplace, including:

• A pair of $3.99 crampons that sold for $65.

• A pair of my son's old Nike sneakers that sold for $40.

• A $9.99 partial set of Marimekko sheets that sold to someone in Australia for $32.

• A $4.99 Sylvania DVD/VCR combo that sold for $50.

• A $4.99 collection of 1990's keychains that sold for $19. This was the leftovers from a huge bag of keychains from which I'd already cherry picked the more desirable items.

I binged my way through four seasons of HBO Max's The Great Pottery Throwdown, which made me nostalgic for the pottery classes I took from Antioch College's world renowned professor Karen Shirley.

I made dozens upon dozens of pieces, but short sightedly sold almost everything at a stoop sale as A: I was broke, and B: I didn't relish schlepping heavy breakable things from Ohio back to Oregon. Luckily two of my friends bought pieces and miraculously kept them through the decades. So thank you Lisa and Maura, I love seeing my creations in your homes.

I did keep one vase, which I gave to my father and step mother, but it turns out that they didn't remember that I'd been the person who made it and there was no issue with me reclaiming it. My vase is now enjoying pride of place on the mantle and I love owning a piece of my own artwork again.

Note — The above photo is the piece my friend Maura has kept since 1998, not the one I gave to my father!

For those wondering about how my world renowned cheapness and an HBOMax subscription co-exist . . . my husband signed up for a month of the service, which we'll cancel after 30 days have elapsed. Watch the stuff that interests us and and then move on.

I sacrificed a single-armed pair of reading glasses to repair my only decent pair of sunglasses. Luckily the scavenged screw was the correct size and I'm relieved to be headed into sunny sky season without resorting to the scratched up pairs that multiply while I sleep.

I used my vaccination card to get my son a free Krispy Kreme donut, (it's across the street from Goodwill, so there was almost no extra driving) I returned a $27.99 case of Kirkland brand canned cat food that my normally gluttonous cats refused to eat, we enjoyed a few meals from a Costco rotisserie chicken and then transformed it into an enormous pots of soup, my husband brought home an armload of bubble wrap from work, I cut a spray of forsythia from my garden to make a nice flower bouquet, I drove my 14-year-old Prius to the nearby O'Reilly Auto Parts store to take advantage of their free "check engine light testing" service, I gave away a jumble of excess reusable water bottles through my Buy Nothing Group, we've been enjoying hot buttery popcorn from bulk-purchased kernels and a thrifted air popper, I've been listening to Emily Henry's Beach Read through the library Libby app and I received my second free Covid-19 vaccination.

I didn't buy a Lear Jet.
Katy Wolk-Stanley    
"Use it up, wear it out, make it do or do without."
Click HERE to follow The Non-Consumer Advocate on Twitter.
Click HERE to follow The Non-Consumer Advocate on Instagram.
Click HERE to join The Non-Consumer Advocate Facebook group.
Click HERE to follow The Non-Consumer Advocate on Pinterest.
Disclosure: This blog post includes eBay affiliate links, which may earn you a discount, as well as a small commission for me. This costs nothing extra to you.