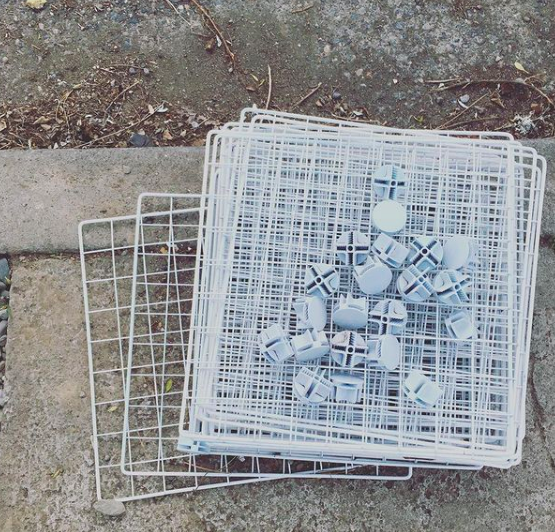 I got home from running errands and noticed that my neighbor was taking advantage of the hot sunny weather to power wash his car. Although I do have access to a power washer, (both my step mother and my next door neighbor let me borrow theirs) it's a pain to set up and put away so I normally wait until I have a butt load significant amount of stuff to be cleaned.

My family uses a large wicker basket as our laundry hamper, but it can get a bit grubby. I'd noticed some superficial mildew and was thinking I'd give it a spray the next time I was in possession of a power washer, so I grabbed the basket  and asked my neighbor if he'd give it a quick spritz. He happily obliged and the basket now looks as good as new. And since it was a hot sunny day it even dried before the sun went down!

My son and I drove over to the Franz Bakery Outlet to stock up on bread. I learned that they run a Tuesday special of an extra $10 punch on their frequent buyer cards. This may not sound newsworthy, but it only takes five punches to earn a reward of five free bakery items. Considering that my sandwich loving husband's preferred bread is normally $5 per loaf, this has the potential for significant savings.

I guess I'll try to remember to run this errand on Tuesdays.

I surprised my daughter with a trip for gluten-free fish and chips, which was a special treat due to her dietary restrictions. This takeout was a splurge as we don't normally choose restaurants with $20 entrées, but I made sure to eat beforehand to keep the tab under control.

My daughter savored every delicious bite.

My son sold a pair of $40 thrifted sneakers for $235 through my eBay account, I returned a bra that didn't fit right, (why does the cup size change when the band size goes up?!) we skipped Taco Tuesday this week as my son had booked a 7:39 P.M. vaccination in a far out suburb, I mended the belt loop on a pair of my husband's work pants, I listened to Jenny Lawson's Broken: In The Best Possible Way through the free Libby app and then started listening to Sarah Penner's The Lost Apothecary, I lugged home a curbside stack of free organizing cube pieces and have been using them to put our closets in order, (click HERE for a "before & after") I sold a $5 bag of wooden marble roll blocks for $25 and a $5 framed Andy Warhol poster for $40 through Facebook Marketplace, I cut dogwood and lilac sprigs from my mother's garden and I went for a walk with my friend Lise, and while I didn't bring anything home she grabbed a couple stainless steel dog bowls for an upcoming dog sitting stint.

I didn't buy a Lear Jet.
Katy Wolk-Stanley    
"Use it up, wear it out, make it do or do without."
Click HERE to follow The Non-Consumer Advocate on Twitter.
Click HERE to follow The Non-Consumer Advocate on Instagram.
Click HERE to join The Non-Consumer Advocate Facebook group.
Click HERE to follow The Non-Consumer Advocate on Pinterest.
Disclosure: This blog post includes eBay affiliate links, which may earn you a discount, as well as a small commission for me. This costs nothing extra to you.