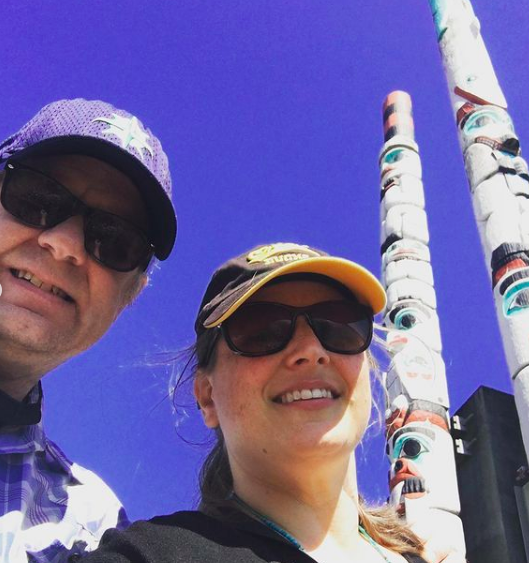 The "check engine light" blinked back on in my Prius, so I drove the dratted thing back to our trusty mechanic. I'm not clear on the specifics, but the issue was once again related to the catalytic converter, but it was still under warranty from last summer's theft debacle so were able to get it replaced for free. Which incidentally reset the 12-month warranty.

My husband turned 56, and we celebrated it with one of our traditional "Birthday Day of Adventures." These traditions are getting harder to plan, as A) I try not to repeat activities, and B) the pandemic has decreased the number of things that are available and safe.

However, I got the idea to treat my husband and son to a day trip to McMenamin's Kalama Harbor Lodge Hotel/Brewpub, which is just an hour north of Portland. (Sadly, our daughter had to work that day.) Situated on the Columbia river, this hotel sits on a riverside walkway with picnic areas, sports grounds and magnificent totem poles.

Although I've passed the lodge countless times, this was my first visit. I'll definitely be returning, although I might choose to pack a picnic for future trips as our lunch bill was a bit shocking.

My son turned 23 a few days later and I planned his "Birthday Day of Adventures" to be a bit more frugal. The two of us had recently visited the Crystal Springs Rhododendron Gardens and I'd noticed that he was interested in the public golf course across the lake. I checked their website and noted that $12.50 gets you a bucket of 100 balls, including the golf clubs. I called to confirm that they could be shared by multiple golfers and that no reservation was required. I learned that all four of us enjoyed hitting balls into the driving range. So much so that we forked over $12.50 for an extra 100 balls.

We then drove over to Uwujimaya, (which is a huuge Japanese grocery store) where we indulged in delicious bowls of ramen soup and then browsed the store. My son picked out a Japanese mechanical pencil and the rest of us chose sweets.

Dinner was homemade Mexican chicken soup, complete with fun toppings, (diced avocado, shredded cheese, cilantro, fried tortilla strips and sour cream) which was perfect as none of us were hungry for a heavy meal. Dessert was a Costco cheesecake, (my son's favorite) which we shared with my mother and step father. We're all fully vaccinated and are finally able to enjoy each other's indoor company.

Replacing "things" with "experiences" is no sacrifice, and we look forward to these days together. I plan them out as secrets which brings an extra element of fun, (I no longer share plans with my husband as he's notorious for spoiling the surprise by blurting out "we'd better get on the road if we're going to the beach!") I love creating these family birthday celebrations and cherish the time together.

I gave away a vintage apron through my Buy Nothing Group, I scrubbed down and then sold a Simple Human brand garbage can that a neighbor set out for free, I brought an embarrassingly large bag of spent batteries and light bulbs to Ikea for free proper disposal, my son and I hit the Rhododendron Garden during one of their free days, (Mondays and Tuesdays) and I cooked a thousand meals from scratch.

I didn't buy a Lear Jet.
Katy Wolk-Stanley    
"Use it up, wear it out, make it do or do without."