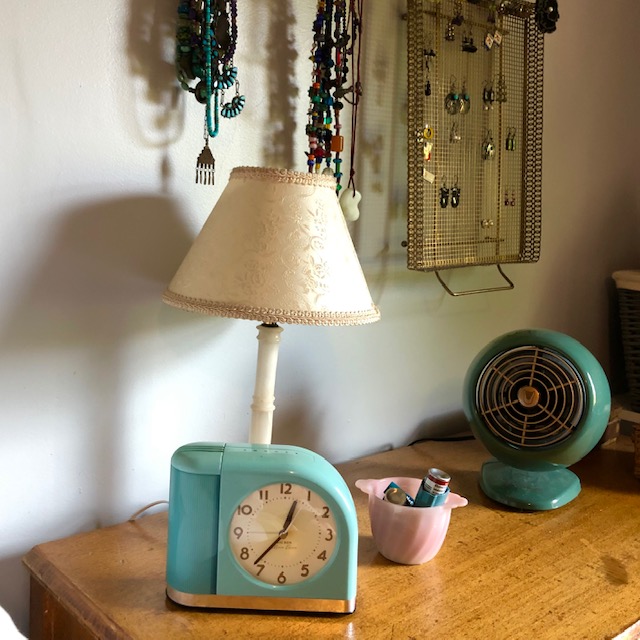 I stopped at Goodwill after a dental appointment and picked up a $6.99 blue Westclox Moonbeam clock, which I decided to keep. I then went onto eBay and sold the green one I already owned for $35, as the blue one looked prettier in my soft grey bedroom. Literally — one thing in, one thing out!

My husband and I schlepped 1,200 pounds of garbage to our waste transfer station. (Sorry, minivan shocks.) This may sound like an excessive amount of stuff, (and frankly it was) but the weight was greatly influenced by a huuuge pile of dirt that had been sitting in our driveway for so long that it's actually visible in our house's Google Earth photo.

Everything else was broken and un-fixible stuff from the our basement, backyard and attic that we'd held onto for some unfathomable reason. I believe that we do-gooders have a tendency to hold onto our stuff long after it's become unusable, as we feel guilt from having transformed something useful into straight-up garbage.

However, it's not a healthy mindset to allow useless crap to crowd our lives. My husband and I repair and mend our possessions, but some things simply can't be fixed and reach the point of no return. (I'm looking at you, cheap plastic!)

It's best to admit defeat and get rid of the stuff and then set a goal to do better moving forward. To buy used whenever possible, fix what you can, forgo low quality un-fixible stuff and most importantly think twice before buying impulse items that serve no purpose beyond that momentary dopamine release.

Curious about what we took to the dump/hazardous waste site?

• A 32-gallon garbage can that had split down the side.
• A rock hard bag of cement that had somehow gotten wet.
• A broken floor lamp.
• Concrete chunks from who knows what?
• Empty paint and stain cans.
• A broken plastic milk crate.
• A twin mattress that was too gross to give away.
• So. Much. Dirt!

It goes without saying that you should do what you can to find new homes for still useful items. Buy Nothing Groups are an amazing resource for this goal, as is the lowly "free" sign taped onto a curbside item.

I sold a ton of stuff through eBay, Facebook Marketplace and Craigslist, including:

• A pair of ass-less leather chaps, which I bought for $14.99 and sold for $52.

• A Herman Miller Aeron chair, which I bought for $25 and sold for $350.

• My beloved, (but extraneous) library card catalog coffee table, which went for $260.

• A distressed vintage STOP sign, which I bought for $5 and sold for $25.

• An antique mirror, which I bought for $2.99 and sold for $34.50.

• Two vintage lighting globes, which cost me $1.50 and $4.99 and then sold to a local store for $45.

• A 1965 Barbie case, which I bought filled with dolls and clothes for $15. The case alone sold for $45. The rest is listed separately.

• A Guitar Hero controller, which I bought for $4.99 and sold for $40.

• A marble, which was part of a $2.99 jar and sold by itself for $28.80.

I washed my car in the driveway, (it was impressively filthy after driving through that wildlife sanctuary) I was gifted a bag of fresh figs from my father's tree, I returned some supplies to a hardware store after realizing I'd bought the wrong stuff, I threw a neighborhood potluck using non-disposable dishes and silverware, my son and I picked free blackberries from my secret spot, my husband and I drove to the beach for the day to celebrate our 28th anniversary, (day trips are so much cheaper than renting a motel room!) and I listened to both Crying in H Mart and The Chicken Sisters through the library's free Libby app.

I didn't buy a Lear Jet.
Katy Wolk-Stanley    
"Use it up, wear it out, make it do or do without."
Click HERE to follow The Non-Consumer Advocate on Twitter.
Click HERE to follow The Non-Consumer Advocate on Instagram.
Click HERE to join The Non-Consumer Advocate Facebook group.
Click HERE to follow The Non-Consumer Advocate on Pinterest.
Disclosure: This blog post includes eBay affiliate links, which earns a small commission for me. This costs nothing extra to you.