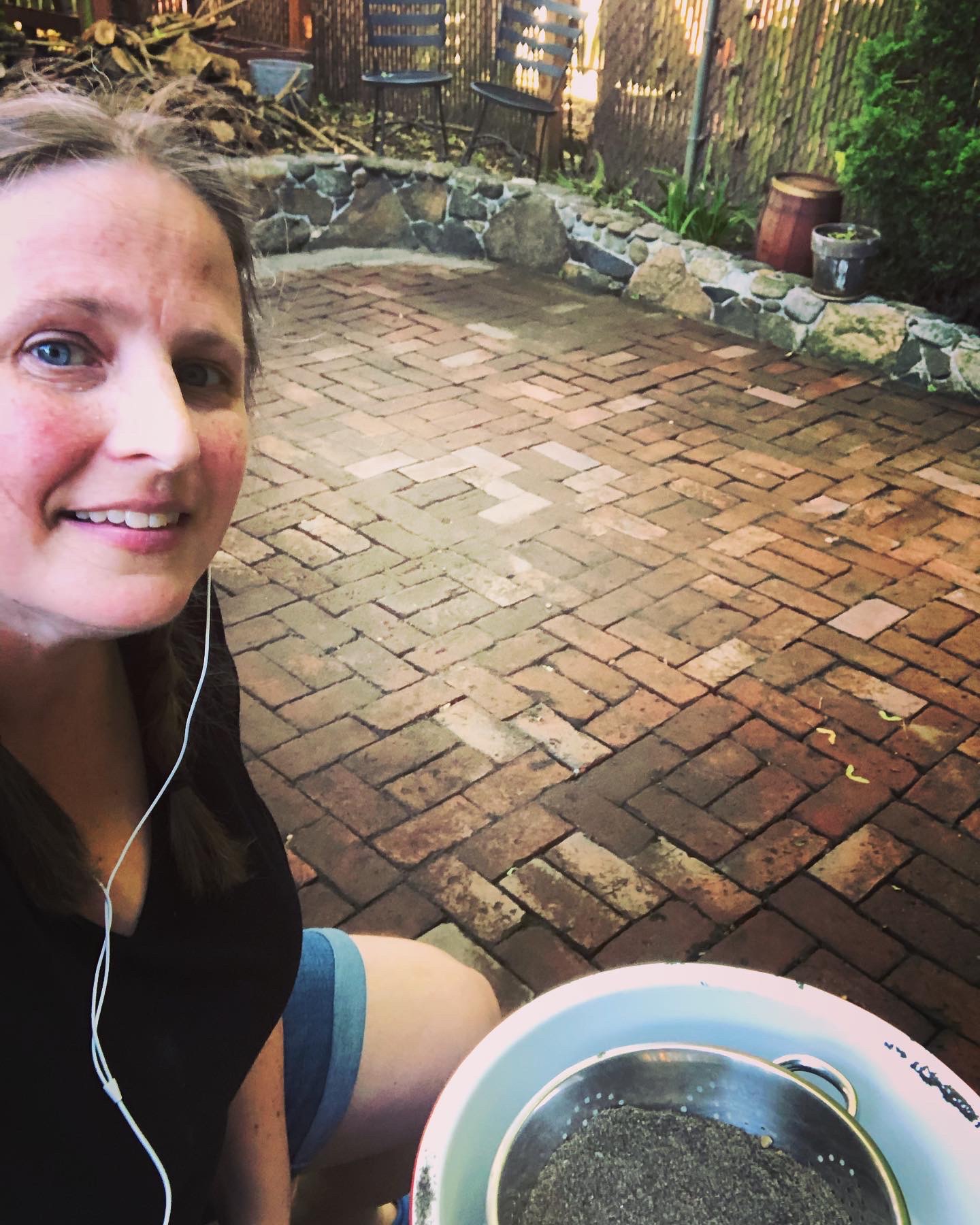 I still haven't been thrifting, but I did sell a few things, including:

• A groovy midcentury plate that I bought for $1.99 and sold for $38.
• A handmade Christmas tree skirt that I bought for $2.50 and sold for $20.
• A high quality Wizard of Oz guard costume that I bought for $7.99 and sold for $40.
• An Atomic Ranch magazine that I bought for 25¢ and sold for $10.
• A Jadeite mug that I bought for maybe $2.99 and sold for $25.
• A pair of Hoka sneakers that I bought for $4.99 and sold for $30.

I treated our brick back patio to a thorough beauty treatment, which is always a fair bit of work. (And for this reason I only do it every couple of years!) This job involves power washing both the bricks and stone retaining wall, as well as sweeping clean new sand in between the bricks. Luckily my next door neighbors are always happy to lend me their power washer, plus I was able to source free sand by posting a request through my local Buy Nothing Group.

Not only is our backyard now ready for hosting friends and family, but doing this maintenance work protects the value of our home and property.

Click HERE for more backyard pictures!

I stopped by the Everyday Deals grocery liquidator store on S.E. 82nd Avenue and struck produce gold! Seriously. I bought:

• An entire flat of strawberries for $3, which I immediately cut up and froze on baking sheets.
• Two melons for 50¢ apiece, one of which I gave to my friend Lise.
• 3/$1 bundles of garlic scapes.
• 5/$1 heads of garlic, one of which also went to Lise.
• Two 50¢ containers of grapes.
• A huge $2 container of organic baby spinach.
• Two containers of fresh wild mushroom pasta for $1.25 apiece, which I served to myself and son one night and then to my mother and myself on another night. Of course I topped them with homemade marinara sauce. I looked this brand up and they're normally $6.50 apiece.

My plan had been to stop at the regular grocery store afterwards, but I didn't want to risk leaving this vulnerably ripe produce in the back of a hot car. Food is so freaking expensive right now, and I knew this heavenly manna needed to be processed in a timely manner!

Food is never a bargain if it goes to waste.

I watered the next door neighbor's plants while they were out of town, (and also gifted them a box of fancy cookies as a thank you for lending us their power washer) I scrubbed down all our outdoor furniture as I'd rather clean and repair my belongings instead of replacing, I power washed our concrete front steps and the sidewalk in front of our house, my other next door neighbors gave us some bagels their daughter didn't like, I listened to an audiobook through the free Libby app, my son and I watched a library DVD of Witness, (which prompted me to deep dive into multiple YouTube videos about modern day Amish families) we also watched a library DVD of Brassed Off, I picked up toothpaste, shampoo, conditioner and ginger snaps from Dollar Tree and I contentedly exist despite my salt-and-dishwater hair.

I didn't buy a Lear Jet, as aviation fuel no longer fits in our budget.
Katy Wolk-Stanley    
"Use it up, wear it out, make it do or do without."
Click HERE to follow The Non-Consumer Advocate on Instagram.
Click HERE to join The Non-Consumer Advocate Facebook group.
Click HERE to follow The Non-Consumer Advocate on Pinterest.
Disclosure: This blog post includes eBay affiliate links, which earns a small commission for me and costs nothing extra to you.