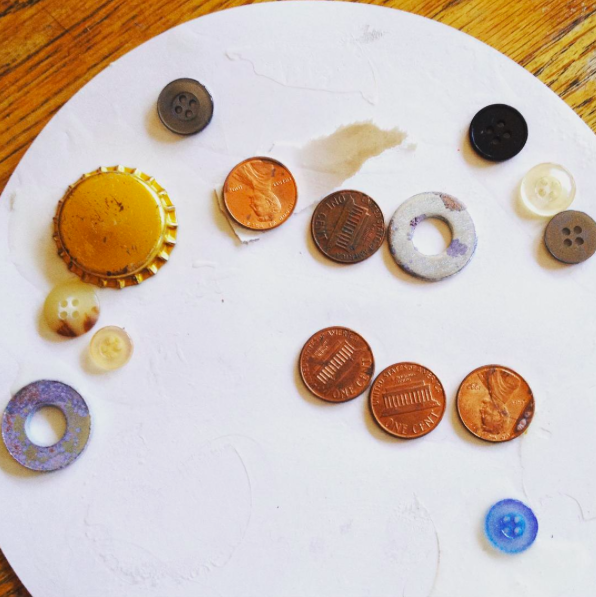 I'm continuing to help my older sister go through her stuff from our father's basement. It's a mix of childhood and adult items, and I'm working hard to not bring her bring excessive stuff into my house. (Not so surprisingly, she's in a very giving mood.) So far I've accepted a wall hook, a McCoy vase, a McCoy planter and a preschool-era art project. Why the preschool project? Because it had pennies glued onto it. Hello . . . five cents!
My husband's soccer team had their annual potluck picnic at a gorgeous area winery on Sunday. I mixed up a large batch of peanut butter oatmeal cookies and baked 96 of them. All the ingredients were things I already had in my larder, and they set me back maybe a couple of dollars. Of course, they were delicious.
I'm taking my niece to see the movie Pitch Perfect 2 this afternoon. We're both obsessed with the original movie, and have the choreographed dance moves to prove it. I found a nearby second run theater playing the movie, which will set me back a grand total of $5.50 for the two of us! Why yes, I am the best aunt! Cheap, but loving.
I left for work in a hurry yesterday and wasn't able to pack a lunch. Instead of buying food in the hospital cafeteria, I simply ate some graham crackers and peanut butter. Not the best lunch, but it kept money in my bank account. Hey . . .  it's $7 that's still available to pay my son's college tuition!
I didn't buy a Lear Jet.
Now your turn. What frugal things have you been up to?
Katy Wolk-Stanley
"Use it up, wear it out, make it do or do without."
Click HERE to follow The Non-Consumer Advocate on Twitter.
Click HERE to follow The Non-Consumer Advocate on Instagram.
Click HERE to join The Non-Consumer Advocate Facebook group.
Click HERE to follow The Non-Consumer Advocate on Pinterest.