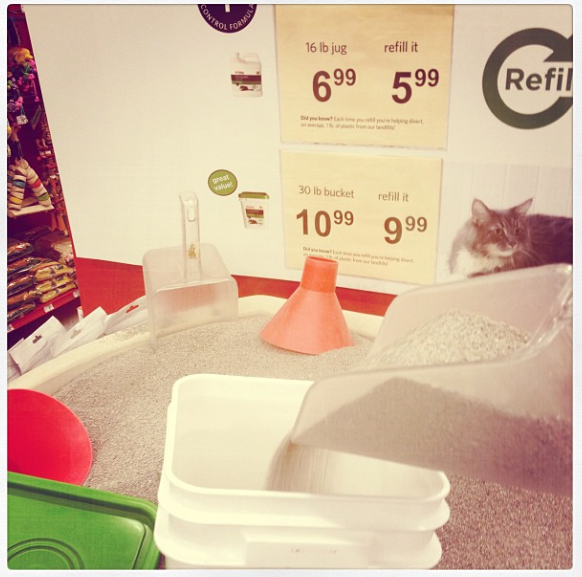 It's time again for Five Frugal Things, small and random frugal hacks that are completely attainable to the average Joe Katy.
I am munching on delicious toast. The Dave's Killer Bread was purchased at the outlet store by my neighbor, who'd called to ask me if I wanted her to nab me some extra loaves. ($1.99 a loaf instead of $4.99 a loaf, so yes!) The local blueberry jam was left by one of my mother's guest cottage tenants, and the Tillamook butter was bought at Fred Meyer during their anniversary sale. (It was a loss leader, so I took advantage of the great price to stock the fridge.)
I have a cold, and am working through my pile of handkerchiefs instead of using facial tissue or toilet paper. When I run out of hankies, I'll switch over to rags made from old T-shirts. I'm also using my Neti-Pot, but I will spare you those details. (You're welcome!)
I stopped at Petco last night after dropping my son at soccer practice. I buy their scoop-your-own cat litter, which eliminates the awful amount of plastic packaging that normally accompanies this purchase. (One pound of packaging according to their in-store sign.) And priced at $9.99 for a 30-pound bucket, it's a deal to boot! The best part is that the store is on my way to soccer practice, so I was able to batch this errand without wasting gasoline. (And before you ask, we tried environmentally friendly cat litter, which made my cats pee in the back of the coat closet. So . . . pass.)
My son and I took advantage of New York City's fantastic public transportation system to get from my sister's apartment in Washington Heights to JFK airport. A taxi would have cost $49.50 plus tip. We paid $5 for the subway, and $10 for the Sky Train, which drops you directly at your terminal. And that's for the two of us! That's a $40 savings, people!
My son and I somehow didn't pack any food for our JFK ->LAX flight. However, I asked for full cans of tomato juice from the free beverage cart, which sated my hunger. My son drank apple juice and repeatedly denied that he was hungry. (I am not so cheap that I wouldn't feed my son.) I did buy him a $9.80 meal at LAX, and bought myself a $3.00 bagel with cream cheese, which was the cheapest thing I could find.  Next time I will not forget to pack our own food. #FrugalFail
Now your turn. What frugal things have you been up to?
Katy Wolk-Stanley