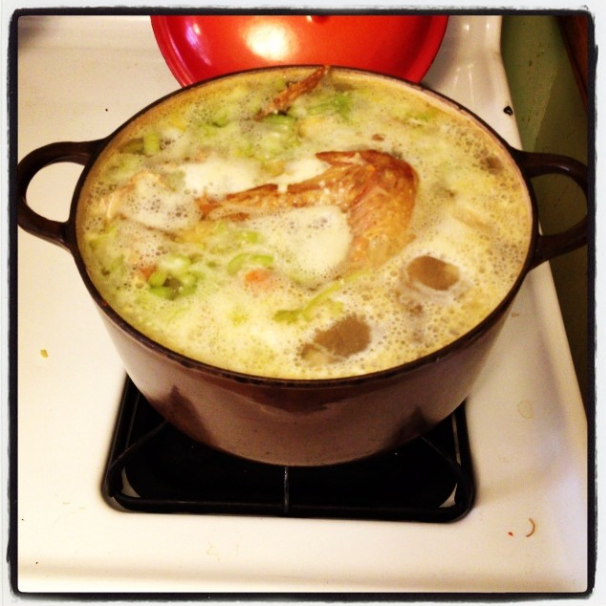 1)  My younger son had two friends over yesterday to play FIFA 13, (soccer video game) and then to actually kick the ball around the soccer field. (Whoever said that video games don't lead to exercise would be wrong in this case.) I took advantage of the opportunity to clear some leftovers from the fridge. I cut up almost an entire bunch of celery stalks and served it with the last of some spinach/kale dip from Thanksgiving. I also served turkey soup with dumplings for dinner and treated the boys with the last of the Martinelli's cider. Needless to say, we are no longer burdened any leftover pie.
2)  I killed time while the boys played soccer at the nearest Goodwill thrift shop. (I know, big shocker!) Although I didn't find any vastly underpriced pieces, (my goal — always!) I did snap a few photos of things that caught my eye, like the graphics on this box of vintage Christmas ornaments: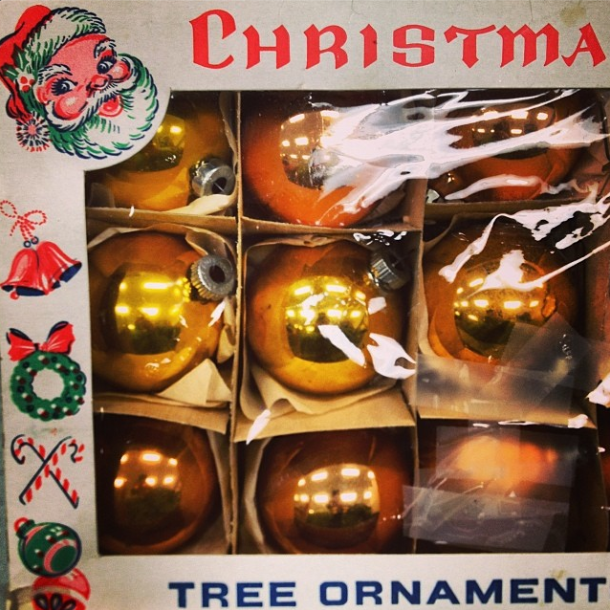 And this "Kitty Katfish" tile trivet from Taylor & NG: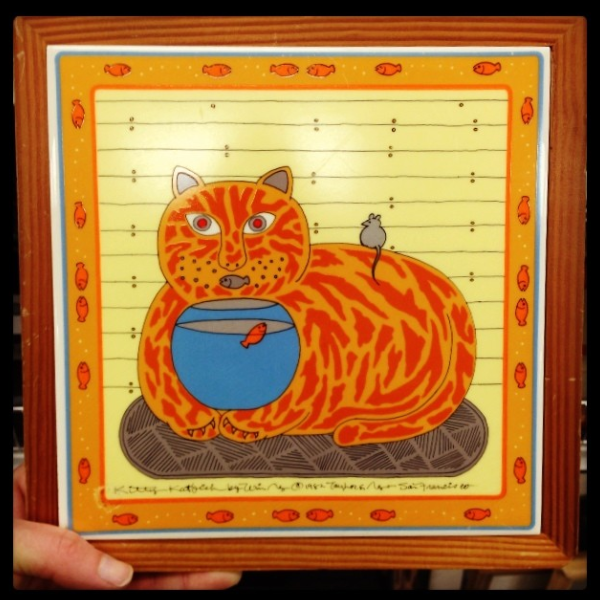 I confess that the tile trivet came home with me, as it was priced at $4.99, and they sell on eBay for $20.
3)  I bought two $10 gift certificates to our locally owned art supply store. I used my American Express, as well as my husband's. The entire amount will be refunded thanks to Small Business Saturday, and I've already rolled the certificates up like scrolls to put into the boys' Christmas stockings. I had a lovely conversation with the owner of the store, which would have been unlikely if I'd shopped at Amazon.com.
4)  I spent a half hour or so raking leaves in front of my house yesterday, which resulted in the lovely side effect of conversations with both of my next door neighbors. Most people in my neighborhood do their own yard work, which is very different than the neighborhood I grew up in. Although the home owners of the 1970's mowed their own lawns, raked their own leaves and planted their own garden, this is no longer the case. My parents bought their house in 1969 for $20,000, but similar houses now sell for a million dollars or so. So even though the yards have not changed in size, the incomes of the home owners have. Gone are the days of neighbors chatting over the fence while puttering around the yard. Kind of a loss to their community. (It goes without saying that my parents do their own yard work.) Not to mention the auditory assault of the constantly running leaf blowers.
5)  I walked to the grocery store yesterday where I bought a single carrot for the soup. I didn't wander the aisles, and I didn't try to think of what else we needed. One loose carrot, my own bag and done. I truly feel that this purchase sums up my style of simple frugality. I didn't wait for a sale, find a coupon, travel across town for a once-a-week farmer's market or plant my own garden. I bought exactly what I wanted, nothing more, nothing less. It would make a less than gripping blog post, and no one would share it or retweet it, and it would certainly never go viral. But there it is, in a nutshell.
Now your turn. What frugal things have you been up to lately?
Katy Wolk-Stanley