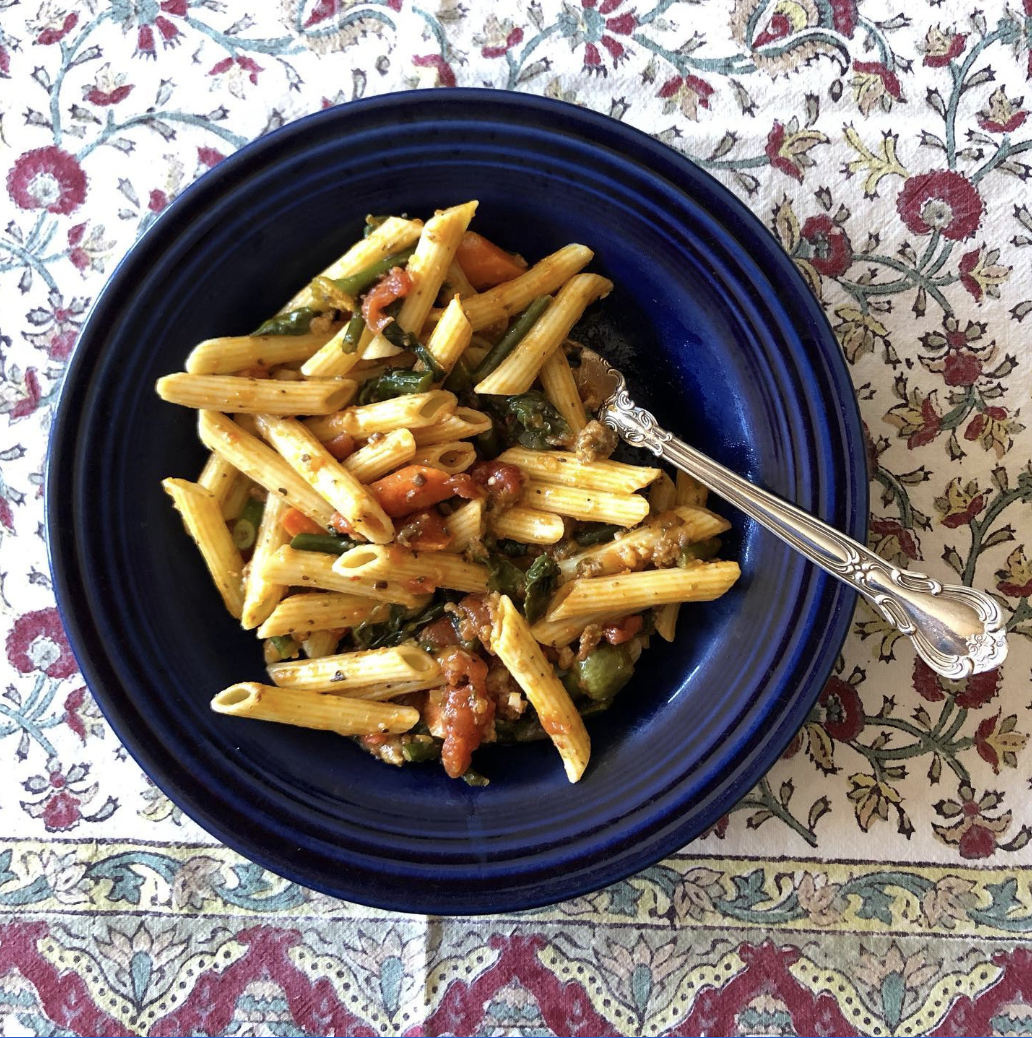 I still haven't been thrifting lately as my foot becomes intensely painful if I walk any more than necessary, so my eBay sales are essentially just stale inventory. However . . . that's still a couple items per week.

• A stuffed anime rabbit that I bought for $2.99 and sold for $50.

• A Calphalon skillet that I bought for $4.99 and sold locally for $30.

I paid my next door neighbor the semi-annual cost of $103 for our shared garbage service. (Although we're billed monthly, we both agree that it's easier to for me to pay in December and July.) This plan was my idea at least 14 years ago and we both currently save $206 per year.

In all the years that I've been scouring the internet for unique money saving hacks, I've never seen anyone else suggest this as a cost cutting measure.

My neighbor across the street gifted us a loaf of warm sourdough bread and I sent her home with two bowls of freshly made potato cheddar soup, my daughter works for a high end grocery store and brought home a dozen eggs, three packets of $11 bacon and a box of macarons that she'd gotten for free, I listened to an audiobook of Bloomsbury Girls using the free Libby app, my friend asked if I wanted to tag along to Trader Joe's with her and I bought just two bunches of 19¢ bananas and a 12-pack of toilet paper, (I consider this to be a yuuuge frugal win as Trader Joe's is 90% impulse items) I used the Too Good To Go app to buy a bag of end-of-day pastries from a nearby coffee shop for just $2.99 and I followed a surprisingly delicious stir-fry veggie pasta recipe from Ardent Michelle that used up items in my fridge that were on the verge of being wasted. So long carrots, spinach, garlic scapes and bulk sausage.

I wish I could live a life of nothing but 19¢ bananas, but there's no escaping the inevitability of unexpected financial hits. Please enjoy mine:

• My elderly 2010 Macbook finally got to where it couldn't handle updates and was glitching left, right and center. I replaced it with a certified refurbished MacBook Air for $850. Oof.
• I took my Prius to Costco for a free tire rotation, and ended up having to purchase a new tire for $86. (It did have some warranty left, which is how I paid this lesser amount.) Then I had to drive to an entirely different Costco south of Portland for the specific tire. It ate up half my day plus $86 of our precious credit union account. Crud.
• My husband took our minivan to Les Schwab (a local tire chain) to get the tires rotated on the minivan and we ended up having to buy two new tires! Bye-bye, $300! Damnit.
• I finally found an arborist to prune our enormous backyard tree. The last guy had scheduled us for "the first week of March" and then ghosted us. At this point I've gotten four different bids, which have ranged from $1300 to $3500. This tree probably would have fared better from our freak April snow storm had it just been pruned, and this pisses me off. This guy is $1400, which we can technically afford, but still . . .
• This one isn't my frugal fail, but I'm putting it here anyway. My son signed up to get a "free" Hello Fresh box and somehow received (and got charged for) six boxes. He realized his error and talked to customer service, but they refused to help him even though he'd only received two kits at that point. He ended up making all the meals at our house, (as he shares a small kitchen with three roommates) and we used it as an opportunity for him to learn certain cooking techniques. He also learned a lesson about "free" meal kits.

I didn't buy a Lear Jet, as aviation fuel no longer fits in our budget.
Katy Wolk-Stanley    
"Use it up, wear it out, make it do or do without."