I wrote last week about the thin line between inspiration and discontentment, and how I can go from "ooh . . . that's a cool look" to "my whole house needs a re-do" faster than a Kardashian marriage. (Sorry, I just couldn't help myself.)
However, I have recently been energized to attempt some fun home improvement/decor projects around my own house. Inspired by Young House Love, I decided to dye my Goodwill/Pottery Barn velvet pillow shams.
I actually really liked the color of the shams, as they perfectly matched the palette of our guest bedroom. However, our guest bedroom is currently occupied by a Japanese exchange student and I greedily wanted these pillows for myself. But when I brought them up to our terra cotta colored bedroom, they clashed something awful. Here's the original color: (Sorry, but no picture were taken of the pillows in our bedroom.)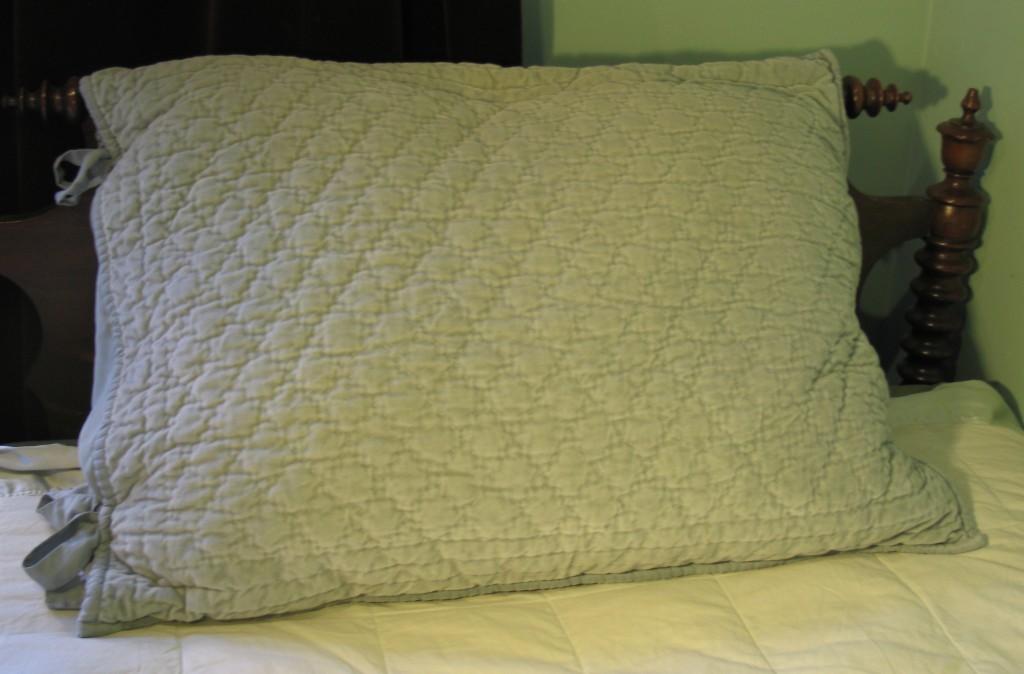 I had read about how John and Sherry dyed their dining room slipcovers from apple green to brown, and I was inspired to do the same. So with my friend Sasha in tow, we ventured out to the big tuchus fabric store in search of dye. Here's what I bought: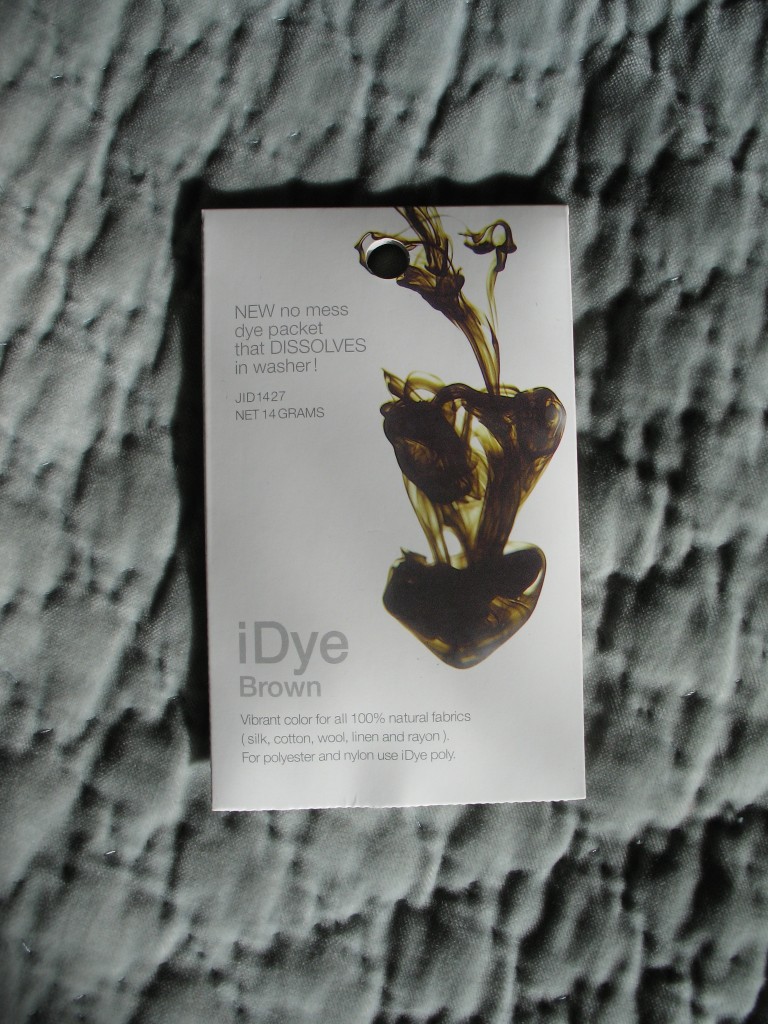 I did run into a bit of a dilemma when I read that a 1/3 cup of vinegar should be added when dyeing silk, and a cup of salt should be added when dyeing natural fibers like this cotton velvet. And since the these shams included both materials, I added the two, crossing my fingers that there would not be an evil mad scientist-style result.
You vanted brown fabric? How about instead I blow up your house and steal your woman?! Bwah, ha, ha . . . 
My hot water was not very hot, so I added a cauldron of boiling water to the wash, and set the machine to agitate. I then left it all to soak while I ran errands. How long did I let them soak? Umm . . . I don't really remember.
The end result was that the velvet was dyed a lovely brown shade, while the silk, (and the most-likely synthetic thread) stayed green. But this was no catastrophe, as I like the effect. Here, see for yourself: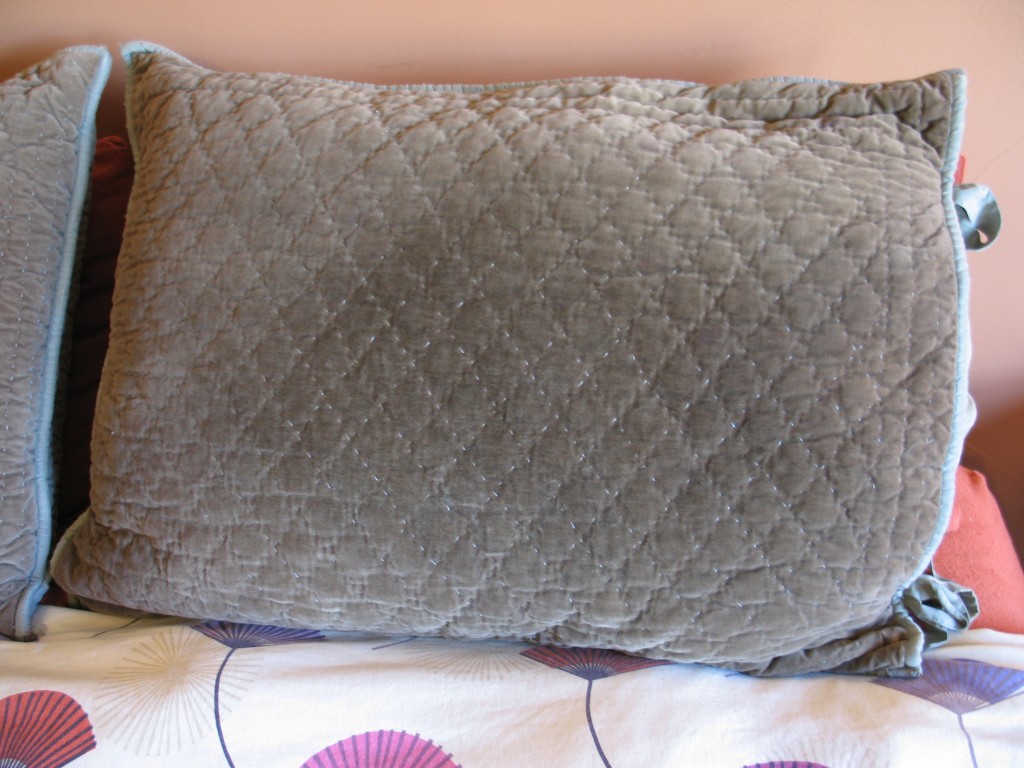 And here's how the pillows look in our bedroom. Do you like how the velvet of the pillows pairs well with the velvet frames of our antique botanical prints? Cause I sure do. (If you click on the photos, they should enlarge.)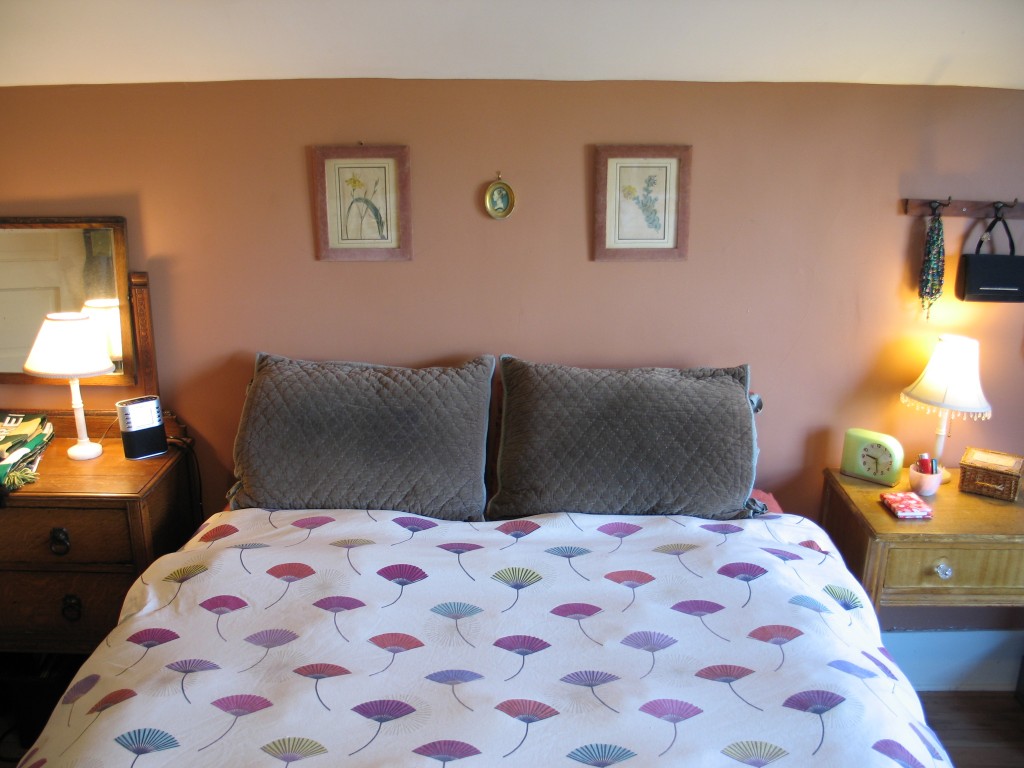 If I were to repeat this project, I would leave the shams in the dye solution to soak for longer, as I had actually wanting a more saturated color. This was my first attempt at dyeing anything since 1980's college, (Hello, tie-dye!) I'm actually quite pleased with the result. And since the out of pocket cost of this decor project was a whopping $3.20, I say I definitely got my money's worth!
Have you played with fabric dye to update your decor or clothing? Please share your stories in the comments section below.
Katy Wolk-Stanley
"Use it up, wear it out, make it do or do without"
Click HERE to follow The Non-Consumer Advocate on Twitter.
Click HERE to join The Non-Consumer Advocate Facebook group.