This giveaway has ended. Congratulations to Erin and Elisa who both won copies of "Happier at Home."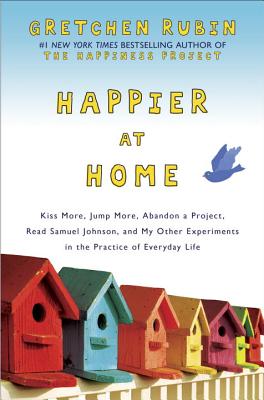 I have a very special treat for you today, as Gretchen Rubin had her publisher send not one but two giveaway copies of her brand new book Happier at Home: Kiss More, Jump more, Abandon a Project, Read Samuel Johnson, and My Other Experiments in the Practice of Everyday Life. 
Two giveaway copies!
For those who have been enjoying time under a rock for the past two years, Gretchen Rubin is the #1 bestselling author of the fan-frickin-tastic The Happiness Project.
Rubin's new book explores how she works to bring more happiness to her New York City home, which she shares with her husband and two daughters. She declutters, beautifies her surroundings, hugs and kisses her family, designs art projects and embraces good smells. It's a wonderful companion to her previous book.
I saved my review copy of the book a few weeks ago for my non-stop flight from Portland to New York, and was happy to find that it held my attention and dare I say it, gave me an overall feeling of wellbeing that normally does not find me while flying. I didn't take notes, as I wanted to immerse myself in the book rather than analyze it. (Which explains why there are no quotes in this "review.")
She and I met up for dinner a few nights later, and I can testify that she's as honest and lovely in person as she presents herself in her books.
To enter to win Happier at Home, write one thing that makes you happy in the comments section. I will randomly choose a two winners Monday, September 10th at 9 P.M. PST. U.S. Residents only, please enter one time only.
Here, I'll start you out:
One thing that makes me happy — Seeing my kids speak Japanese.
Now your turn, what makes you happy?
Katy Wolk-Stanley
"Use it up, wear it out, make it do or do without."
Click HERE to follow The Non-Consumer Advocate on Twitter.
Click HERE to join The Non-Consumer Advocate Facebook group.
Click HERE to follow The Non-Consumer Advocate on Pinterest.