Yesterday was a teachers' planning day in Portland, so all public school students had the day off. I called my mom up and proposed an afternoon of hijinks and camaraderie. We first indulged in some comfort food and pie at the Village Inn and then hit up the nearby Goodwill thrift shop. She's been cramming for her master's degree orals and I knew she needed a break.
My mother was looking for a blouse, I was looking for weird stuff to photograph and my son, as always was looking for soccer related bargains.
He quickly located this Argentina national soccer team jacket, priced at $13. And since they normally sell for $90, a certain 16-year-old was happy to let his grandmother buy him a treat.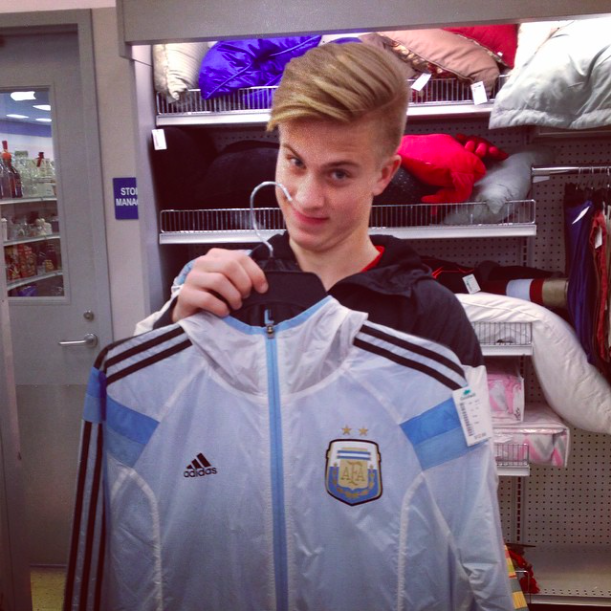 He was also drawn to this American national soccer team jacket.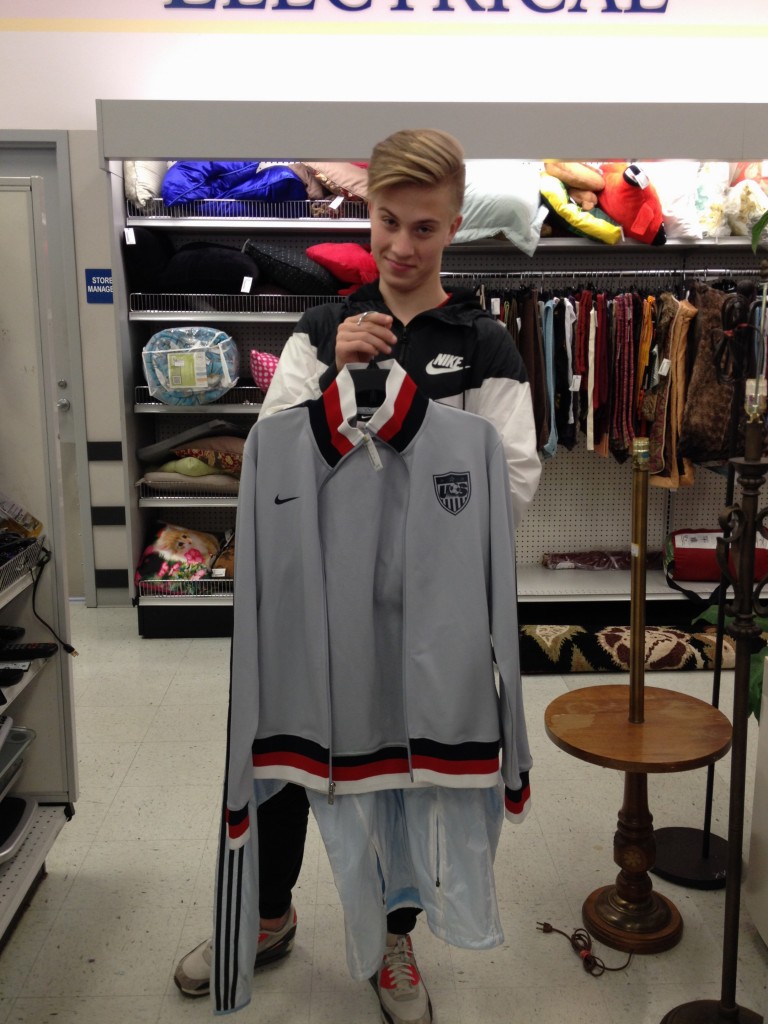 But was less excited about the word "sample" written across the back. Had the jacket been priced appropriately, we would have been happy to bring it home and use a solvent to remove the ink. But since the two jackets were priced the same, there was no contest on which one to buy.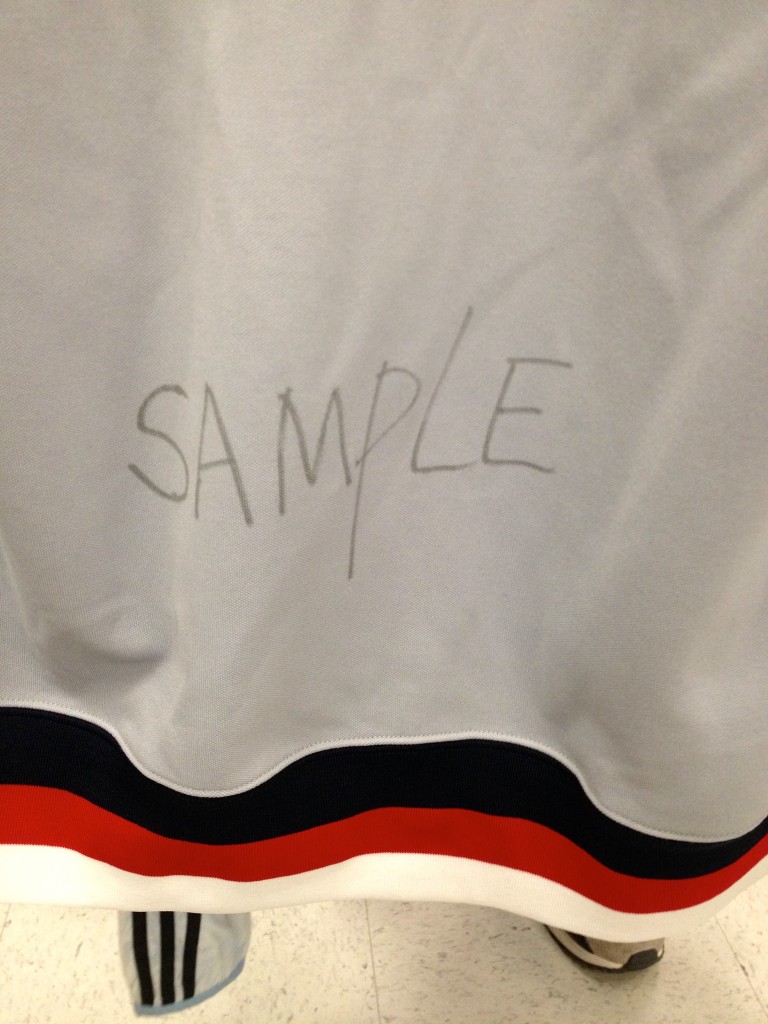 I had a brief but intense love affair with this hand crocheted afghan. Such great colors and lovely flower detail!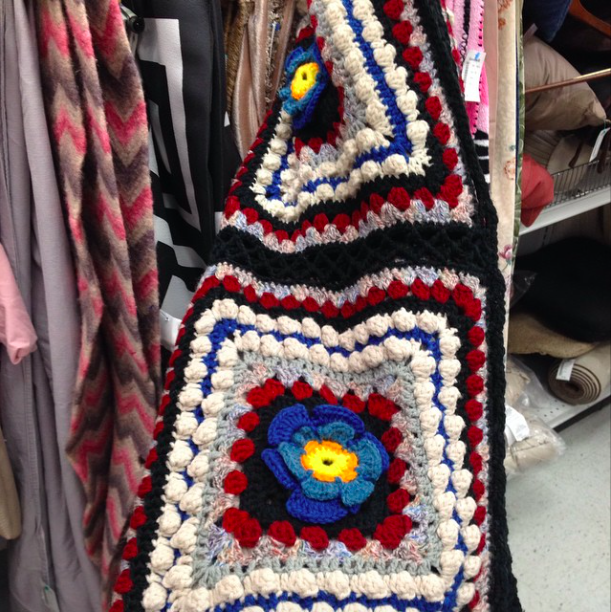 But $19.99 was too high a price for me to bust out one of my Goodwill gift cards. (Yes, it costs more than $20 to buy the yarn for such a large project, but what can I say? I like a bargain!) Plus, you know . . . I need another lap blanket like I need a hole in the head.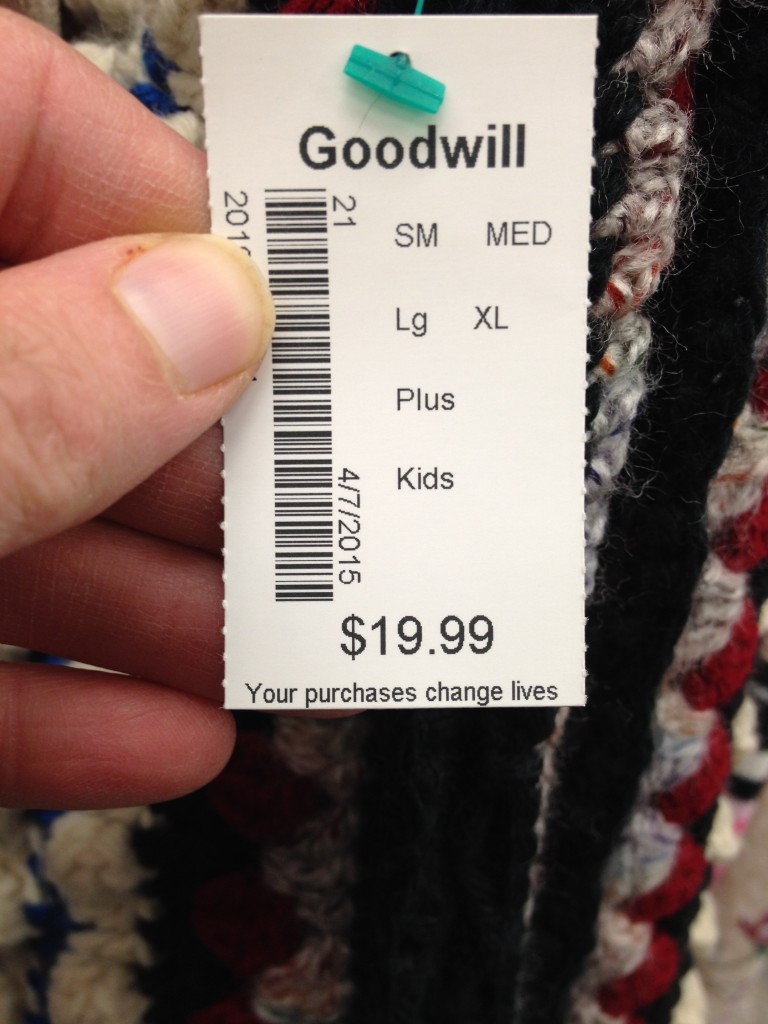 I did appreciate the $1.99 price tag on this Kleen Kanteen beverage container. I know Kristen from The Frugal Girl would have popped this lil' guy into her cart, but we currently have the perfect number of water bottles. Plus, it's for little kids.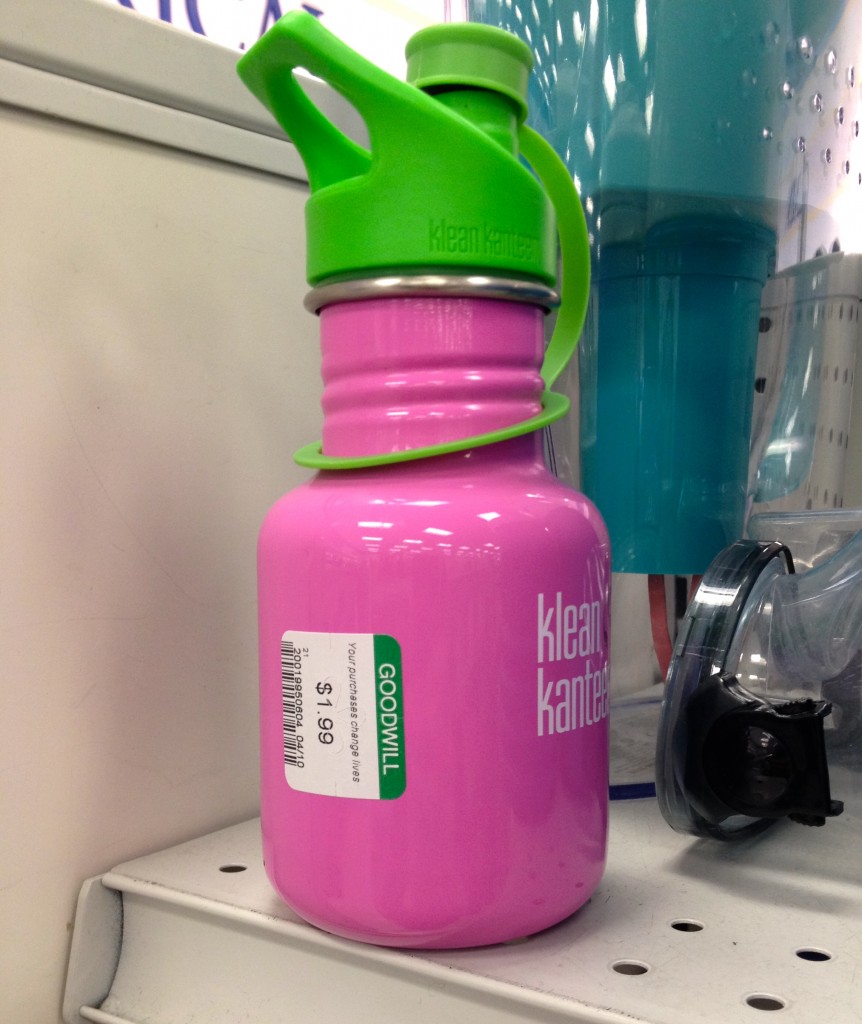 I had a deep appreciation for this framed glass-grapes-on-black-velvet artwork, especially since it was one of a pair. So perfectly kitchy! It weighed approximately 754 pounds, which I think deserves some respect. Sometimes I wish I was a set decorator for the movies, and then I could spend my days scooping up weird vintage items.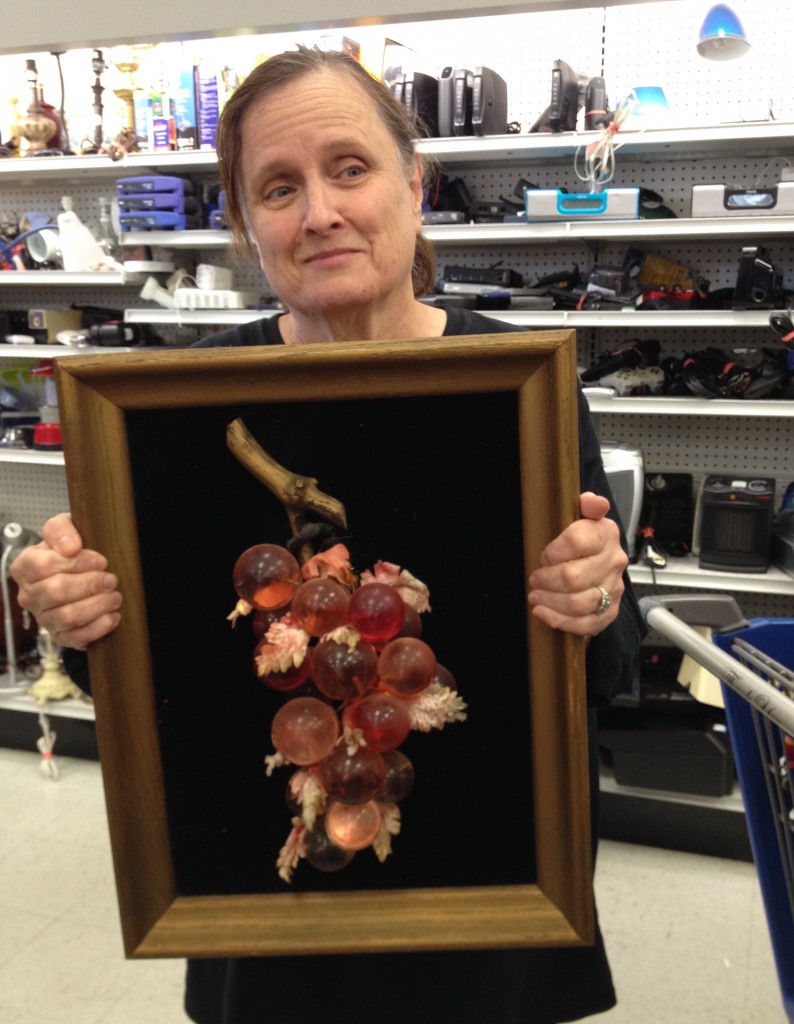 The one thing I did snap up was this $4.99 miniature end table. With quality that rivals most Ikea items, I had a strong suspicion it was an official American Girl Doll accessory.
And my instincts rarely fail me, as this turns out to be Kit Kittredge's table, and here's one that recently sold on eBay for over $42. But I didn't buy it with an eye for resale. Nope. I bought it for my ten-year-old niece Emma.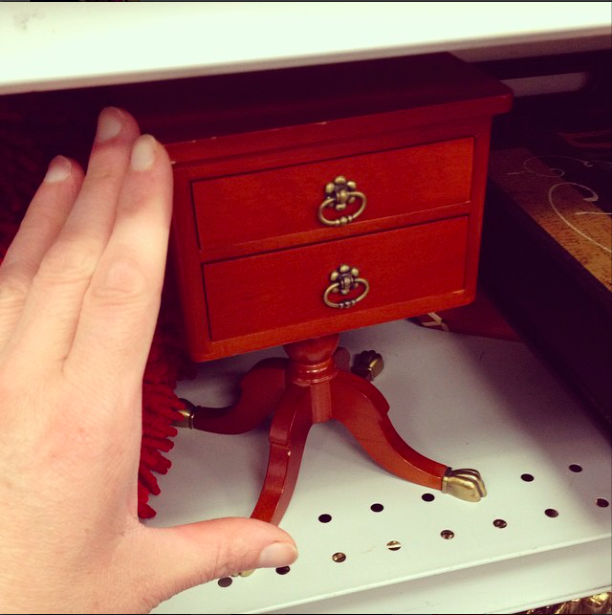 Last summer I took my one and only beloved niece to the American Girl Doll flagship store in New York City. But despite her dearest hopes, I wasn't actually the kind of aunt who was able to treat her to her heart's retail desires. Instead, I told her that we were going to treat the store like a museum, and just look at the stuff and appreciate everything. I also told her it would sharpen my eye for when I was thrifting. (Don't worry, she already has two dolls and a number of accessories.)
So I owe her.
Emma's mother and I were mad for our Sasha dolls when we were kids, and are still unabashedly obsessed with anything that's the right size for our dolls. (So yeah . . . The American Girl Doll store was as much for me as it was for Emma.) Which is how my sister sent me these tiny Tabasco sauce bottles for my birthday this year.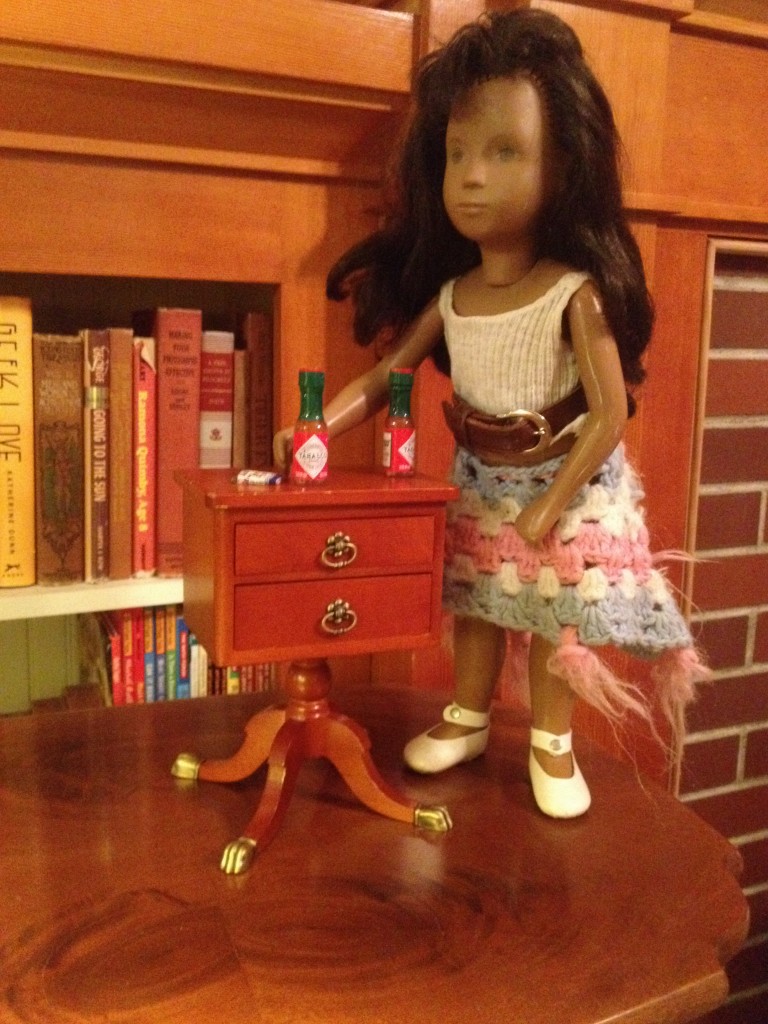 Of course, no Goodwill, Badwill, Questionable-will post would be complete without a what the fü¢& were they thinking item. This umm . . . back massager. With the rather virile and masculine handle. NOT OKAY TO BUY USED! NO!
A totally legitimate exception to the buy-nothing-new Compact.
Okay to landfill this bad boy.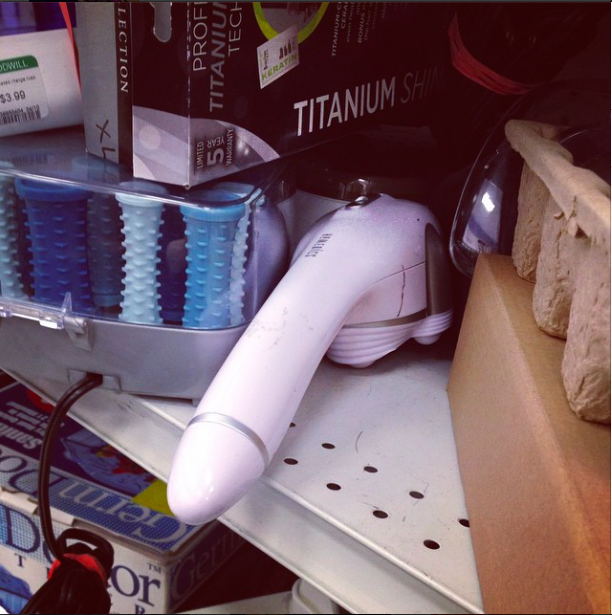 Do you go into thrift shops and marvel at the oddity of merchandise and pricing until you find that one perfect item? Please share your thoughts in the comments section below.
Katy Wolk-Stanley
"Use it up, wear it out, make it do or do without."