As is often the case, I found myself at the main Goodwill the other day. I had a load of stuff to donate, (my husband's old work uniforms plus a pile of shoes) so I decided to treat myself to a little look-see through the store. (It may seem like thrifting is a daily habit for me, I actually only go every couple of weeks, and I walk out empty handed more often than not.)
I headed first to the furniture department, where these two vintage podiums stopped me in my tracks. They were labeled "Loyalty" and "Service," and begged and pleaded to come home with me. At forty bucks a pop, their allure came at a price, so it would not have been a pain-free purchase. I started to imagine myself accepting public speaking gigs, where I'm "that crazy lady who brought her own podium," which is kind of funny. I could totally see how cool the "Loyalty" podium would look in a corner of my living room, but in the end I held off.
But only because A) my husband would kill me, and B) I would want to place a big vase on flowers on it, but the sloped surface would be a one-way ticket to broken-vase land.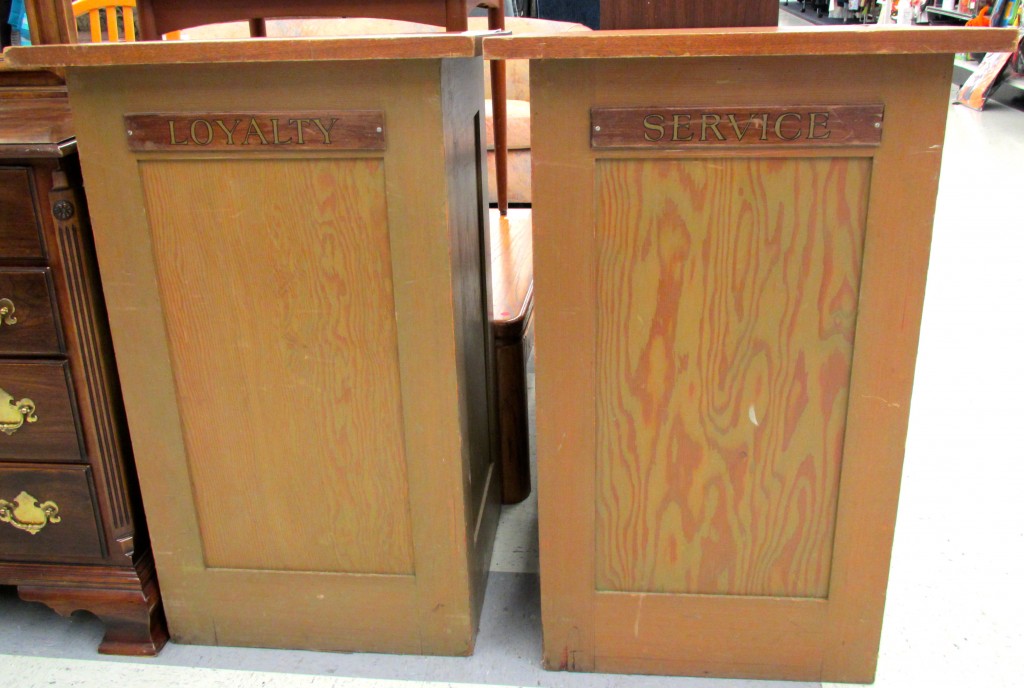 Don't you love the vintage lettering?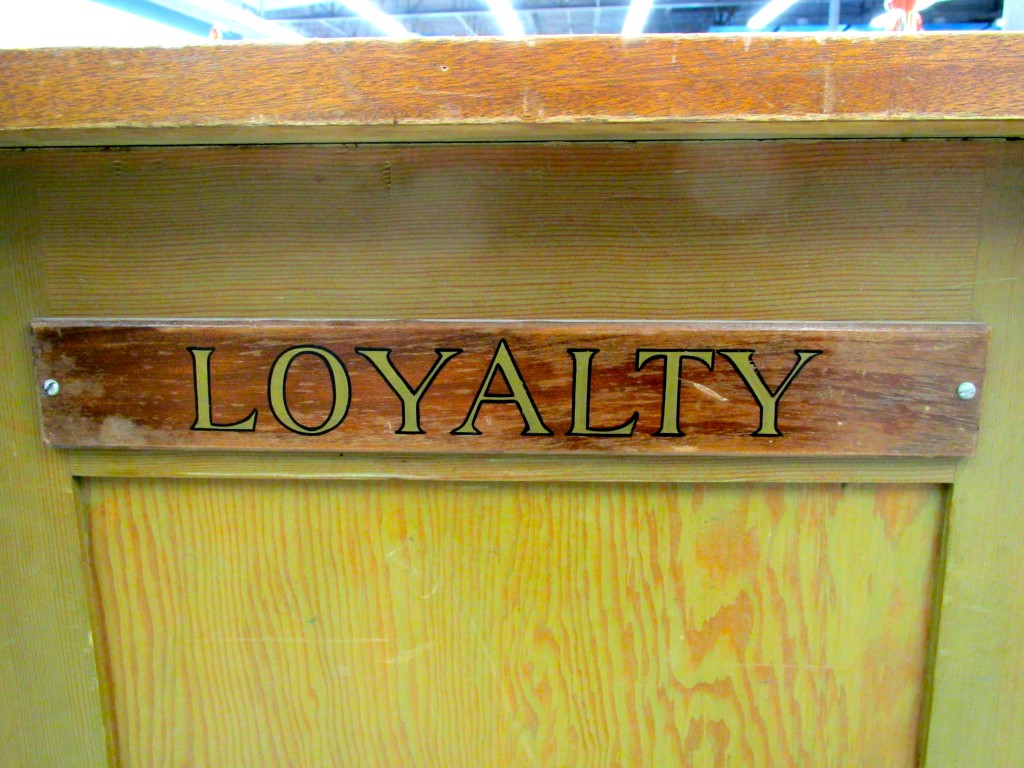 I then meandered over to the mug section, which as always, was filled to capacity. (Seriously, does anyone ever have too few mugs? Those things mate like Tribbles!)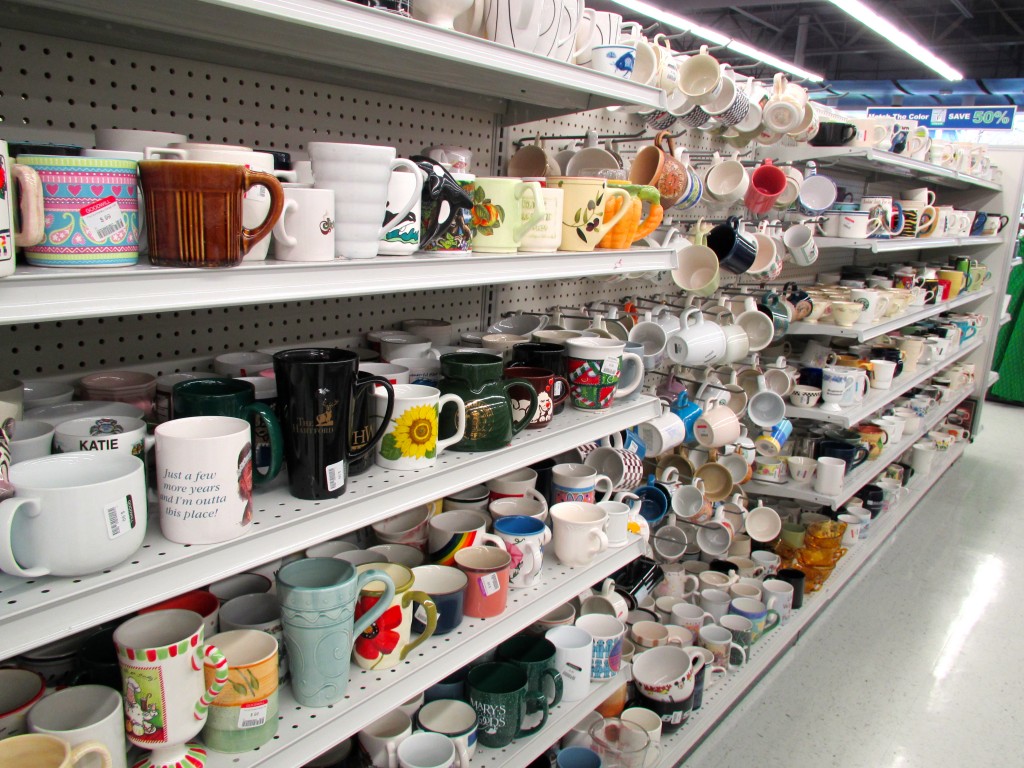 My eye was drawn this this Leanin' Tree mug which featured the quote, "In a few more years I'm outta this place." I have a soft spot in my heart for Leanin' Tree items, as my husband gave me one of their cards which said "A friend like you is harder to find than a good horse" waaay back in 1987 when we were first dating.
Needless to say, I did not buy it.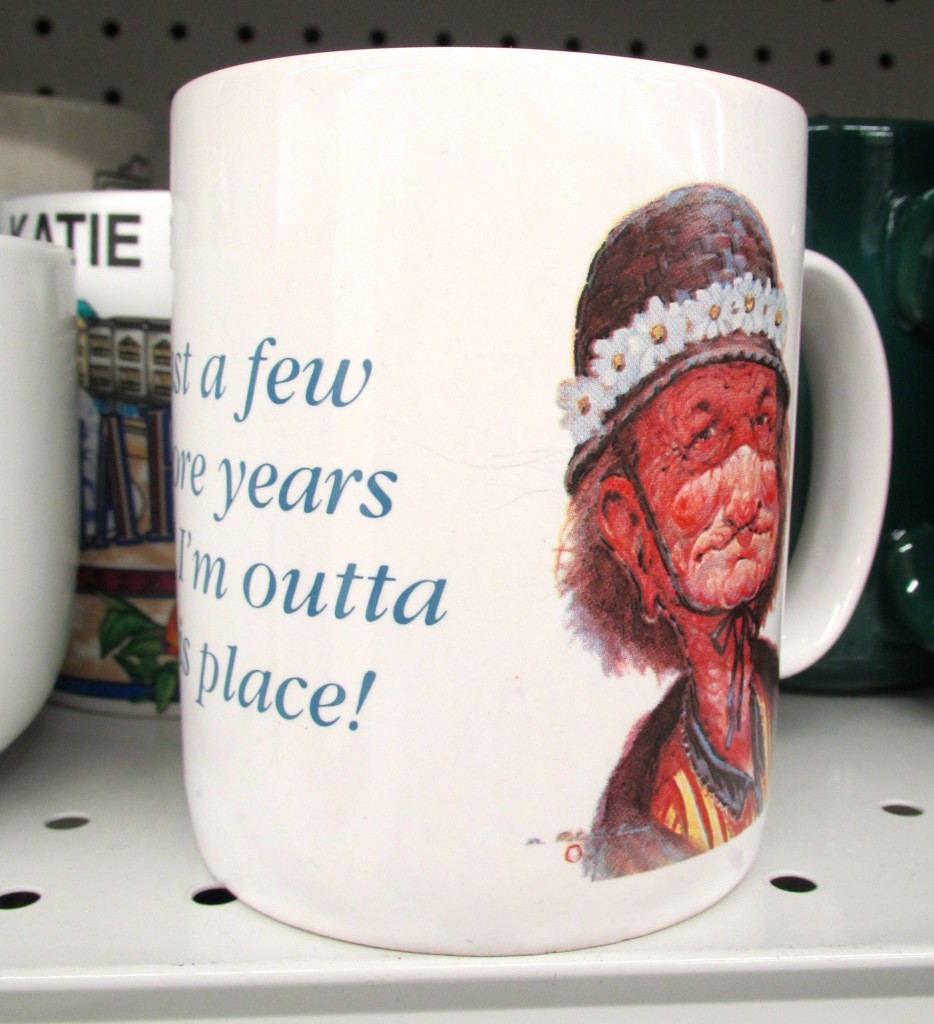 I also didn't buy this decorated Mrs. Butterworth bottle. Remember when I wrote that every thrift store has one of these? I was not kidding.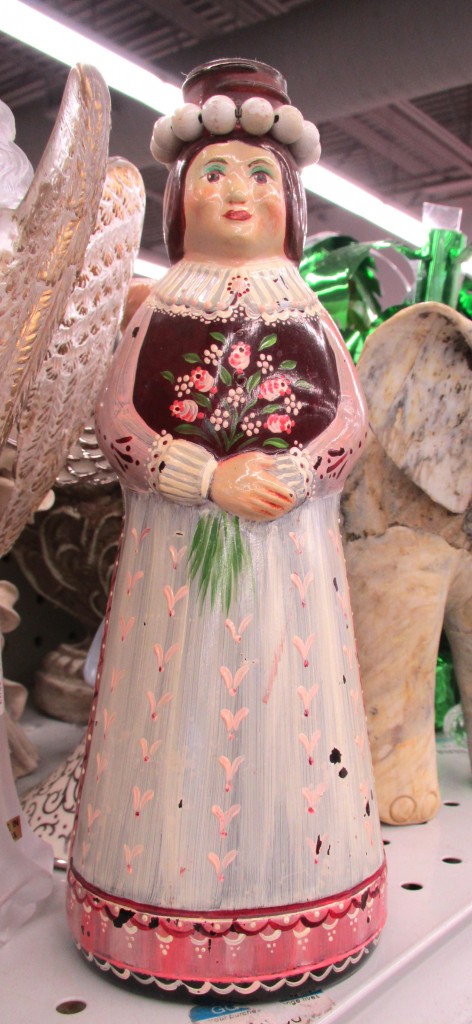 One shelf that I always visit is the mismatched baubles area. Why? Certainly not because I'm looking for Mardi-Gras necklaces and barrettes, but because this is where marbles get sold. And I once bought a large jar of antique marbles here for $2.99, which I then sold on eBay for hundreds and hundreds of dollars.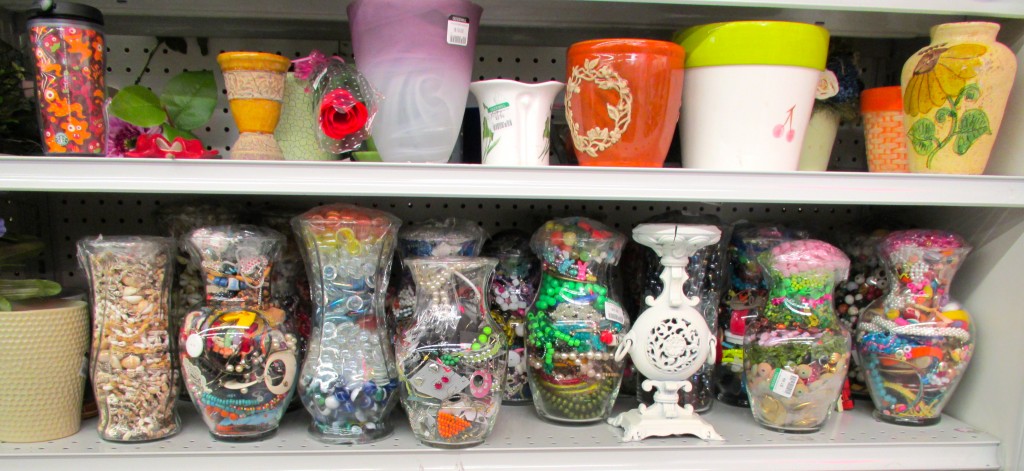 The only vaguely antique marbles this day were pretty, but not worth a huge amount, so I left them on the shelf.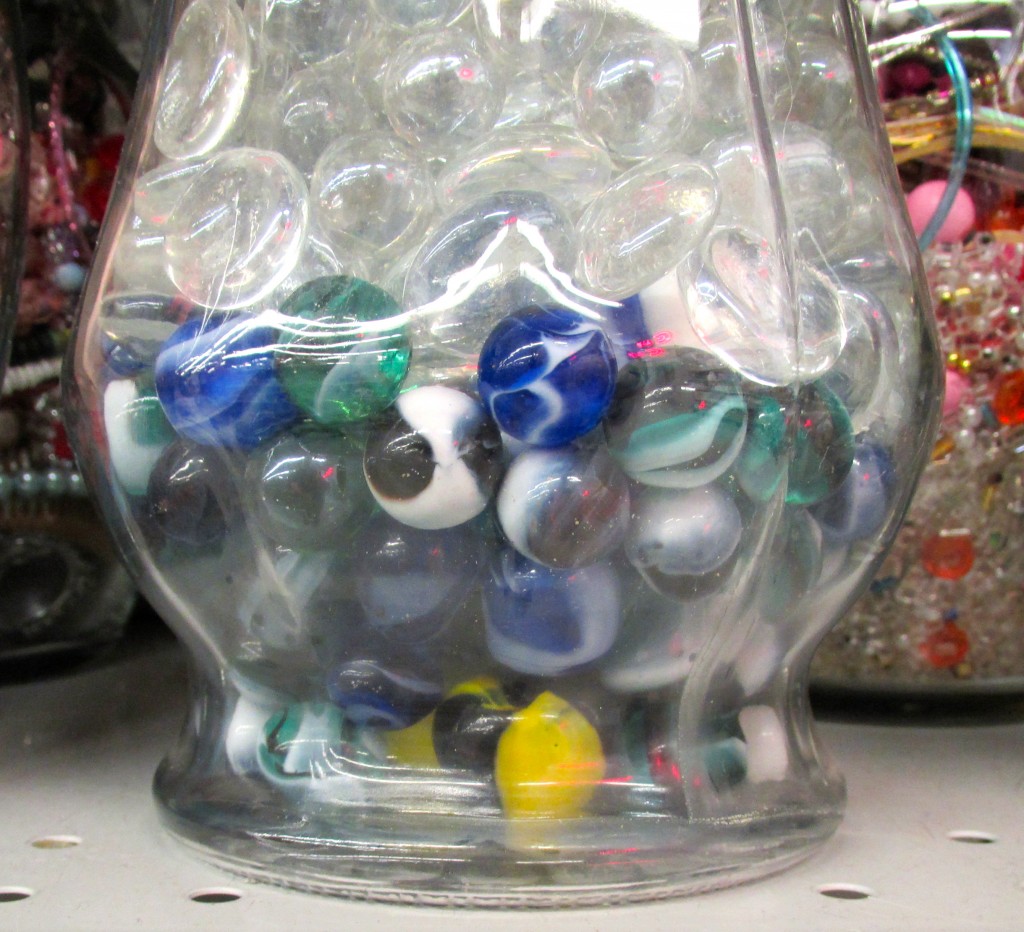 I am starting to enjoy the category of ironic piggy banks. (Okay, they're not actually pigs, but what else should I call them?) You know like "Vacation fund" and "Fishing money." Alas, I only found two. But they're still kind of funny.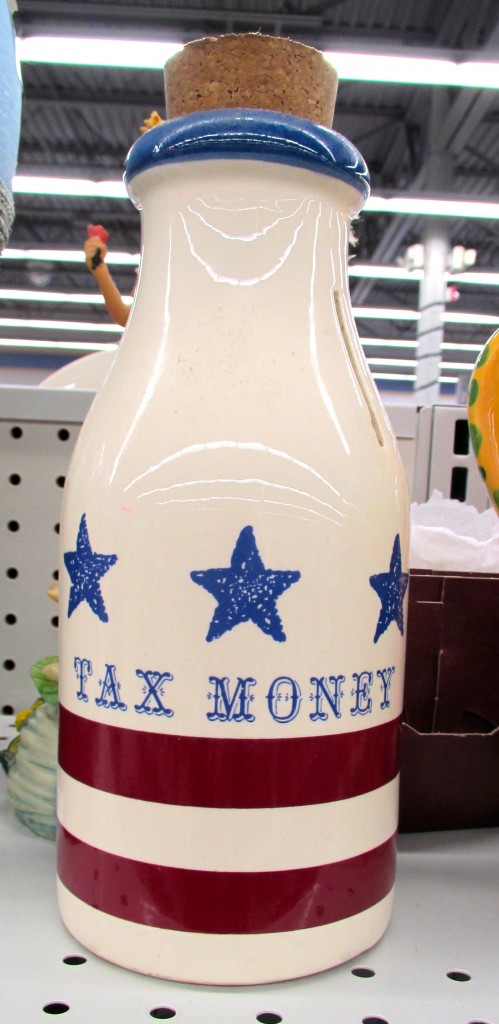 This piggy bank has the potential to help my family amass a fortune, but mostly just from me. 😉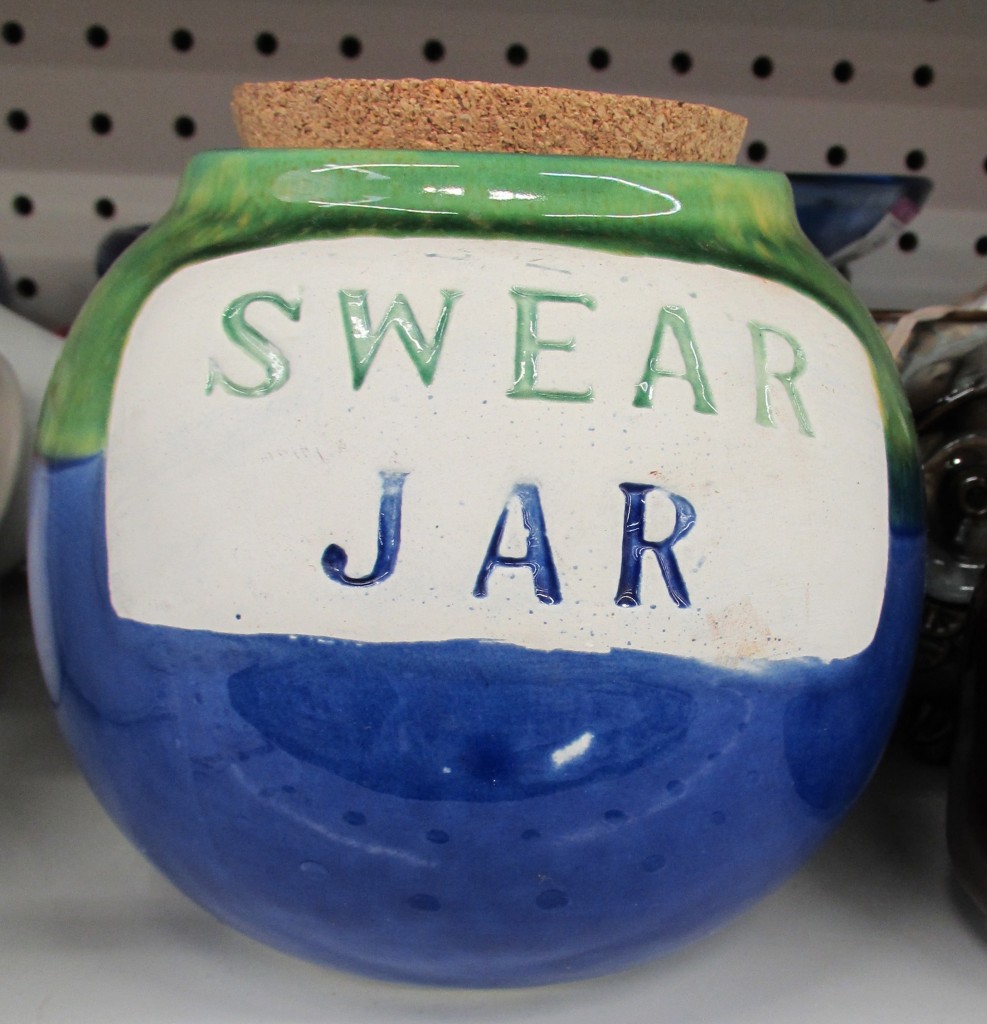 So what did I buy? This lovely little bag of wool skeins. The brand is mostly Appleton Bros., which is a British company, and they normally sell for $1.75 apiece. And since there are 18 skeins of wool here, the $2 price tag was a mighty fine deal. No two colors are alike, but that's okay, as I'll use the wool for sock darning, and it's kind of cute when the patches are in contrasting colors.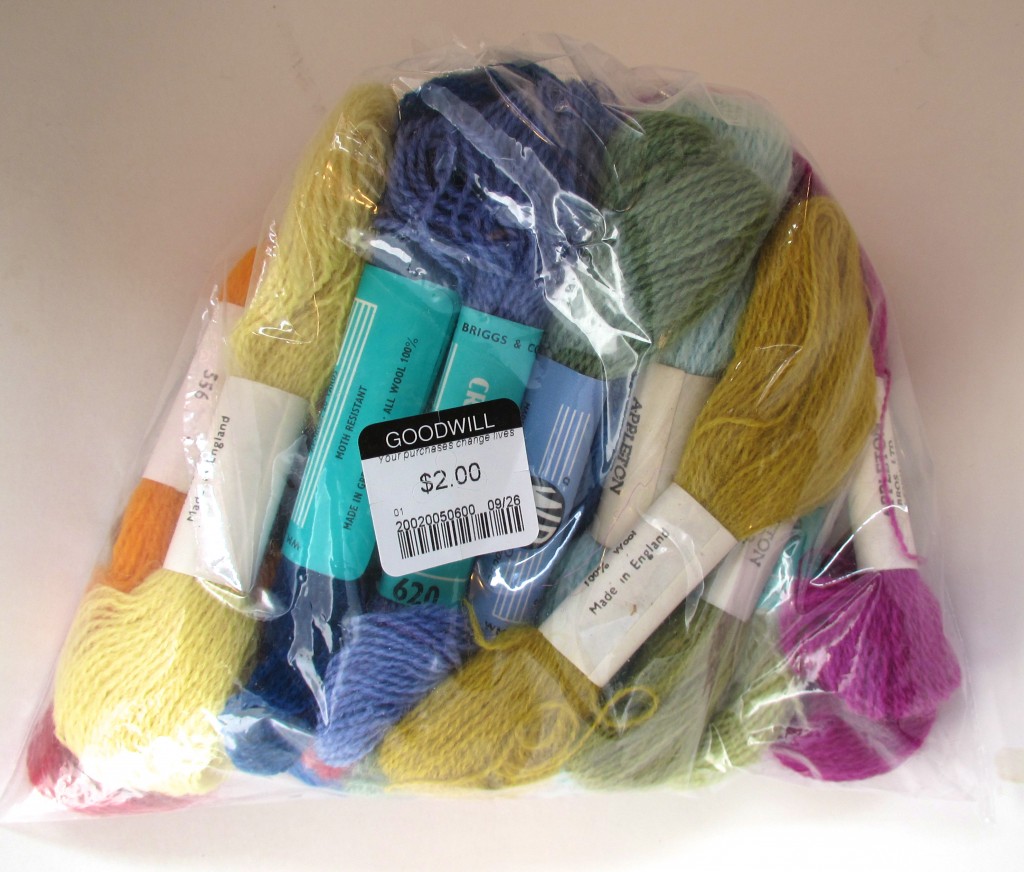 My purchase may not be especially brag-worthy, but it's almost sock season here in Portland, Oregon and my to-darn pile is somehow bigger than my socks-I-can-wear pile.
Now, I wonder if that Loyalty podium has sold yet . . .
Katy Wolk-Stanley
"Use it up, wear it out, make it do or do without."
Click HERE to follow The Non-Consumer Advocate on Twitter.
Click HERE to join The Non-Consumer Advocate Facebook group.
Click HERE to follow The Non-Consumer Advocate on Pinterest.