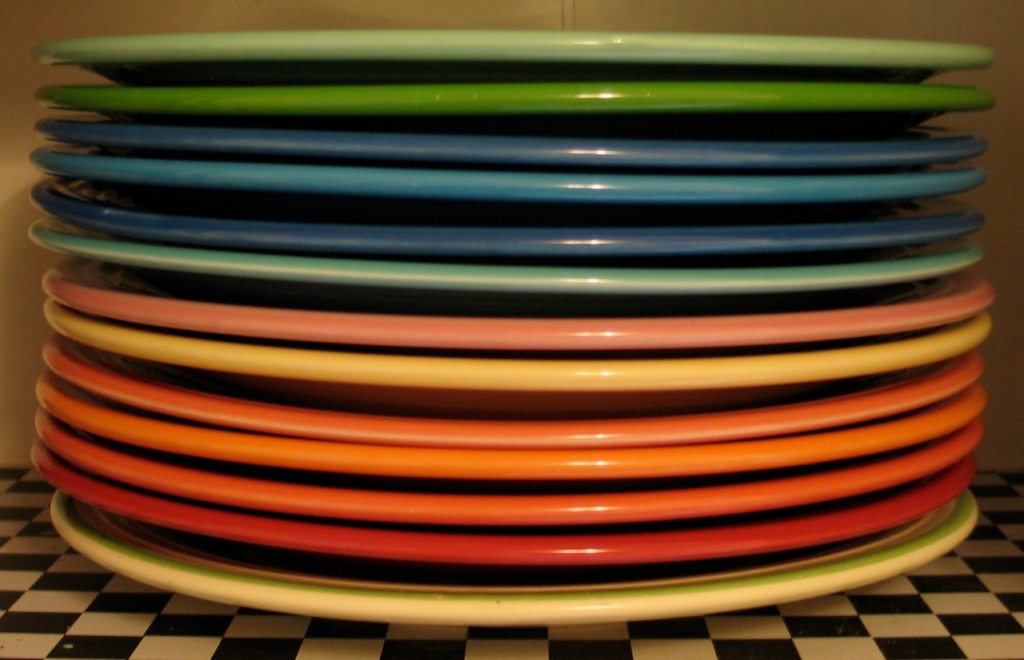 In my family, Thanksgiving is always hosted at my house. Not only do I have the space for it, but I am a bit of a late-to-life control freak who needs to have things done my way. (Cranberry sauce, mashed potatoes and pumpkin pie prepared the day before, with rolls and veggies done at the last minute.)
And most importantly, I have enough dishes and serving ware to host a lot of dinner guests. This year saw only twelve people at the house, but we've had as many as twenty without having to resort to *gasp* mis-matched plates, or *gag* paper plates.
I was admiring my hyper-organized cupboards last night, when it occurred to me that I should count how many plates I own. I stopped at 102, although there may have been a few that I missed. Yes, I included platters and dessert plates, but I really didn't inflate this number whatsoever. (I just realized that I actually skipped the built-in buffet in the dining room.)
Do I have too many plates? No way! I have room for them all, and since they all match, (Fiestaware) they serve as both form and function. The combination of color and shape are almost sculptural in quality, and frankly I never had a chance to not collect Fiestaware, as I my sisters, mother and father all suffer from the same affliction. (And yes, my great grandparents lived in the same tiny Ohio town where Fiestaware continues to be manufactured.)
I no longer use the vintage dishes due to lead concerns, and I certainly stay away from the "Red", (actually orange) dishes that include enough Uranium to make a geiger counter dance the jitterbug. But I love it all anyway.
I may be looking to pare down my excessive belongings throughout the rest of my house, but I will hold onto these dishes as long as I have room for them. Which I guess, is why I'm getting rid of so much stuff everywhere else. 😉
Katy Wolk-Stanley
"Use it up, wear it out, make it do or do without"