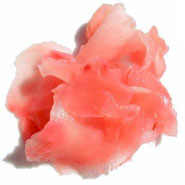 I am totally grooving on my current decluttering kick, but that doesn't mean that I don't get a kick-and-a-half out of continuing to figure out different money savings tricks, (or "hacks" for my hipsters readers.) My favorite part is that I never seem to run out of new ways to save money!
Regular readers already know that I buy the pepperoni for my homemade pizzas from the Papa Murphy's up the street. This little trick not only saves me a couple of bucks, but I also don't end of buying three times the amount I actually need. Plus, I usually remember to bring my own container, which makes it packaging free!  Win, win, win!
But today I learned that the Japanese restaurant a few blocks away would sell me a fairly sizable amount of wasabi and pickled ginger for a mere two dollars! We were making sushi for dinner, and the pickled ginger at the grocery store was not only six dollars for a jar, but looked kind of gross and soggy. I am super stoked to have figured this out, as the sushi making session was a huge hit with the whole family, and will most definitely be repeated.
I want to know what money saving tricks you've been employing lately? The Non-Consumer Advocate community always blows me away with its ideas, and I want to hear from you! Please share your wisdom in the comments section below.
Katy Wolk-Stanley
"Use it up, wear it out, make it do or do without"