It's time again for Non-Consumer Mish-Mash, where I write a little bit about this and a little bit about that.
Fishy Cherub Girl Finds a Home
For those of you who doubted that I actually bought the cherub riding a fish ashtray, here she is on my bedside table. Don't you think the marble and glass pair well with my alabaster lamp and crystal, (okay, plastic) lampshade fringe?
I love her, she's so deliciously tacky.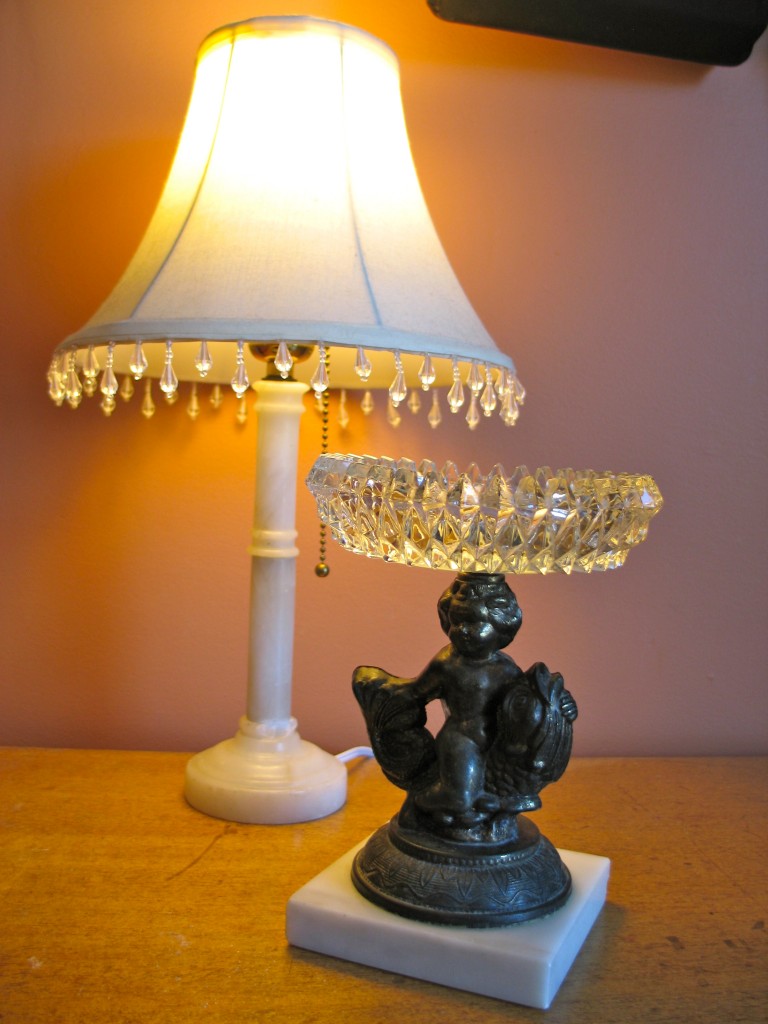 Goodwill Find of the Century
If you're like me and love to haunt thrift stores, your dream is to find a priceless treasure priced at just a couple of bucks. Sure, I've bought $25 rugs and sold them for $100, and I once even found a collection of Sasha dolls for $20 that I later sold for almost $2000, but an elderly Florida man recently hit the jackpot.
The retired antiques dealer, (who says he visits his Goodwill four times per week!) came across an old oil painting that he knew was something. His daughter-in-law took it to Antiques Roadshow where it was appraised for $20,000 – $30,000, but when he put it up for auction, it sold for:
$190,000
Click HERE to watch the video.
And in case you think this guy was lucky, keep in mind that this man has been scouring for antiques for 60-odd years. Even so, he's my hero.
Coin-Girl's Found Change Challenge Update
So far I've found . . . $10.73 plus a number of foreign coins. My goal is to find $65.00 by the end of the year. (This is the cost of renting my friend's beach cabin for a single night.) I'm a bit behind and need to step it up a bit.
Must add find more money on the ground to my to-do list!
Do I Need to be Turned into the Rug Enforcement Agency?
I ran an errand yesterday to try and find the perfect shade of green spray paint for my project chair, and treated myself to a quick stop into the enormous Salvation Army thrift store on S.E. 82nd Avenue. I mostly just wandered around, unmotivated by anything I saw, but then I spied two rolled up rag rugs. I unrolled them both and found them to be constructed from wool fabric and quite beautifully designed. (Rag rugs can be a bit hodgepodge.) I couldn't find anything wrong with either of them, and a quick sniff test, (gross but necessary) revealed neither cigarette nor animal smells. I could tell from the fabric that these babies were antique.
A short conversation with an employee clarified their return policy, (basically you buy it you keep it) but at $8.99 apiece these rugs were a great deal with minimal investment.
I now have them both up on Craigslist, and should be able to quickly place them into new homes. Hopefully, before I bond with them too much.
Update: I just now sold the rugs through Craigslist for $100! The turnaround on buying/selling these rugs was less than 24 hours. I am *very* happy!
Katy Wolk-Stanley
"Use it up, wear it out, make it do or do without."
Click HERE to follow The Non-Consumer Advocate on Twitter.
Click HERE to join The Non-Consumer Advocate Facebook group.
Click HERE to follow The Non-Consumer Advocate on Pinterest.