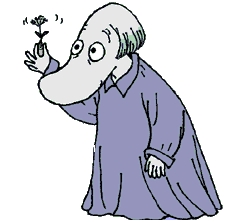 In today's interconnected digital world it can near to impossible to allow oneself the gift of silence. There's always a tempting e-mail to check, phone call to return or Facebook to update.
Sometimes when my kids are at school and my husband's at work I am overwhelmed by the silence in my house. And as much as I appreciate the calm, it can be hard to concentrate with the vast nothingness of a quiet home. (I suppose this is part of why I'm able to be so productive while listening to audio books.)
I was reading a chapter of Tove Jansson's Tales From Moominvalley aloud to my younger son at bedtime tonight, and this passage jumped out at me:
"The Hemulen threw himself headlong into the green, friendly silence, he gambolled in it, he wallowed in it, and he felt younger than he ever had before."
And suddenly I craved nothing but that vast nothingness. I wanted to "gambol in the green friendly silence." I wanted throw myself into silence. Me.
It's easy to become addicted to constant stimulation and input, to never have that cushion of quiet to let ideas swirl and take form. I have a tendency to come up with great ideas while showering, and I know it's because there's nothing to do except think. Nothing to look at, nothing to listen to, no tasks to perform.
Even activities that used to serve as space cushions of silence no longer perform as such. Drivers chat with friends, pedestrians listen to their iPods and even the brief wait in line at the store becomes an opportunity for one more quick phone call.
My mother grew up the fourth child in a family of seven, and she can't concentrate if it's too quiet.  She's a writer, and when she needs to buckle down and finish a chapter, she heads out to a restaurant. I have many childhood memories of sitting with her at the Newberry's snack bar, while she put the finishing touches on an article. I, on the other hand, can't write if there's chaos around me. (Which is why I do almost all my writing after 11:00 P.M.)
I had already decided to take a break from Facebook until the end of the month, and may actually extend that. I want my thoughts to be enough. I don't want to rely on constant stimulation. I want to gambol in the "green, friendly silence."
Do you find that the cacophony of the external world is making silence the exception rather than the norm? Please share your thoughts in the comments section below.
Katy Wolk-Stanley
"Use it up, wear it out, make it do or do without."