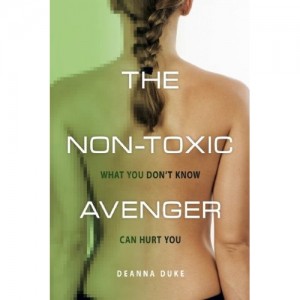 To say that Deanna Duke feels strongly about toxic chemicals in our everyday environment could almost be called an understatement. With an autistic son and a husband dealing with Multiple Myeloma, it's a subject near and dear to her heart. You probably already know Duke as the author of the popular blog The Crunchy Chicken, which addresses environmental issues with a refreshingly frank style that tells it like it is. In a good way.
Duke's first book The Non-Toxic Avenger: What You Don't Know Can Hurt You is a natural outgrowth of her blog. Part memoir, part investigative journalism, Duke takes on the role of guinea pig to test her toxic body burden before and after eliminating every single source of toxic chemical exposure. As a person who was already choosing organic, avoiding BPA and reading the small print on her beauty products, it was surprising how much change she still needed to make.
I think of myself as a chemical minimalist. I make my own laundry detergent, rarely wear makeup; (mostly from sheer laziness and complete lack of self-interest) and choose environmentally friendly dishwasher detergent, dish soap and cleaning products. On the other hand, I buy the cheapest shampoo, (White Rain) apply Blistex to my lips dozens of times per day, color my hair, enjoy spray painting Goodwill finds and choose organic maybe 20% of the time. So there is definitely an opportunity to learn a thing or two.
One of the most interesting areas that Duke delved into was the issue of indoor air quality. I know this is more of an issue for people who live in airtight new construction, (as opposed to my 98-year-old colander of a house) but this asthmatic was still fascinated. It turns out that filling a house with indoor plants makes a huge difference in air quality, which of course makes sense, although I had never given it much thought. I used to always have lots of plants, but a cat I owned in nursing school munched away at everything, and eventually I just gave up on my indoor jungle. Battling mildew in her bathroom, Seattle-ite Duke was able to bring in enough plants to bring the mildew level down.
I know it doesn't compare to Multiple Myeloma, but I've had Malignant Melanoma twice in my life. (The first time so deep that it required a skin graft.) So minimizing my exposure to toxins is a priority for me. But you don't have to be asthmatic or have a history of cancer to want to decrease your toxic exposure.
I really liked this book, motoring through it over a three day period, as it was very much a gripping read. Duke's writing style is open and non-alarmist, and her five month journey to eliminate and investigate the household toxic substances we all take for granted was both educational and entertaining.
I don't want to summarize too much of the book, as I don't want to minimize your enjoyment of a fresh read. Let's just say that I highly recommend The Non-Toxic Avenger: What You Don't Know Can Hurt You, and suggest you add it to your reading list.
Happy reading!
Katy Wolk-Stanley
"Use it up, wear it out, make it do or do without"
Click HERE to follow The Non-Consumer Advocate on Twitter.
Click HERE to join The Non-Consumer Advocate Facebook group.