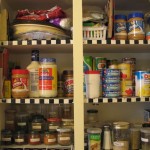 Unlike many bloggers, I am not a meal planner. I usually plan dinner at some point during the day based on what's in my "pantry," (loose term here, as I have no actual pantry) what we've eaten recently, who's going to be home for dinner and frankly, what I feel like eating. Sometimes I feel like I should be more organized, but this non-method actually works really well for my me.
I was rereading Amy Dacycyn's The Complete Tightwad Gazette last night and came across her article on "The Pantry Principle," which is pretty similar to my non-method.
"Typical is the admonition to plan meal menus 30 days in advance and shop accordingly, never daring to veer from this carved-in-stone schedule. At the very least, we've been told, you should plan meals seven days in advance, working with what's on sale that week.

The basic premise (of "The Pantry Principal") is that you stockpile your pantry (and/or kitchen, freezer, basement, closet and/or the space under your bed) with food purchased at the lowest possible price. The sole purpose of grocery shopping becomes replenishing your pantry, not buying ingredients to prepare specific meals."
The downside to my, (okay, okay . . . Amy's) method of meal planning is that it works great for me, but not for my husband. I look at a cupboard full of ingredients and see meals, complete with side dishes and the like. My husband, on the other hand looks at a cupboard full of ingredients and sees cans, jars and dry goods. However, I do most of the cooking for the family, (I work part-time, and he works full time) so this is mostly a non-issue.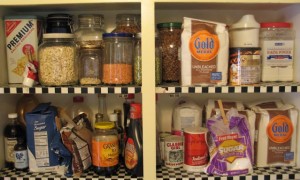 I do see the appeal of menu planning, and really, the idea of knowing what's for dinner ahead of time is completely logical. But my personality somehow balks at this method, even though I have actually tried in the past to force this particular square peg into the round hole of meal planning.
I believe there is no absolute of right or wrong with meal planning, as long as what you do works for you. Kristen, over at The Frugal Girl takes her meal planning very seriously, and that's great. But she and I live very different lives and are hard wired in different universes, and we've both figured out methods that fit each of our unique lives. I kind of liken it to the principal that it's better to do something rather than wait for the perfect method to present itself.
Are you a meal planner, or have you figured out your own method to get a daily dinner on the table without taking out a second mortgage? Please share your thoughts in the comments section below.
Katy Wolk-Stanley
"Use it up, wear it out, make it do or do without"