Although we are two weeks past the completion of Screen Free Week, I am still trying to be mindful about how much time I spend in front of a screen, be it television, computer or my soul time-sucking smart phone. As a blogger and administrator of the blog's Facebook Group, it's easy to get sucked in approving new members, addressing needless controversy or scrolling through my Facebook feed in a way that can easily eat up a couple of hours per day.
It's not how I want to spend my time on planet earth.
It would be hard to not notice the cultural shift towards staring down at our mobile devices instead of being present in our surroundings. The scenery, the people in front of us and the experiences that are happening right in front of our eyes is better (and more personally relevant) than anything onYoutube. And before you start blaming the millennials, this is an issue for every generation. There's always interesting stuff to click on, but there's no reason why we need to see every clever video, funny photo or inspiring Pinterest-baiting e-card.
I'm not proposing a world where we don't take advantage of all the great TV programming on TV (Mad Men, Buffy The Vampire Slayer, Call The Midwife, Star Trek, Star Trek, Star Trek!) or the incredible resources that the internet affords; but I am suggesting that we do so with a mindfulness of purpose.
I recently came across this online photo: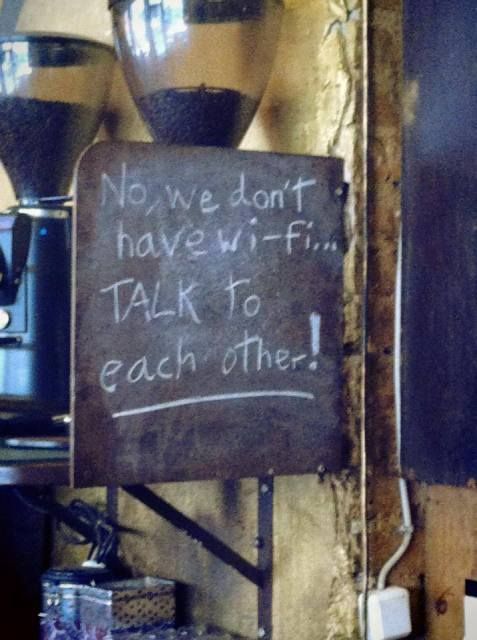 Yes, I see the irony of coming across it online, but it's a good reminder that we do not need to live a plugged-in life. And yes, I also see the irony of a blogger who advocates for people to turn off their devices in order to experience their own lives.
So next time you find yourself mindlessly scrolling through the internet while at the dinner table, or channel surfing instead of arranging a face-to-face get together, try instead to be present in the moment and an observer of real life with real interactions.
It's the next big thing.
Katy Wolk-Stanley