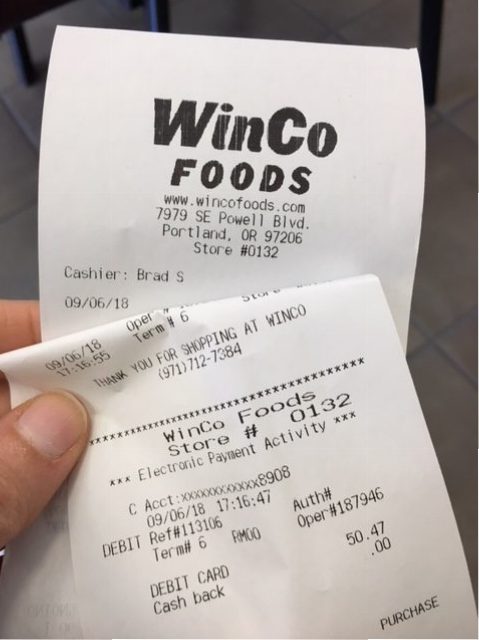 My husband, son and I drove our college junior's belongings down to his off-campus apartment. It's the same unit where he lived last year, but we save over $1200 by choosing a ten-month lease and emptying the apartment over the summer. School doesn't start until September 24th, but my husband's having surgery on his ankle/foot and we wanted to enlist his help before he became temporarily handicapped.

We paid our son's first month's rent and appreciated that it was $300 less than normal, as I'd negotiated a repeat renter bonus. They'd offered this incentive to tenants who re-upped by a certain date. We missed the deadline, but I asked to get the bonus anyway, which they agreed to. It just goes to show that doesn't hurt to ask for discounts!

We didn't buy anything new for the apartment, just set him back up with the same perfectly nice thrifted supplies from last year.

I took a 12-hour shift of RN on-call for the hospital instead of staying at home without pay. (This happens when the labor and delivery unit is uncharacteristically slow.) I would have received time-and-a-half pay had they needed me, and was a worthwhile gamble even though it tethered me to being available to come in at a moment's notice.

I did another big shopping trip at Winco Foods. For those not familiar with this chain of no frills (and employee owned) grocery stores, you are missing out on some amazing bargains. The freshest of produce, an expansive bulk section and huge variety of stock make this store a bargain hunter's dream. Plus, they refund you 6¢ per reusable bag that you bring from home!

Here's what I bought for $50.47

– 1 box of brownie mix
– 1 carton of whipping cream
– 5 pounds of sugar
– 5 pounds of flour
– 18 eggs
– 2 boxes of cereal
– 1 loaf of bread
– chicken breasts
– kale
– broccoli
– tortilla chips
– carrots
– grapes
– 1 red onion
– 1 5-pound bag of red potatoes
– oranges
– bananas
– 2-pound block of Tillamook cheese
– cottage cheese
– 2 mangos

I finished a library copy of Less, by Andrew Sean Greer, I helped my mother clean her guest cottage between tenants, I listened to a couple of podcasts from Pour Not Poor, I gave away an ancient (think 1950s!) but perfectly functional mattress and boxspring set through our Buy Nothing Group, I put some classic monster movie DVDs on hold through my public library, my husband cleaned our gutters and I binged the Jack Ryan series through my mother's Amazon Prime account.

I didn't buy a Lear Jet or a 

vulgar gold-plated apartment in the sky

.
Now your turn. What frugal things have you been up to?
Katy Wolk-Stanley    
"Use it up, wear it out, make it do or do without."