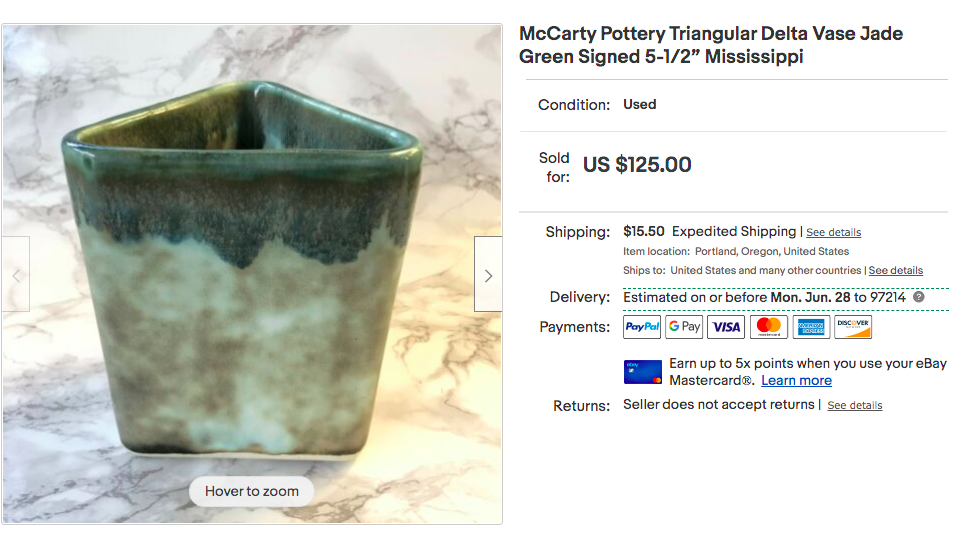 I sold a McCarty Pottery Studio vase through an auction on eBay for $86 and change. This should have been an impressive sale as I'd picked it up at Goodwill for a mere $3.99, however the winning bidder never paid. I went ahead and waited the four days that an eBay buyer is allowed to jerk me around delay payment and then relisted it, this time for $125 as a "buy it now."

It sold in two days for $125 and they paid immediately!

Puts me in the mood to do some thrifting!

I brought home a nice assemblage of items from random neighborhood free piles:

• A large still shrink wrapped faux-stone resin planter which I immediately filled with a fern from my scrappy parking strip. I'd been wanting some potted plants for my deeply shady backyard, so this was a perfect zero-dollar solution.
• A pair of outdoor cushions for the Adirondack chairs that my husband made a dozen or so years ago. My neighbor had invited me over for tea last week and I'd noticed how her padded chairs were infinitely more comfortable than my hard wood ones, so this was true kismet.
• A bizarrely nice antique end table that needed nothing more than a good cleaning and wipe down with some Restor-A-Finish. I am flush with fussy end tables, so this one went up for sale on Facebook Marketplace and Craigslist.
• A paper bag full of random CDs that I let my son and his friend rummage through. The couple dozen that were left will stock my Little Free Library.

I spent a good chunk of time last Sunday meal prepping a variety of different dishes for the week using what I happened to have in the fridge, freezer and pantry. I know that other people employ this practice as part of their normal routine, but boy-oh-boy was it a huge undertaking! (So many pots and pans to wash!)

However, it was fan-freaking-tastic to spend an entire week knowing that delicious dinners were at the ready and that I didn't have to burn even a single brain cell wondering what to make for dinner! I do see that it would get progressively simpler over time were I to repeat and streamline the process, so I think I'm going to continue with this experiment.

Here's what I made/prepped:

• Two and half pans of enchiladas. (1-1/2 went into the freezer)
• A big pot of black bean chili.
• Washed and chopped a ton of broccoli.
• Asian-style marinaded chicken thighs, which then became a chicken and veggie rice-noodle stir fry.
• A lasagna-style pasta bake, as I didn't have any gluten-free lasagna noodles, but did have gluten-free penne.

This may not seem like a huge amount of work, but since I took almost no short cuts (cooking black beans in the Instant Pot, making my own marinara sauce, etc) it was labor intensive. Luckily I had enough backlogged podcasts to keep my brain engaged.

I call this kind of endeavor "doing a favor for my future self." Thank you, Katy!

I'm rooting more stems from my father's prayer plant, I used a fully stamped "frequent buyer card" to get five free loaves of bread from the Franz bakery outlet, (this card only need five stamps to fill up, which is easy since they double stamp on Tuesdays) I've been moving plants around my yard to freshen it up rather than buying anything new and I chose a new bundle of novels from my county library to read.

I didn't buy a Lear Jet.
Katy Wolk-Stanley    
"Use it up, wear it out, make it do or do without."
Click HERE to follow The Non-Consumer Advocate on Twitter.
Click HERE to follow The Non-Consumer Advocate on Instagram.
Click HERE to join The Non-Consumer Advocate Facebook group.
Click HERE to follow The Non-Consumer Advocate on Pinterest.
Disclosure: This blog post includes eBay affiliate links, which may earn you a discount, as well as a small commission for me. This costs nothing extra to you.