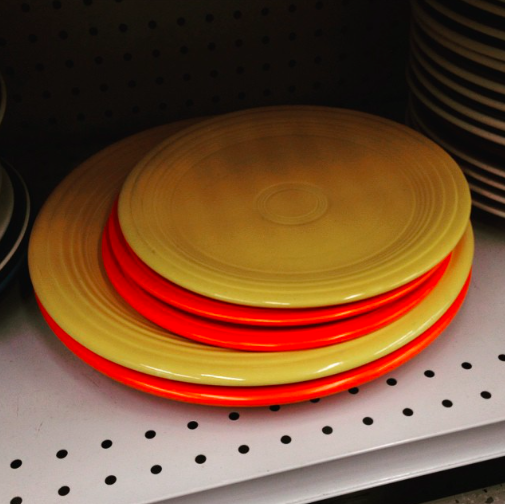 I downloaded the Apple Podcast app onto my phone so I can listen to Gretchen Rubin and her sister Elizabeth Craft's free Happier With Gretchen Rubin podcasts. I love distraction from dull tasks, I love Gretchen Rubin and I certainly love free!
I'm currently reading Little Heathens: Hard Times and High Spirits on an Iowa Farm During the Great Depression, as well was listening to Phillippa Gregory's The Red Queen. Both from the library. Have I mentioned how much I love my library?
My sons and I went over to my father's house for one last birthday celebration last night, and we came home with a loaf of my father's homemade bread. Full of every grain known to woman, it's the perfect start to a busy day.
I stopped at a couple thrift stores the other day after dropping my son at school. I came home with an $8 brand new looking pair of Danskos and five vintage Fiestaware pieces underpriced at $3.99 and $7.99 apiece. I gave a Fiesta plate and platter to my father and will sell the rest. I'll also sell the Danskos, as the style normally retails for $130. I had gift certificates to both thrift shops, so I didn't actually spend any money.
I didn't buy a Lear Jet.
Now your turn. What frugal things have you been up to?
Katy Wolk-Stanley
"Use it up, wear it out, make it do or do without."