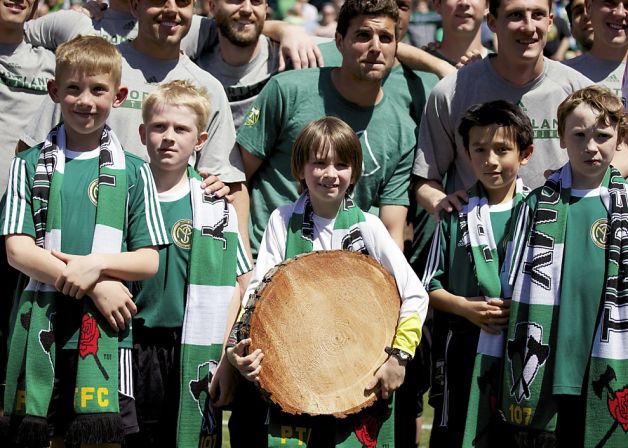 Five Things That Make Me Happy:
1) Reading and hearing about the soccer game between Mt Tabor Soccer Club's Green Machine and Major League Soccer's Portland Timbers. This was a Make-a-Wish Foundation event between an eight-year-old boy's team and Portland's popular soccer team. It was attended by more than 3000 fans and treated like a real game. Sadly, I had to work, but my husband Dale was front and center screaming, chanting and rooting for The Green Machine. Although he was not directly involved with the planning of the game, he is on the board of Mt Tabor Soccer Club, and a lot of the connections he's forged through the years were. Portland soccer fans and The Timbers really came through on this one.
2) Being told a story by one of my co-workers about a conversation between her three-year-old daughter and another little kid at the park :
Girl: "Do you have any brothers and sisters?
Boy: "I got an older brother and we're getting a baby from China."
Girl: "Well yeah, all babies come from vagina!"
Gotta love kids who understand the human body and know the correct names!
3) Finding six matching glass food storage containers at Goodwill. I always keep an eye out for nice glass food storage when I thrift, and this has been intensified since I started doing the Zero Waste Challenge. However, the one from here and one from there-ness can lead to a disjointed aesthetic, so I was giddy appropriately pleased to come across six $1.99 matching jars at Goodwill. (To say I am a "cheap date" would be an understatement.)
4)  Pretty much everything about the DIY Network show "Rehab Addict."  Living in my own never ending fixer-upper rehab project pretty much requires constant inspiration. And I am super-duper enjoying watching old episodes through On Demand. With a focus on fixing instead of replacing, selling instead of trashing and finding new uses for old household supplies, Nicole Curtis is my kind of woman!
5) Looking forward to using up our current stash of Costco cat litter. I learned that Petco sells scoop-your-own cat litter, and that there's a location not too far from our house. Although I will have to buy the initial plastic container, I'll be able to fill it from their bulk bin afterwards. The huge and thick plastic bags from Costco have always been a thorn in my side, so I'm happy to have found a Zero Waste solution.
One Thing That's Pissing Me Off:
1) Nothing. I worked the last two days and and happily relaxing at home today after an embarrassingly long night of sleep. Life is good.  
Katy Wolk-Stanley