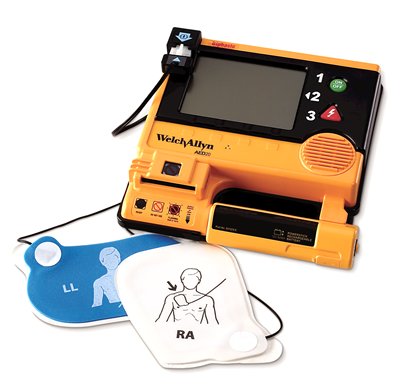 It's time again for Non-Consumer Mish-Mash, where I write a little bit about this and a little bit about that.
The Real Hero is the AED
This last Sunday started out in an unassuming manner.  My husband coaches our younger son's soccer team, so we bundled up and drove the mini-van out for the 8:30 A.M. game. It wasn't raining and wasn't actually that cold, so the parents were pretty content. There were no serious injuries, and I commented to another mother that it's handy to have the coach (my husband) be a paramedic.
My son scored a goal and got a chance to show off his mad cartwheeling skillz.
A good day.
But my husband who recently began playing soccer for a 40-and-over league had a game that afternoon, which he went to on his own. No big deal, right?
Wrong, a huge big deal!
Why? Because a player on the opposing team collapsed and went into cardiac arrest during halftime. And while my paramedic husband and a doctor-player began CPR, others ran into the nearby school and amazingly were able to locate an Automated External Defibrillator. (AED.) My husband, who frequently defibrillates patients was able to shock the player back into a normal heart rhythm, which saved his life. However, AED's are designed to be used by anyone of any skill level. And when you get your CPR certification, you learn how easy they are to operate.
CPR is well and good, but it only buys time until a defibrillator is available.
The player is now just fine, and as of last night was in the hospital undergoing treatment and observation.
I think I'll go to next week's game.
Click HERE to read the newspaper article.
Click HERE to find a CPR class in your area.
Best Decorating Tip Ever!
I like Nate Berkus. Not only does he rock the vintage Hugh Grant floppy hair, but he's funny and down to earth. (Seriously guys, his hair is awesome!) Granted, I've never actually watched his talk show, but only because I believe that sitting down to watch daytime TV is a slippery slope of slothitude. 
So when Sunday's Parade Magazine featured an interview with him, I set it aside to read. And sure enough, it did not disappoint, as it featured this quote:
"No. 1 tip for improving home decor: 'Clean your house, people. It costs nothing! You can't have a beautifully designed space if you can't see the furniture and surfaces in your home.' "
Gotta love it, it's so true!  A clean and decluttered home looks a million times better than a cluttered home. (And is easy on the pocketbook.) And since I spent a couple of hours yesterday cleaning and decluttering casa Wolk-Stanley, it's resonating rather nicely with me. My house is clean and decluttered, and is looking mighty fine. Mind you, not Hugh Grant/Nate Berkus fine, but fine nonetheless.
Register to Vote
Today is the very last day that Oregonians can register to vote for the upcoming presidential election. And as much as I make it a rule to stay away from political discussion on the blog, I am breaking that rule.
Voting is an inalienable American right, and is one of the most important community actions you can practice. People in other countries protest under dangerous conditions for the opportunity to vote, and all we Americans have to do is stroll down to a local community center to exercise this right.
Click HERE to register to vote in Oregon.
Click HERE to register for other states.
And please note that I will delete any and all rude political discussion in the comments section.
Katy Wolk-Stanley
"Use it up, wear it out, make it do or do without."
Click HERE to follow The Non-Consumer Advocate on Twitter.
Click HERE to join The Non-Consumer Advocate Facebook group.
Click HERE to follow The Non-Consumer Advocate on Pinterest.