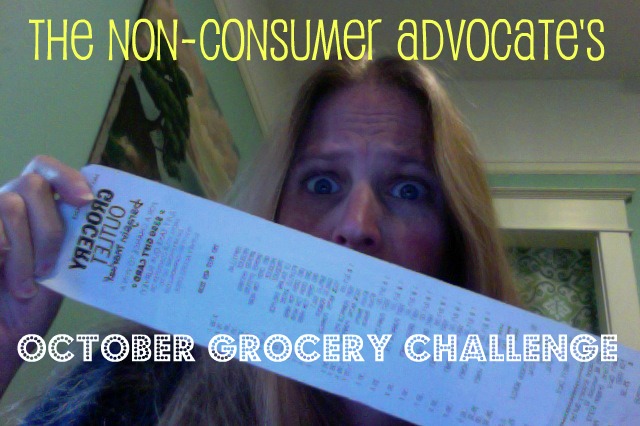 Here we are, ten days into the October Grocery Challenge and it's time to check in with how my family is doing.
Which is poorly.
Not poorly in the sense that anything's wrong in our lives, poorly because my family of four has spent $182.88 on groceries so far, which doesn't bode well with my goal to spend under $450 for the month. (And my secret goal to actually keep it under $400.) However, I'm not beating myself up too badly since I knew we'd be spending out this week due to celebrating my older son's 19th birthday. It's not unusual for my mother and step-father to take us out to eat for family birthdays, but this year we mixed things up and hosted them. (Can't be too much of a mooch!) My son absolutely loves steak, so I planned a steak dinner, which becomes prohibitively expensive when eaten in a nice restaurant. (We ate at Morton's a few years ago, and I think the bill came to over $500 for the six of us!)
Here's how much we've spent on groceries so far for the month of October:
10/2 Grocery Outlet – $25.35
10/3 Safeway – $39.41
10/6 New Seasons – $13.97
10/7 Costco – $80.76 . . . hellooooooo rib eye steaks!
10/9 Fred Meyer $23.39
Which adds up to $182.88
Multiply that by 3, and you get $584.64, not a sustainable budget. However, we've been eating with an emphasis on frugality since Tuesday, and will continue to shop and cook with the budget in mind. Although my mother's birthday is on the 21st this month, so I'll have to start thinking about a special yet not insanely expensive meal to serve.
Here's what we've eaten for dinner this week:
Monday: Frozen homemade baked ziti, which then became lunches for a few days.
Tuesday: Rib eye steaks with baked potatoes, roasted green beans and pumpkin cheesecake for dessert.
Wednesday: Fajitas, which used up the small amount of leftover steak.
Thursday: Roasted potato, egg and black bean burritos, which used up the leftover baked potatoes.
Friday: Mixed bean soup with cornbread.
See how that one expensive meal lent itself to a few other meals?
I do have a decently stocked pantry, although I'll replace and take advantage of sales as much as I normally would. I haven't been doing meal planning more than a day in advance, but that works well for me. I plan based on what I have on hand, and what needs to get eaten up. And I generally shop based on having standard ingredients on hand, rather than what I need for specific meals.
And a big thank you to everyone who shared their steak cooking tips on the blog, as they were very helpful! I ended up bringing the rib eyes to room temperature, sprinkling with kosher salt and pepper, searing in blazing hot cast iron pans and then finishing them off in a 500º oven. (After placing a pat of butter over each steak.) I knew they were appreciated because everyone was completely silent during one point in the meal, which was a first!
Are you trying to keep an eye on your food budget for the month of October? Please share your progress in the comments section below.
Katy Wolk-Stanley
"Use it up, wear it out, make it do or do without."