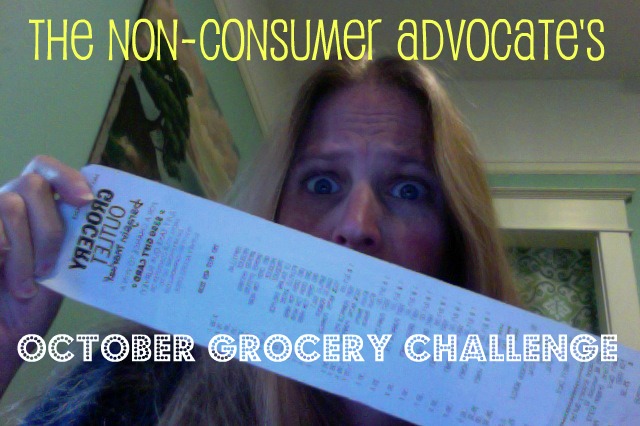 There are few budget categories that have as much wiggle room as food. Sure, you can turn off unused lights and use a clothesline to bring your electric bill down, but those measures only have the potential to save you tens of dollars. But put an effort into saving money on your food budget? That's where you have the potential to save hundreds upon hundreds of dollars.
Although I do keep an eye on how much we're spending on individual food items, I rarely take the time to look at how much we're spending per month. (I'm so focused on the trees, that the damned forest takes over!) And since my family of four made an effort to not eat out last month, I took a few minutes to tally up how much we spent on food during the month of September.
$707.70
Crap. That's a lot of money. Yes, I stocked up on sale Tillamook cheese ($4.99 per 2-lb loaf!) and I filled the freezer with 12 loaves of outlet Dave's Killer Bread, but still, that's so much more than I'd like to be spending.
This number includes one takeout meal from a Mexican restaurant, pizza before a soccer game and two forays into my hospital cafeteria. It also included any non-food items (like cat litter) purchased from a grocery store. However, I buy shampoo, conditioner and soap at The Dollar Tree and household detergents from Costco. And feminine hygiene products? I don't buy them at all, since I have a Moon Cup. And single use items like paper towels or napkins? You already know I never buy those!
My husband and I went to the grocery store a whopping total of 36 times, although I usually walk to both Fred Meyer and New Seasons on a single trip, as they're both just a few blocks from the house.
We can do better.
New month, new goals. I would like to stay under $450/month, but I'm a realist and know that life gets busy and I'm not the only person picking up groceries in my marriage. Then again, I also know what my husband needs to see when he opens the cupboards or refrigerator door in order to not head out for a $50 bag of Trader Joe's goodies. (If we're out of any staples, he will spend at least $30 – $50 on food that's unrelated to any particular meal.)
On the other hand, I may be cheap with my money, but that doesn't mean that I'm cheap with my food. I buy the quality brands I want, but I use coupons and stock up when it's on sale. I take advantage of the monthly Safeway $10-off-$50 coupon to buy the stuff that never goes on sale and I know when brand loyalty makes no difference. I keep the kitchen stocked with fresh fruit, but it's what's in season/on sale. And when we buy meat, it's almost entirely from New Season's, which ain't cheap. Also, we're feeding two teenage boys!
Here's what I plan on doing to bring our grocery budget down for the month of October:
I will meal plan to avoid last minute trips to the store.
I will shop nontraditional grocery stores to take advantage of available bargains. (The Grocery Outlet, ethnic markets, Costco, etc.)
I will continue to use paper coupons for the items I normally buy. (For example, I'll use coupons for Tillamook sour cream, cereal, pasta, etc.)
I will cook from scratch whenever possible.
I will take advantage of Safeway's Just For U digital coupons when putting my grocery lists together. (Coupons for eggs, milk, tea, etc.)
I will keep the cupboards and refrigerator organized in order to minimize unnecessary purchases and food waste.
I will keep a few made ahead frozen meals to combat busy nights when takeout sings its sweet siren song.
I will make sure I have a plan of what to bring for my work lunches. (My husband is better than me when it comes to making his lunch the night before work.)
Life is busy, and we're feeding four adult-size mouths in this house, so I suppose I should cut myself some slack; but I know that being organized and deliberate will not only save us some significant cash, but will likely better our meals and decrease meal time stress.
Although I'm starting this challenge three days into the month, I think we'll do alright. Just yesterday I shopped at The Grocery Outlet and took advantage of their crazy good prices. I was good about avoiding temptation, (no chips made it into my cart!) and even used a $3-off-$25 coupon from my Chinook Book.
Here's what I bought:
Large bag of tortillas $2.99
5-lb bag of potatoes 79¢
2 tins of smoked oysters $1.98
4 32-ounce cans of organic tomatoes $3.96
1 large bag of assorted plums and apples 99¢
1 bag of assorted bell peppers 99¢
1 box of lovely Italian Pizelle anise cookies $1.99
1 large bag of salami ends and pieces, which I'll freeze to have on hand for homemade pizzas $4.49
Garlic salt 99¢
Garlic powder 99¢
2 cans of pumpkin puree $1.98
2 bags of dried black beans $2.18
8 assorted cups of yogurt $3.66
Total $25.32
Today I'll spend my $10-off-$50 Safeway coupon, which should A) fill our cupboards and B) keep us out of the grocery stores for awhile.
Although October includes two family birthdays and Halloween, I think we can stay within the set budget if I just make sure to stay on top of things. I put two huge pasta dishes into the freezer the other day, so that's taken care of, and with all the stuff I stocked up on last month, we should be good.
Do you see your food budget spiraling out of control? Please share your thoughts and money saving tips in the comments section below. And if you want to follow along in whatever way seems right to you, then please add your two cents as well.
Katy Wolk-Stanley
"Use it up, wear it out, make it do or do without."