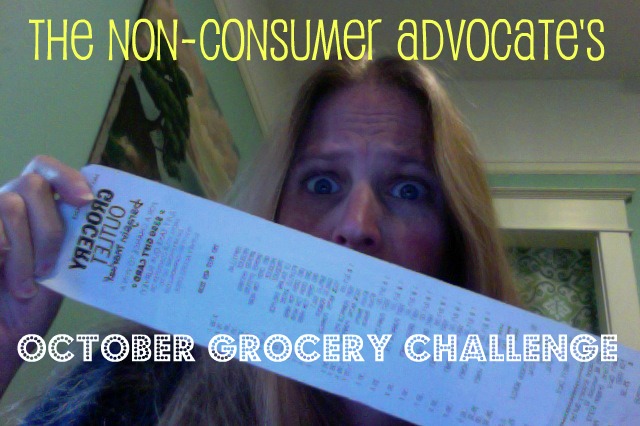 I had hoped to do more blog posts about the October Grocery Challenge, but instead I only wrote two. But just because I wasn't writing about it, didn't mean that I wasn't working on it. And to be completely honest, one of the reasons who I didn't write too much about it was because my husband likes to do big grocery trips on days that I work, which include budget-busting items like fancy desserts and premiums meats.
So I was kind of scared to sit down and add everything up. My written goal was to stay under $450, my secret goal was to stay under $400 and I just knew in my heart that I would fail to meet either goal.
Sigh . . .
So I'm very happy to announce that my family only spent $408.56 on groceries for the month of October!
I guess all my scrimping and saving on groceries kind of balanced out my husband's proclivities for the finer things in life. (At this point I would totally understand if you're picturing him wearing a waistcoat and monocle.)
However . . . we did spent $93.31 eating out during the month. But this includes the restaurant and coffee shop on my son's 19th birthday. This also includes taking my son out for a one-on-one lunch and me buying one work lunch and a large amount of freshly baked cafeteria cookies to share with my co-workers. And umm . . . I drove through Burgerville to use up some Chinook Book coupons from my neighbor and step-mother that were about to expire.
I did not include the $66.72 that I spent on apples, as I use the applesauce for gift giving. Yes, we eat it as well, but I just couldn't stand to include it in the budget. (Yeah, this is manipulating the numbers. So sue me!)
One thing I didn't do was to hold back on buying good quality food at any point during the challenge. I did put my slow cooker to work for a number of bean based meals, but those were always paired with fresh baked bread, biscuits or cornbread. If anything, the food was better than ever since as almost everything was home cooked.
And compared to the $707.70 that we spent on food in September, it's pretty damned amazing! Plus we went to the grocery store 18 times instead of 36 times! (Keep in mind I almost always batch walking to both Fred Meyer and New Seasons in a single trip as they're just two blocks apart.)
Did you participate in The October Grocery Challenge? Or maybe you just kept a closer eye on your food budget? Please share your thoughts in the comments section below.
Katy Wolk-Stanley
"Use it up, wear it out, make it do or do without."