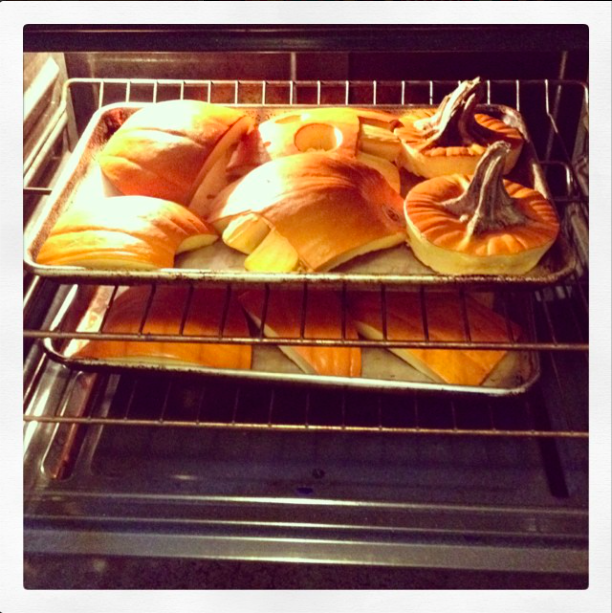 My husband and I spent at least four hours yesterday spreading our enormous pile of free wood chip mulch around the yard. We assumed that we'd have to Craigslist a good portion of our bounty, but both of our next-door-neighbors were happy to accept mulch for their yards. Not only does our whole block now look better, but one neighbor gave my husband a brand new Pendleton Wool men's shirt that didn't fit him. My husband gets itchy from wool, so we'll be able to use it for a family member's Christmas gift.
I've been putting a focused effort into lowering my family's grocery bills, and one category which stumped me was the deli meat for my husband's work lunches. And since the sliced meat was setting us back $11 per pound, it was only for him. "Did you eat up all that sliced meat? Don't you know that's just for dad?!" Anyway, now that I'm buying huge sliceable chunks of already roasted pork loin for $3.99/lb at The Grocery Outlet, other members of the family are finally allowed to make themselves a sandwich or two. (And since I use $3-off-$25 coupons, it's even cheaper!)
I took both of my sons' Halloween jack-o-lanterns and roasted them up for pumpkin puree. I'll freeze it in two-cup portions, and I'm guessing there's a least twenty cups of pumpkiny-goodness from something most people just throw away.  My family will be enjoying pumpkin pies, pumpkin scones, pumpkin muffins, pumpkin soup, pumpkin egg salad salad, pumpkin bread . . .
Even though I went to the opening of the shiniest new Portland Goodwill Outlet, I didn't buy anything. I already have most everything I need, and nothing there caught my eye either for gift giving or resale. The best bargain is the thing not purchased.
I went to my sister's 31st birthday party last night which was being held at her friend's house. (A house which features an backyard cob pizza oven!) I was asked to bring a few pizza toppings, and was able to use what I had on hand and brought a bag of nice frozen salami slices I had in the freezer and a can of pineapple chunks from the cupboard.
Now your turn. What frugal activities have you been up to?
Katy Wolk-Stanley
"Use it up, wear it out, make it do or do without."