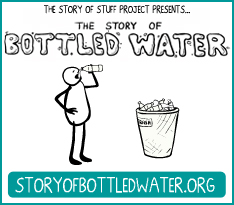 Today, March 22nd is recognized as World Water Day, whose goal is "Clean Water for a Healthy World." Sound simple? Well it's not. If you live in a community where you have access to clean water at the turn of the tap, then you are lucky.
And if you do have access to clean potable water, then why are you buying bottled water?
Bottled water is not only packaged in single use plastic, but comes from far locales that then require transportation and is less safe than municipal water which have required safety checks.
Not to mention that bottled water transforms the perfect beverage from pennies per gallon to dollars per gallon, which is simply poor financial planning in my book. (Coin Girl does not approve!)
The University of Portland just became the first West coast college to publicly ban sales of bottled water on its campus, sating that they
"Feel strongly that access to water is a basic human right and shouldn't be privatized or sold in single-use plastic bottles with present and looming water shortages."
I just now came back from seeing Annie Leonard talk about her The Story of Stuff book, (which was fantastic) and she just today premiered her new video, which is called:
Not convinced yet? Well perhaps a little something called A Love Letter to Tap Water might seal the deal.
If you are committed to bringing your own tap water when you're out and about or even *shocker* using drinking fountains when you're thirsty, then add your name to comments section below.
Katy Wolk-Stanley
"Use it up, wear it out, make it do or do without."