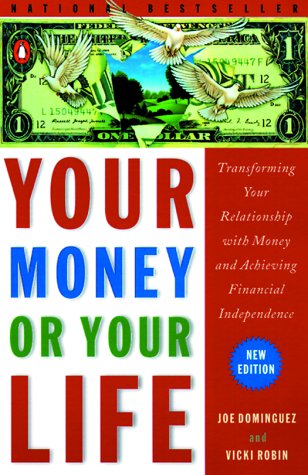 Long time Non-Consumer Advocate readers will notice that I am doing a repeat book post, but Your Money or Your Life is a book worth repeating, so good luck!
Although I am a rampant devotee of library books, there are a few that I need to own. To keep on my bedside table and refer to on a regular basis, jot notes in and then carry around in my bag without worrying that I'll muss it up. Your Money or Your Life by Joe Dominguez and Vicky Robin is one of those books. This book is not about how to get rich or clip coupons. It's one of those fantastic books that take a broad look at how money, personal energy and life all combine together. I ♥ it!
I haven't actually done a front to back read of this book in a few years, but I am going to reread it this week, so I can share my favorite bits with you.
The winner of this giveaway will receive one genuine used Seattle Goodwill copy of Your Money or Your Life for your very own self.
To enter to win, write something in the comments section about your own relationship with money. One entry per person, U.S. residents only. I will randomly choose a winner midnight of Saturday, January 1st, Pacific time zone.
Good luck!
Katy Wolk-Stanley
"Use it up, wear it out, make it do or do without"