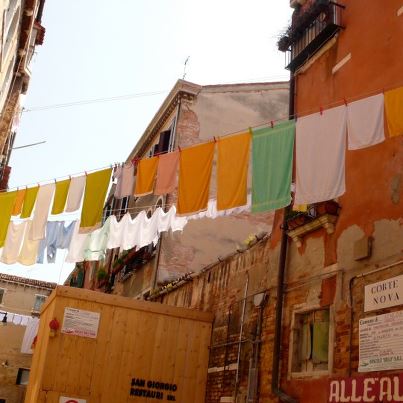 For many Americans, the sight of an outdoor clothesline is a sure sign that the neighborhood is going downhill.
Because, you know, only poor people line dry their clothing.
Wrong!
Non-Americans are understandably stymied by this attitude, as clothes dryers are often not even in foreign homes, (such as the technologically advanced countries of Australia and Japan.) It seems like using the sun rather than electricity to evaporate water from wet clothing should be a no brainer, but somehow it isn't.
Project Laundry List posted the above photo on their Facebook page this morning, along with this quote:
"Here is something baffling. The scarcity of clotheslines in the US has created a vacuum now filled with laundry as art. How do board members of Home Owners Assoc. not understand that clotheslines are part of the 'picturesque' of a vacation. Hey HOA . . . here's Venice doing it right."
For those not in the know, HOA = Home Owner Association, those helpful organizations that tell you what color to paint your house, how high your grass can grow and how to dry your laundry.
The sad thing is that a simple clothesline is one of the easiest and cheapest earth friendly choices available. Unlike a pimped out shiny new Prius or a space age array of solar panels, you don't have to be financially set to make it happen.
I live in Portland, Oregon, a city mocked for its damp climate, and still I'm able to use air dry my clothing 90% of the time. I have a couple of drying racks for wet weather that I set up over the heat registers, and whatayaknow, clothing dries overnight. Bam! And in summer, my backyard clothesline easily meets my needs.
It's eco-friendly, it's free and it helps your clothing last longer. And for those who fear the stiff scratchy towel? (A phenomenon known as "Sandtowelpaperophobia.") Think of it as a spa-style loofah treatment. 
Oh, the luxury!
Okay, I'll simmer down now. After all, I need to get the laundry going.
Do you air dry your clothing? And if you don't, why not?!
Katy Wolk-Stanley
"Use it up, wear it out, make it do or do without."
Click HERE to follow The Non-Consumer Advocate on Twitter.
Click HERE to join The Non-Consumer Advocate Facebook group.
Click HERE to follow The Non-Consumer Advocate on Pinterest.