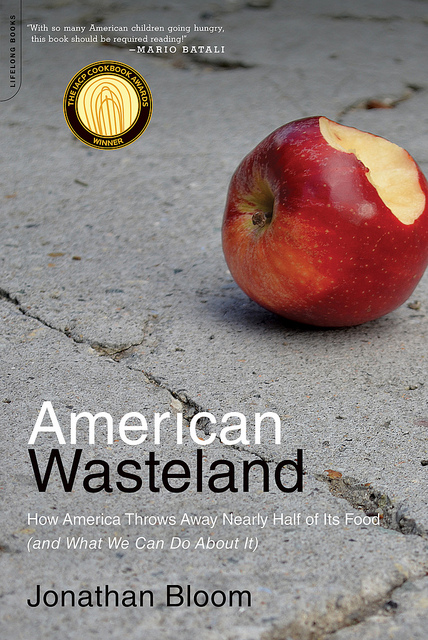 I have to say a huge Wow! to the 160 of you who took the time to share your methods for avoiding food waste. I wish I had many copies of Jonathan Bloom's American Wasteland: How America Throws Away Nearly Half its Food, and What We Can Do About It, but sadly I only had one copy of the book to give away. The randomly chosen winner was Sarah, who shared how she and her husband and trying to cook less food at a time.
As always, I was floored by your thoughtful and creative responses, and I have included a small, (yet impressive) sample of your ideas.
Click HERE to read the original post with all your ideas.
"It's not a huge thing, but a step in the right direction: my husband is used to cooking for a crowd, and we'd end up with so many leftovers that we couldn't possibly get through them all. Now, we're doing a better job of keeping our recipes appropriate to the "crowd" we're trying to feed (our two mouths and those of two small children) so that we don't have so many leftovers that then go to waste."
Lea:
"I dedicate a shelf in my fridge for leftovers. My husband usually takes them for lunch, but in any case that's our go to first area."
Anne Weber-Falk:
"We switched to clear glass bowls to put leftovers in. We can see what's in them and that means we use them. We can reheat in them so it's more convenient and fewer dirty dishes. No more sliding to the back of the fridge either. The glass bowls are heavier and they can stack on each other so they stay put on the shelf. Best thing I've done for the family in a while."
"Doing my best to avoid food waste by buying less. I've also become excellent at freezing items before they go bad, and I'm now working on remembering to use the frozen items!"
Madeline:
"I know this sounds counter-intuitive, but I have STOPPED stocking up on stuff. We are empty nesters now, at age 57, and I love to cook but I am struggling with learning how to cook LESS so we don't have to eat the same dish 3 times in a row. (We don't, and then it is thrown away..) Also,I just do BAD with freezing stuff.. once it hits my freezer it is no man's land and I throw it out a year later. I like fresh meals!

We like to eat out twice a week, once at the cheap korean noodle place and once at the also cheap ,vietnamese pho place, so that's just 5 meals a week to cook, plus lunches…. Sounds weird, but,spending a tiny bit more by shopping at Trader Joe where they have smaller packages, means less leftovers, tasty offerings, and is saving me money. i HATE to throw food away!!!!!!"
Alana D:
"If I don't use my leftovers in two days, I freeze them in meal size packages."
"One of my favorite Aha! moments was when I figured out that I could freeze spaghetti sauce in an old ice cube tray. Then once, solid, I pop them out and toss them in a freezer bag. I can then use one for just me, or several if I need pizza sauce, or whatever.

I also chop up fresh parsley and cilantro, put them in the ice cube tray and fill with water. When solid, they also are stored in freezer bags. When I need a bit of either herb for a sauce or recipe, I just defrost and use. The flavor is still better than dried, and I'm not tossing a clump of cilantro or parsley in the trash because I just don't use enough of it quickly."
Note: Thanks for the tip on freezing fresh herbs in water. I had a lot of fresh dill leftover after yesterday's pickle making, and I made then into little frozen cubes. I will use these for soups. 
"Before I prepare a meal, I "interview" the stuff in my fridge to find out what needs to be used up and what might fit with whatever I have in mind. Sometimes it means checking the drawers and what's in those containers. I hate to throw away food, and this method works well for me. In garden season, I check for what needs picking too."
Alice:
"The biggest change that I've made lately is to stop what I call 'aspirational grocery shopping.' I'm not a very creative cook, and for a (long) while, I kept on buying things that I thought I Should Buy, rather than things that I was likely to actually prepare. Ever since I've realized that broccoli, carrots, celery and onions get eaten, and everything else should be bought frozen, there's been a lot less getting tossed."
"I send leftovers to work with my husband. He's a firefighter that works 48-hour shifts so we avoid throwing a lot away because he loves leftovers."  
Laura V:
"We have "Smorgasbord!" for dinner, which is a way of making the lineup of leftovers really really exciting."
"My favorite way to reclaim the veggies that are ready to go south is to throw them in the freezer until I roast a chicken. I take the chicken carcass and the less than perfect frozen veggies & throw them all in the crock pot before we go to bed. We wake up to the smell of wonderful chicken stock. I take the stock & pour it into muffin tins and stick it in the freezer. Once they freeze up you have perfect little 1/4 cup sized disks of stock to put in a zippy bag & pull out as needed."
Again, thank you to everyone who entered this giveaway, you guys rock! Click HERE to read Bloom's awesome Wasted Food blog.
Katy Wolk-Stanley
"Use it up, wear it out, make it do or do without"
Click HERE to follow The Non-Consumer Advocate on Twitter.
Click HERE to join The Non-Consumer Advocate Facebook group.