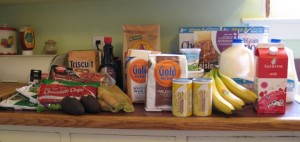 Today I motored myself towards my local Safeway for big grocery trip #2 with my $10 off $50 coupon. This deal is valid over the first week of the month, and I take advantage of it by trying to do two big shops, both at the beginning and end of the week. This way, I'm able stock up on all the pantry staples that I need. (Can I call them "pantry staples" if I have no pantry?)
In addition to the regionally specific Safeway coupon, I also used a small handful of manufacturer's coupons for items as diverse as toothpaste, flour and pasta. Although I use some coupons, I am a far cry from a coupon queen, who feeds her family on $4 per week.
Here's what I bought:
10 pounds of flour, (whole wheat and unbleached white)*
2 boxes of Multi-Grain Cheerios*
1 box of Raisin Bran*
1 package of fudge mint cookies
1 box of Triscuits*
3 boxes of pasta*
2 pounds of shredded mozarella cheese
1/2 gallon of whole milk
2 gallon of nonfat milk
1 small container of sour cream
2 bags of frozen peas
2 containers of lemonade concentrate
1 large tub of vanilla yogurt
Toothpaste*
Dentotape dental floss
1 bag of chocolate chips
1 pound of bacon
2-1/2 pounds of bananas
2 avocados
2 pounds of carrots
This is a fairly typical grocery trip for me. We already had a large amount of grapes at home, and I want to see that eaten up before buying more fruit. We also still have a fair amount of broccoli, lettuce and cauliflower, so our vegetable needs were few. There is a Fred Meyer grocery store which is walking distance from my house that tends to stock cheaper and better produce, so I buy it there, instead of stocking up on produce that ends up going bad. The Cheerios were bought as a treat, as it's normally a rarity for us to buy sugar cereal. And the cookies? Umm . . . .
The total for this trip was $45.13, which is pretty good. I now have enough food in the house to make at least a week's worth of meals. We're also stocked up on Costco needs (olive oil, cat food and litter, coffee, etc.)
Some people may enjoy shopping for food, but I really kind of hate it. It's certainly better than when my kids were little and I would almost be in tears by the end of some trips. But even now, grocery shopping is still low on my list of enjoyable experiences.
Keeping my family's grocery shopping low not only allows us to keep our expenditures low, but is also a huge component of our debt repayment plan.
Here's a bonus picture of my groceries before I decanted them from their reusable grocery bags. My favorite is the one crocheted out of plastic bags by my ever-talented sister Jessica.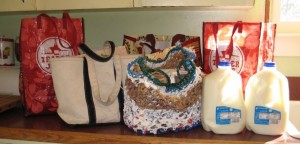 Katy Wolk-Stanley
"Use it up, wear it out, make it do or do without."
P.S. I had one extra $10 off coupon, which I gave to to grocer and asked him to pass it along to next person spending $50, which he agreed to.