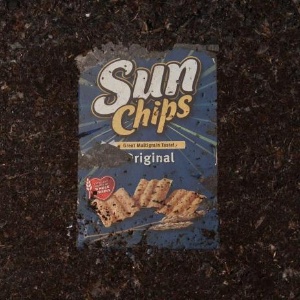 When I see eco-friendly claims on national products, my first reaction is "Ha, what a load of Greenwashing." And although I don't consider myself to be 100% cynical, I am a highly suspicious character.
I was perusing the cracker aisle at my local Safeway grocery store earlier this week, when I noticed that the Triscuit box was inviting me to "Join the home farming movement."
Huh? Are Nabisco's Triscuits now grown instead of "baked, not fried?"
A closer look showed me that each Triscuit box included seeds for either basil or dill, as well as instructions about how to grow the seeds and other educational information.
My next thought was to look at the ingredient list, sure I would be reading a lengthy paragraph of unpronounceable chemicals and trans fats. Instead, I saw:
"Whole wheat, soybean oil, salt, monoglycerides."
Not exactly the "lengthy paragraph" I was expecting, although the monoglycerides are a trans fat, which I'm trying to avoid.
According to their website, Nabisco is:
"Working with UrbanFarming.org to get everyone into the joy, the community, and the other bountiful rewards that are born of the Home Farming movement."
This actually sounds good, but I just can't wrap my mind around dry corporate Triscuits being part of the home farming movement.
The other corporate food that's getting a eco-friendly makeover is Frito-Lay's Sun Chips, which now come packaged in 100% compostable bags. I just watched the documentary Addicted to Plastic, so I'm on a fresh no plastics kick. This should be good news.
However, Sun Chip are made by Frito-Lay, who are also responsible for Doritos, Fritos, Cheetos and Tostitos. And if the company has truly embraced the ability to produce these compostable bags, why only do so for a single line of chips?
Marketing, that's why. Sunchips are the snacks marketed to the healthy eating, hipster crowd, (a far cry from whoever it is that the Cheeto Cheeta is geared towards.) The Frito-Lay website even has a link for 46 steps to a healthier planet, which takes you to a listing of how the different manufacturing plants are lowering their environmental impact, although it appears to mostly be geared at the Sunchips brand.
I appreciate the compostable bags, I really do. But I would like to see all their bags be compostable, not just the Sunchips. (Which are actually my husband's favorite chips.)
Both of these eco-friendly product changes are a step in the right direction, and not strictly a case of simple greenwashing. But most importantly, it (hopefully) tells me that corporate America is starting to get the message that consumers take this stuff seriously, and that there is money to be made selling to those of us who feel this way.
Now, about those trans fats . . . .
Do you feel that these changes are greenwashing or something more complex? Please share your thoughts in the comments section below.
Katy Wolk-Stanley
"Use it up, wear it out, make it do or do without."