Remember my adorable drop-leaf table that I schlepped home from a neighbor's curb? You know, the one with whom I shared a night of steamy hot fun?
Here, this might jog your memory: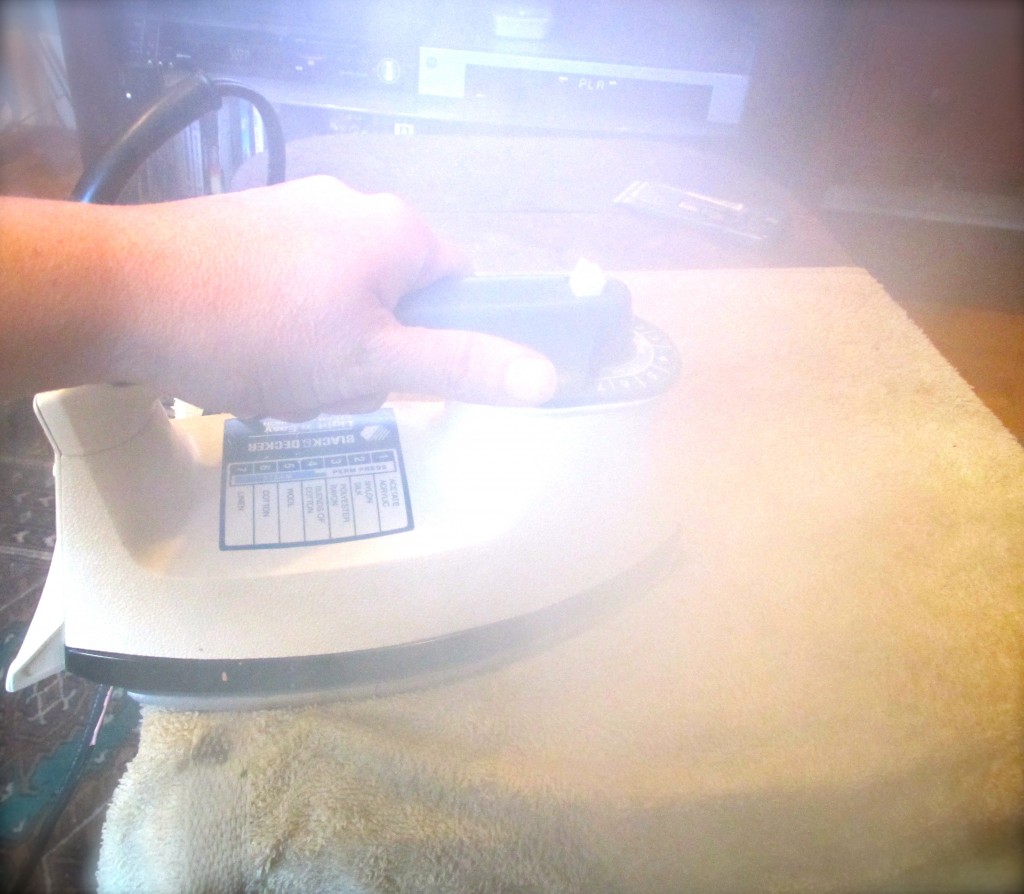 Yeah, I thought so. 😉
Well yesterday finally brought about the perfect storm of circumstances. The sun was shining, (okay, it simply wasn't raining, which counts as sunshine for Oregon in November) I had all supplies assembled and I wasn't working.
I'll start from the beginning and remind you how the table looked before I steamed the veneer from the top: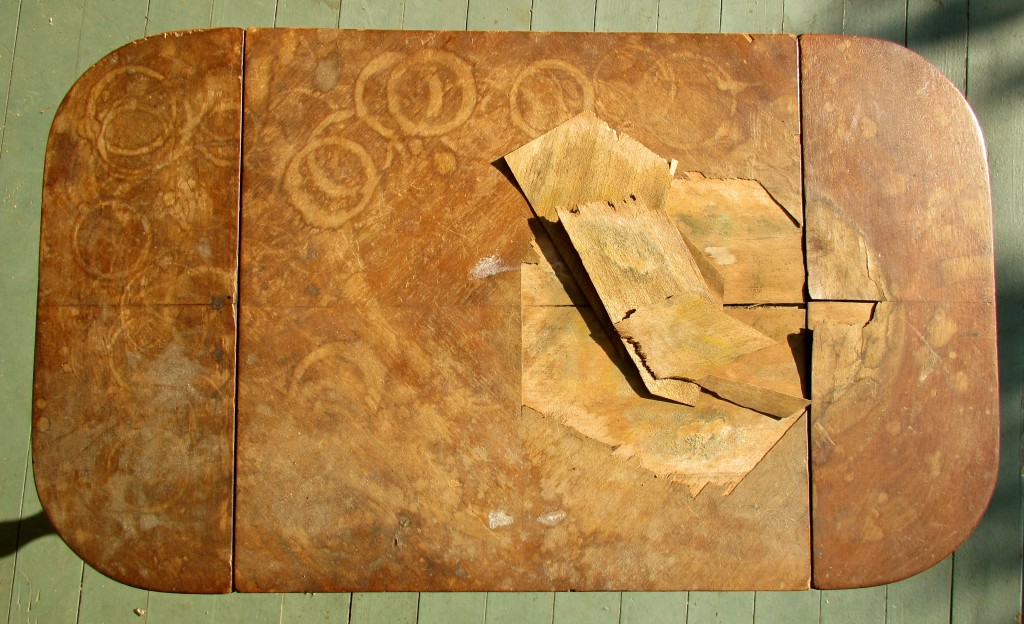 To which I have to say, there is no bad veneer, only veneer making poor choices. And man, did this veneer make a series of crap-ass choices!
Luckily, there are natural and logical consequences for these poor choices. They may be painful in the here and now, but it's worth it in the long term.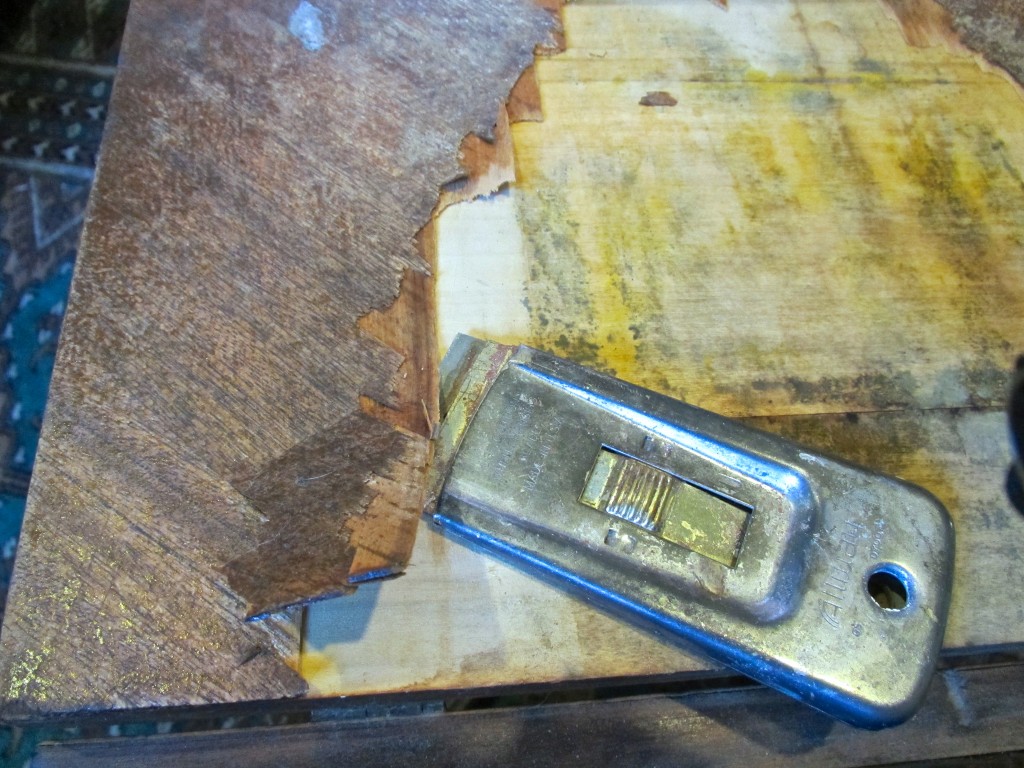 With all the veneer successfully scraped off, it was time to fill in the gauges and cracks with some wood putty. Luckily, we already had a can of it in the basement, so no supplies needed to be purchased for this step.
By the way, that leaf is on the table for scale, so you can see how deliciously tiny it is.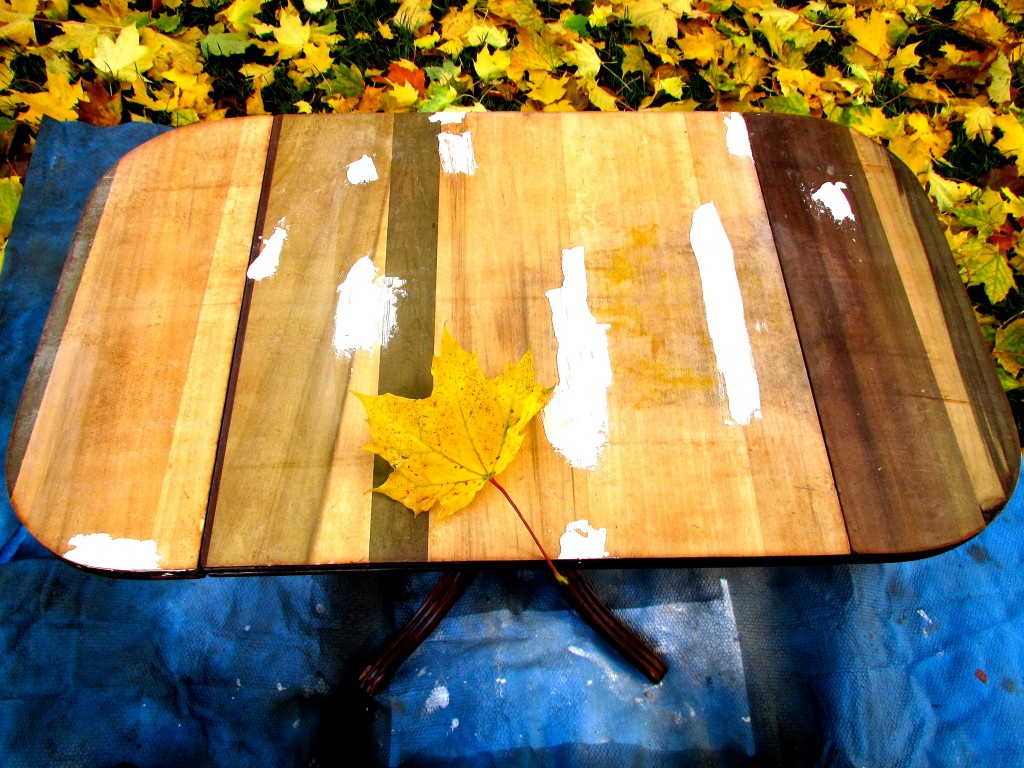 I then sanded the wood putty down to a level that was smooth with the wooden top. I wasn't going for perfection, as the final surface will include a painted graphic that will hopefully hide any less than stellar smoothness.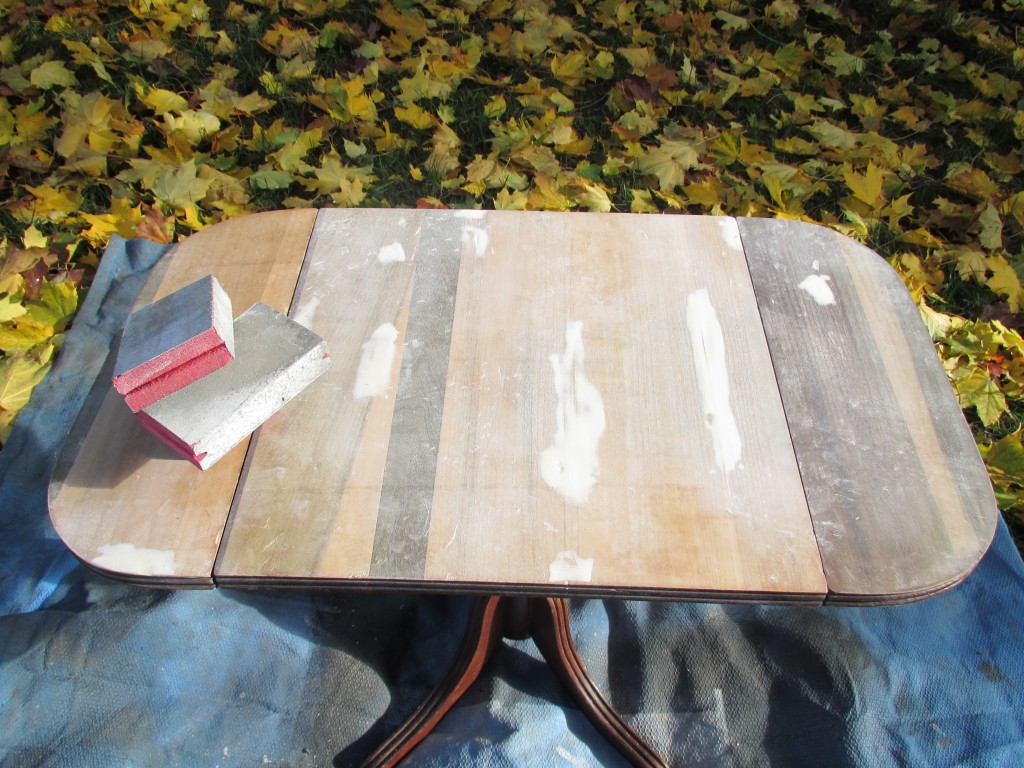 With the thus table scraped, puttied and sanded, it was time for a quick spritz from a can of spray primer. (On sale at Fred Meyer for only $3.65.) I also turned the table upside down to paint the underside, although I didn't photograph that step.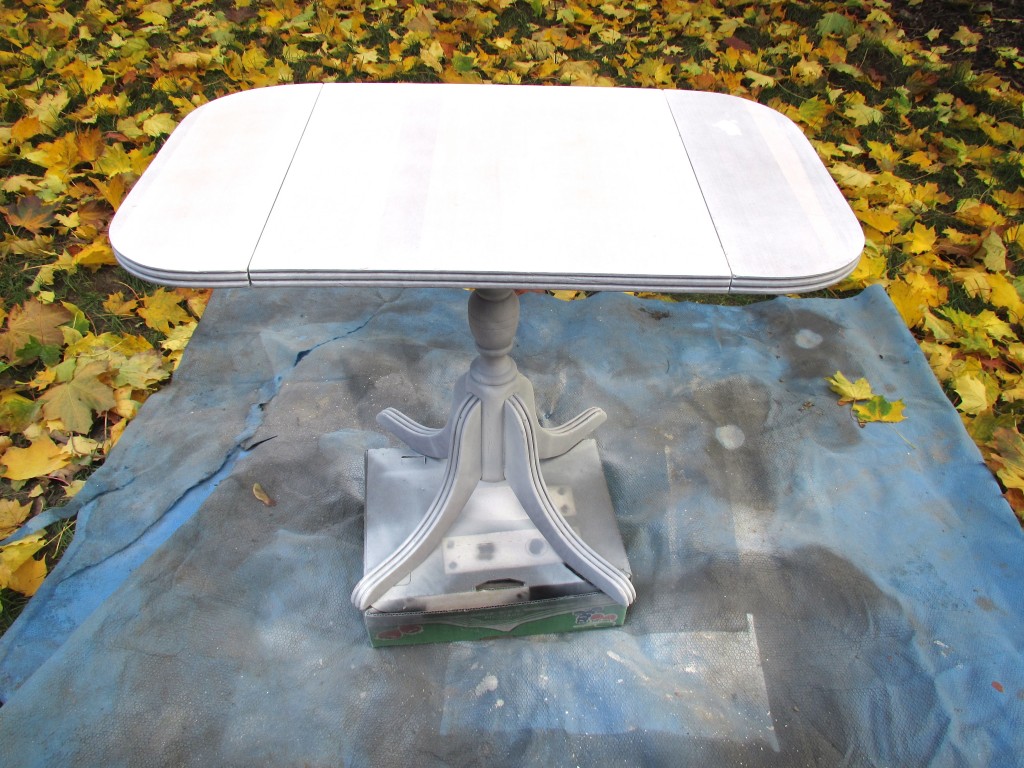 Do you not love all the detail on the table leg? Dare I say it? S-E-X-Y!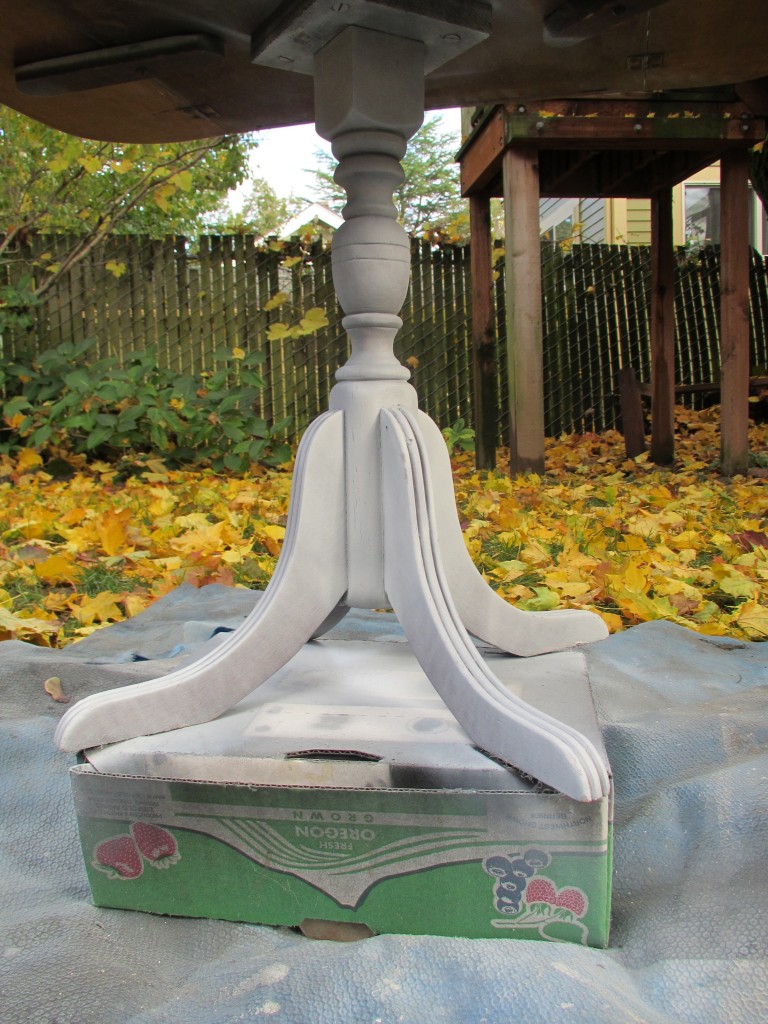 Here's an action shot for all you drop-leaf enthusiasts. I just love the versatility of this table, it's the perfect height and footprint for our well used downstairs bedroom.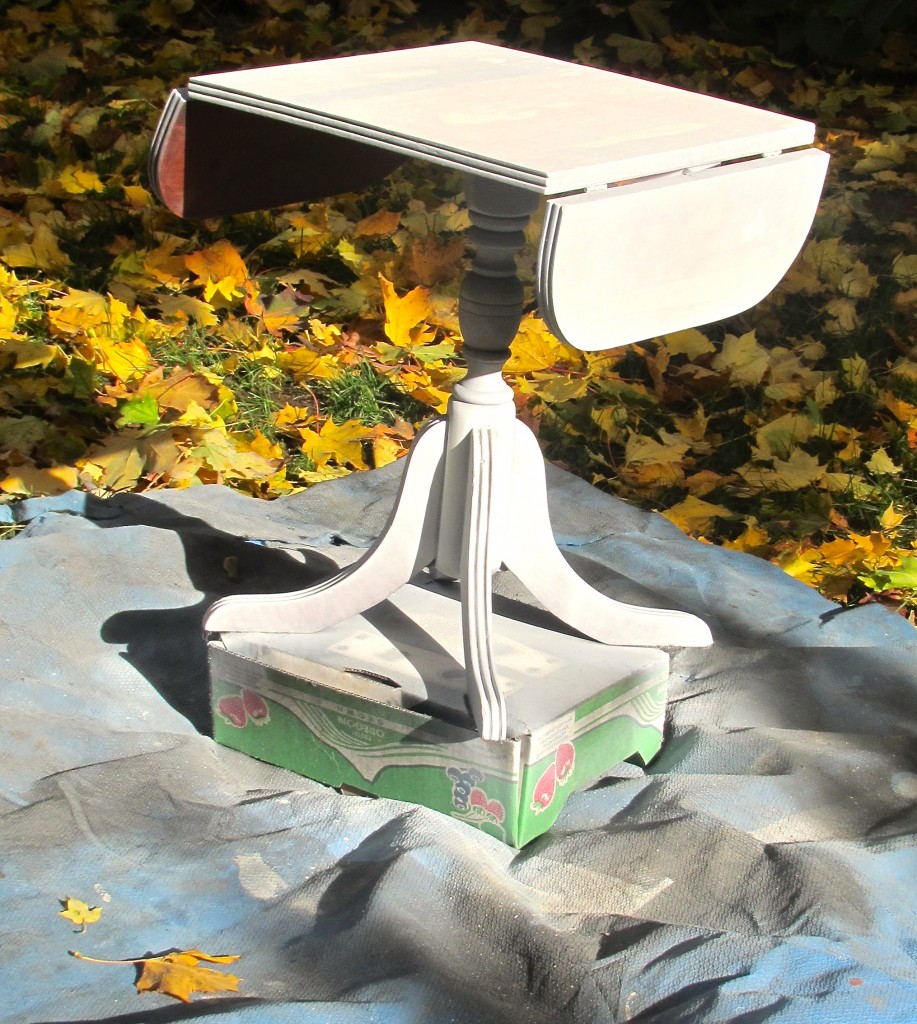 The next step will be to paint two layers of overall semi-gloss cream colored paint, which I already own. (It's the trim color for our interior.) Lastly I will paint the mystery graphic pattern on the top and top it off with some polyurethane for longevity.
Which means that the only project related expense will be that $3.65 can of spray primer.
Man, do I love curbside finds! So, how do you like my project so far?
Click HERE to read my other Before-and-After blog posts.
Katy Wolk-Stanley
"Use it up, wear it out, make it do or do without."
Click HERE to follow The Non-Consumer Advocate on Twitter.
Click HERE to join The Non-Consumer Advocate Facebook group.
Click HERE to follow The Non-Consumer Advocate on Pinterest.