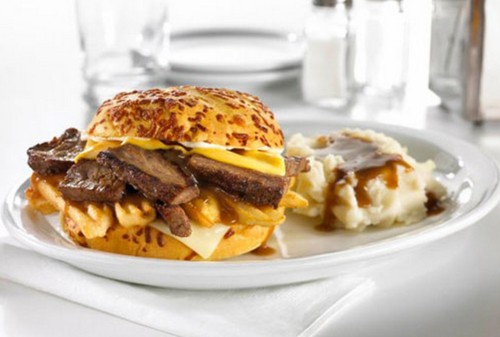 It's been awhile since I've presented any Boo-Hiss Awards, but Denny's obscene new Midwestern Meat & Potatoes Sandwich from their Tour of America Menu has brought me out of retirement.
Why?
It turns out that "Grilled prime rib and wavy-cut French fries smothered in brown gravy topped with melted Swiss and American cheeses and mayo. Served on a Cheddar bun with a side of mashed potatoes and gravy" weighs in at 1030 calories and 51 grams of fat.
Because when you serve fatty meat with french fries, two types of cheese, mayonnaise and gravy on a cheese-crusted white bread bun, the calories and fat tend to add up. And the mashed potatoes and gravy on the side aren't exactly balancing the meal out.
As the daughter of a midwestern Nebraskan, I'm kind of offended. We Americans are trying to fight the stereotype that our diets consist of this kind of over the top and ridiculous heart-attack-on-a-bun cuisine. It's no surprise that this kind of food is on the Denny's menu, but that this found its way onto their new "Tour of America" is what gets under my skin.
So Boo-Hiss to you, Denny's!
Am I the only one suddenly craving a fresh veggie salad?
Katy Wolk-Stanley
"Use it up, wear it out, make it do or do without"
Click HERE to follow The Non-Consumer Advocate on Twitter.
Click HERE to join The Non-Consumer Advocate Facebook group.
Click HERE to follow me on Pinterest.