The following is a reprint of a previously published post. Enjoy!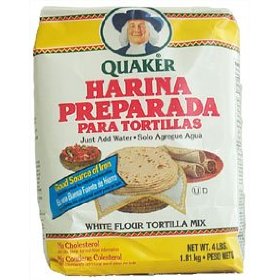 Sometimes I have time to prepare a wonderful, complicated dinner for my family . . . but often I don't.
Especially during soccer season.
Does this mean I order pizza or get take out?
No way.
I pull together a meal from what I have on hand. And it's not uncommon to make up a quick batch of burritos.
Take today for example. I didn't have much food on hand, so I threw a few cups of pinto beans in the crock pot early in the day. By dinner time they were thoroughly cooked. I mashed them with a fork and added in some leftover rice from a few nights ago. Added salsa and salt lent some flavor.
I keep a bag of Quaker Harina Preparada tortilla mix in the freezer at all times. It's literally a just-add-water endeavor. These tortillas cook up quick as lightning and are to-die-for. So yummy, that we have an official policy that you have to eat a burrito before you can eat a plain tortilla. And that goes for the adults as well.
A little cheese, some lettuce, tomatoes, salsa and sour cream — and you've got a complete meal in a pinch.
The ability to make a quick meal out of available ingredients will not only save you money, but will aid to prevent food waste in the home.
Click here to learn more about issues related to food waste.
Katy Wolk-Stanley
"Use it up, wear it out, make it do or do without."