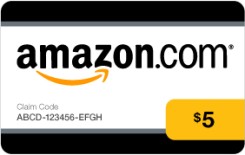 Like everyone else, I enjoy a little something for nothing. Whether it's food samples from a warehouse store, or a free pile in front of a neighbor's house, free stuff always adds a little excitement to my day.
I had been reading Angela from Frugal Living NW rave on and on about a search engine called Swag Bucks, and finally went to take a look for myself. I signed myself up to give it a trial run and see what all the fuss was about.
Here's what I found — Swag Bucks is a Google-like search engine that randomly rewards you with points that can then be spent in the Swag Store. Points can also be earned when you online shop through their site, as well as a number of other ways. (Although I do next-to-no online shopping.)
So I started doing my online searches through Swag Bucks in January and have already earned $25 in Amazon gift cards, which I'll use to buy the 14 piece Pyrex storage set, (as seen in my Amazon store to the right)  that I've been pining after. Yeah . . .  I know, I'm the life of the party. Woo-hoo!
I have looked at other online sites that offer free stuff in exchange for doing surveys (mysurvey.com) or viewing advertisements, (mypoints.com) and found that I was getting around 1¢ per minute of survey work, and remembered that I actually hate looking at advertisements. (What kind of Non-Consumer Advocate would I be if I enjoyed looking at ads anyway?!)
What I like about Swag Bucks, is that I'm earning points doing something I would be doing anyway. Is their search engine comparable to Google or Bing? No. But most of the time, I don't need all the bells and whistles. Most of my searches are to find the phone number or address of a business. Simple stuff.
The fine folks over at Swag Bucks have given me a code for new users to sign up with, which is:
"COINGIRL"
This code will give new registered users 60 Swag Bucks, which is 30 more than usual. To give you a sense of what that's worth, a $5 Amazon gift card costs 450 Swag Bucks, (SB) and most of the successful searches win you 10SB at a time. (Make sure to use all capitals, as it is case sensitive.)
I know this kind of reads like an advertisement, but it isn't. I am receiving no compensation in exchange for this column.
Click here to register and take advantage of this offer.
If anyone wants to be referred by me, (you can still use the code) send me an e-mail at nonconsumer@comcast.net and I'll send you an invite. This will expire on March 17th at midnight PST. (Full disclosure — this does benefit SwagBuck users to refer friends.)
Do you have an online site you use to get free stuff? Please share your faves in the comments section below.
Katy Wolk-Stanley
"Use it up, wear it out, make it do or do without."