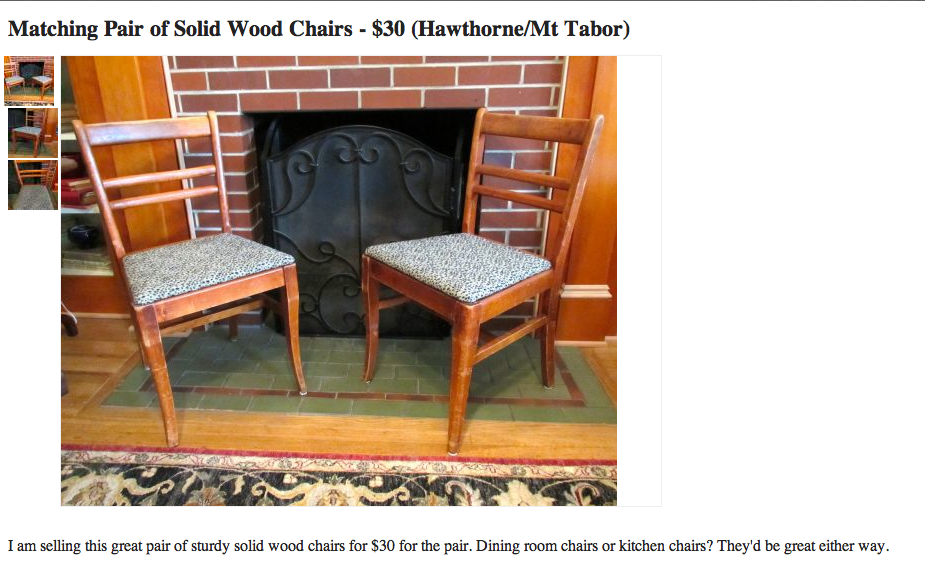 I recently watched the documentary Craigslist Joe through Netflix and was reinvigorated to get back on the Craigslist bandwagon. (Although the movie was about Joe's project to spend 30 days relying entirely on Craigslist for all food, housing, transportation and entertainment.) Obviously, this wasn't going to be my thang, but it did get me off my duff and back on track with decluttering my house through Craigslist.
Because "Crap out of the house, money in" is the backup tagline for The Non-Consumer Advocate. (Remember my love letter to Craigslist?)
After years of garage sales and Goodwill donations, I no longer have a huge pile of Craigslist-able items in my house, but there is always something that I can part with.
Example #1
Demoted Upholstered ottoman. It had been serving as my living room coffee table, but the appearance of the mirror top card catalog left it unloved and shoved into a corner of our spare bedroom.
$10 from a garage sale, $30 on Craigslist.
Buy-bye!
Example #2
Two sturdy wooden chairs. These backup chairs only saw light of day on the occasion of huge holiday dinners, but the addition of one son's Pinterest Challenge chair and the other son's Manga chair meant I no longer needed these backups.
$6 from a garage sale, $30 on Craigslist.
Buy-bye!
I did take the time to get all three items into the best shape possible before listing them. I used my Bissell rug shampooer on the ottoman, (I was cleaning a few pieces of furniture at once) and I sprayed the wooden chairs down with Murphy's Oil Soap and removed and laundered and then reattached the fabric from the seats.
And before you ask, I always put the for-sale item on the front porch so they buyer is not coming into my house, and all sales take place during daylight.
None of this took much time, and the end result is . . .
Say it with me:
Crap out of the house, money in!
Ahh . . .
Have you used Craigslist to sell unwanted household items? Please share your stories in the comments section below.
Katy Wolk-Stanley