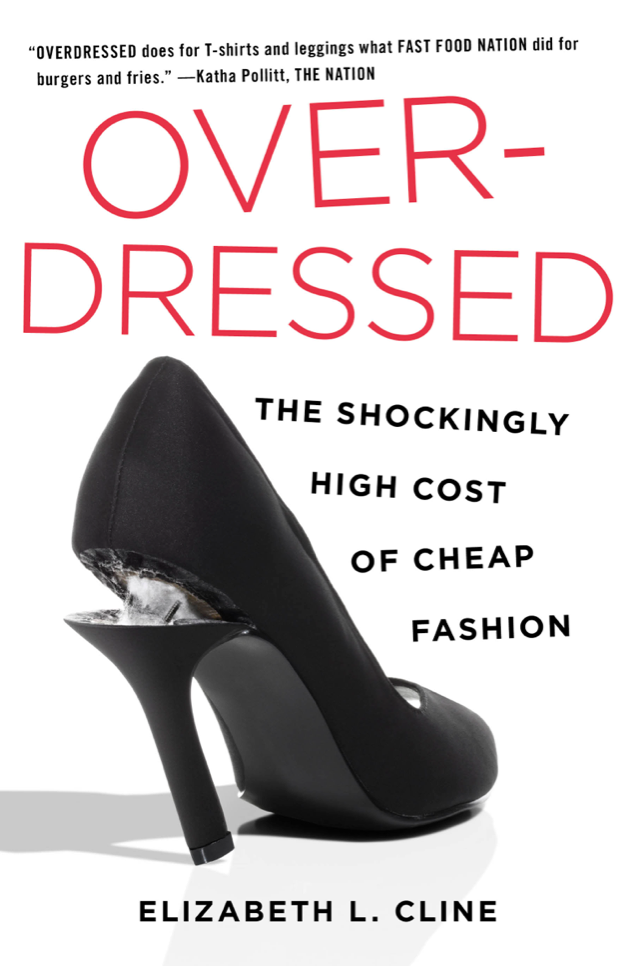 One of the biggest downsides of my summer was that Overdressed: The Shockingly High Cost of Cheap Fashion was due back at library before I was able to write a coherent post that would have included quotes and other such grown up references. Elizabeth Cline's compellingly book takes an in depth look at the societal, economic and ethical issues surrounding the world's "Fast Fashion" industry.
Not familiar with the term "Fast Fashion?" It's used to describe the manufacturing and selling of fashion where cheap is king and quality products and worker's rights are the lowly pauper. Think Forever 21, H&M, Old Navy, JCPenney, Target and Zara. (Although higher end brands are often just as guilty as their country cousins.)
Cute tops for only $5!!! Sure, the quality is crap, but who cares, it's only $5!
It's an issue that's pressing on my mind during this back-to-school season where fashion retailers lure in customers with hard to resist bargains on questionably manufactured clothes.
The book takes a laser sharp look at the worldwide fashion industry, but the whole time I was thinking about how fashion is far from the only industry to be guilty of a fast mindset. Furnishings, cheap electronics, decor items, household goods and just about every other consumer category fall under this umbrella. (And while we're on the subject of umbrellas, how crappy has the quality on umbrellas become?!)
Although I would like to say that I always take the high road and repair instead of replace, today's consumer goods are often unrepairable, (particle board Ikea furniture comes to mind) more expensive to repair than replace and become outdated faster than Usain Bolt on a cool Jamaican morning. Not to mention that repair shops are a dying breed.
This is where used goods come into play.
Not only are used goods already manufactured, (thus removing the one-gets-bought-another-one-gets-manufactured cycle) but they're often better quality. If your item was going to fall apart after normal use, it's likely to have happened to the original purchaser. And if you're buying a significantly older item, the quality is likely to be of a much higher standard than its currently manufactured counterpart.
I'm going to use my couch as an example.
My husband and I bought a brand new $600 hide-a-bed couch in 1993. We were super excited to be able to pick out our own fabric and I deliberately chose a classic style that would not scream "outdated" through the years. Within a few years, the couch looked simply awful. The stuffing had shifted over the arms, the fabric was falling apart and the hide-a-bed mechanism broke. I pinned similar fabric over the ripping fabric, used the warranty to get the mechanism replaced and lived with the shifted stuffing. By five years, our fancy new couch looked like we'd pulled it off the Clampett's front porch.
I started to keep an eye out for a new couch. A vintage couch.
I soon came across a mid-century channel back couch that set me back a whopping $200. I spent an extra $75 to have the cushions plumped up from a local upholsterer and called it good. This quality couch weighs a ton, and has served us well since 2005 without any signs of falling apart. It is the recipient of many a compliment.
The argument that something is cheap and therefor doesn't need to last really sticks in my craw, as creating goods that are destined for the landfill is both ethically and morally wrong. This is true for rapidly evolving and low quality fashion styles, and it's equally true for computer printers, cell phones, toys, furniture, shoes and most every other consumer good category.
Does that mean that no one should ever buy anything new again?
No.
There are still companies that take pride in their quality products and worker conditions, (whether those workers are here in the U.S. or abroad.) Pyrex glassware comes to mind, as do Maglight flashlights and New Balance shoes. Finding these products is neither intuitive nor easy. It takes research and removes the opportunity to make impulsive purchases.
Making deliberate consumer choices can be a pain in the tuchus, but if it helps to minimize the fast fashion mindset, then I'm all in!
Have you been trying to make more deliberate consumer decisions? Please share your thoughts in the comments section below.
Katy Wolk-Stanley