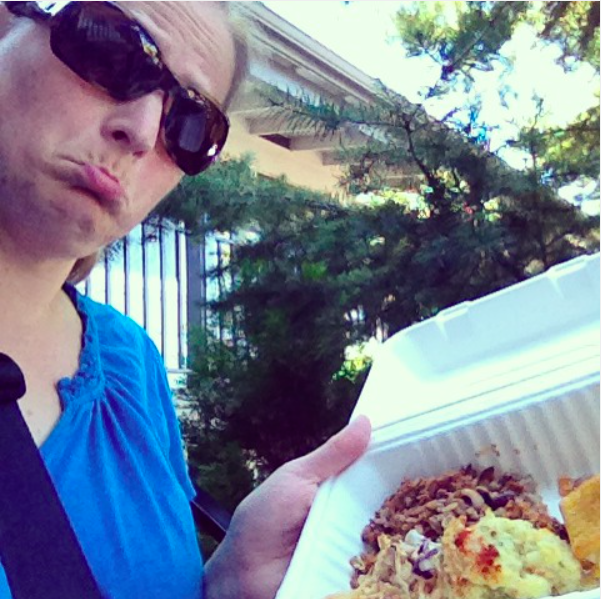 We dropped our son off at university, and only bought two new things for his dorm. (A scanner/printer and a shaving kit.) Everything else we were able to get from our home or source from the second hand market. In all we spent $109, which is not too shabby considering that the average college bound student spends $899.18 furnishing their dorm. From home he brought his blanket, pillows, closet organizer, metal organizing drawers, laundry basket, hangers, wastebasket, lamp and clothes he already owned. No need to own doubles!
My husband and I are spending three days in Ashland, Oregon settling our son and sneaking in a mini-vacation. We've hit up two Goodwills, ate two free meals in the dining hall, have been very deliberate with restaurant meals and are buying zero souvenirs. Although I did thrift a $2.99 covered casserole dish for freezer meals, as well as a $150 rolling art bin that I nabbed for $9.99. This will be sold for yes, you guessed it . . . the ol' college fund!
I found a single unused Forever stamp on the ground, which I slipped into my wallet. I'll be sure to use a glue stick not my tongue when it comes time to affix it to an envelope! Hey, that's a free 49¢!
Our breakfast was free at the school, although our motel stay also included a breakfast. I went ahead and grabbed two bananas and two muffins for an afternoon snack.
My last frugal thing as actually an unfrugal thing. We stopped in Eugene on our way down to Ashland and treated ourselves to an amazing lunch at Papa's Soul Food Kitchen. I deliberately ate lightly so that I'd have some leftovers to munch on in the motel room. However, I forgot to bring the food in from the car, which is where it then sat all day and through the night. I hate food waste, but I especially hate food poisoning! I'd like to take a moment to say a few words about the wonderful pulled pork, potato salad, cole slaw and red beans and rice. I may have only known you briefly, but your beauty touched my life and you were taken too soon. Heaven just added another angel. Sniff . . . 
Now your turn. What frugal things have you been up to?
Katy Wolk-Stanley
"Use it up, wear it out, make it do or do without."
Click HERE to follow The Non-Consumer Advocate on Twitter.
Click HERE to follow The Non-Consumer Advocate on Instagram.
Click HERE to join The Non-Consumer Advocate Facebook group.
Click HERE to follow The Non-Consumer Advocate on Pinterest.