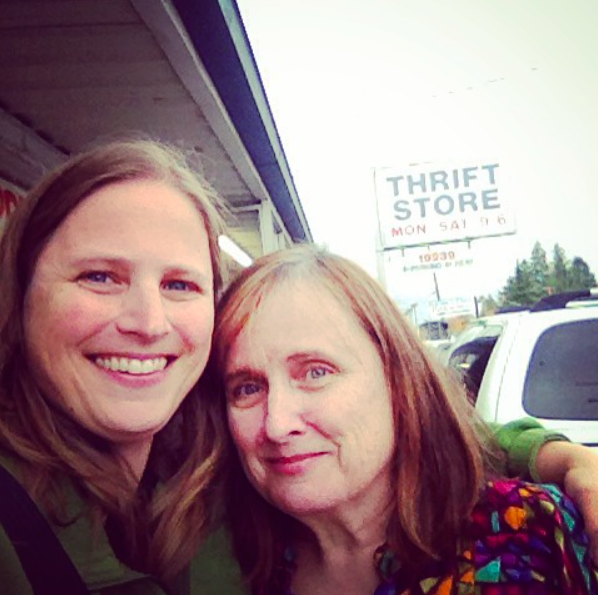 I noticed that Safeway had overcharged me for a bunch of bananas, so I brought in my receipt while picking up a few extras. I also had two pasta coupons and around $3 on a leftover gift card that my husband was given for working an extra shift. I ended up spending 41¢ for the bag of groceries which included new bananas, three bags of pasta and a pound of white beans. Forty-one cents!
Yesterday was Veteran's Day, which meant no school for my 12th grade son. The two of slept in and then picked up my mother for an ole fashioned afternoon of thriftin'. (Yee-haw!) The stores were hopping, but I still scored four items that I'll put up for sale on Craigslist. (A rug, a Marimekko duvet cover, a bridal veil and a child's NASA jetpack backpack.)
I worked a 12-1/2 hour shift and went immediately afterwards to a one-hour class. I could have gone to one last night, but it wouldn't have been overtime. I was beat by the time I got home from work at 9:45, but I'll be happy when I get my next paycheck.
I stopped at The Grocery Outlet on my way home from dropping my son at school and bought a large bag of groceries for ten bucks, I photographed and put together three Craigslist posts this morning, I hung a load of laundry indoors, I made a large pot of chicken noodle soup using half of a rotisserie chicken from my out-of-town neighbors, I'm tracking my budget like a hawk, I found a penny on the ground at Goodwill, I drew large calendar pages for December and January using stuff on hand, I bought nothing that wasn't consumable or for resale and I transferred $25 into my credit union account from using Swagbucks.
I didn't buy a Lear Jet.
Now your turn, What frugal things have you been up to?
Katy Wolk-Stanley
"Use it up, wear it out, make it do or do without."
Click HERE to follow The Non-Consumer Advocate on Twitter.
Click HERE to follow The Non-Consumer Advocate on Instagram.
Click HERE to join The Non-Consumer Advocate Facebook group.
Click HERE to follow The Non-Consumer Advocate on Pinterest.